Day 1 – Feb. 5, 2017 – (Sunday): Puerto Princesa on Two Wheels
"The place is orderly and clean" was our initial impression of Puerto Princesa as our driver made his way around the city towards Socrates Road after he picked us up in an old, white van at the small airport in this capital city of Palawan.
Subli Guest Cabins would be our overnight shelter in the city that day as Matthew & Johan would be jetting-in from Manila the next morning for our northbound, overland trip to the touristy and popular but more remote El Nido.
We arrived at the guest cabins – made of concrete and bamboo-  in high spirits in spite of our red-eye flight from Siem Reap that included a 6-hour sleep-depriving wait inside Manila's newer and spacious Terminal 3 airport.
After we verbally agreed with the young and bubbly receptionist that we would rent their only Honda scooter for PHP 600 (USD 12) that day, we wasted no time to shower and to get some sleep as soon as we checked-in.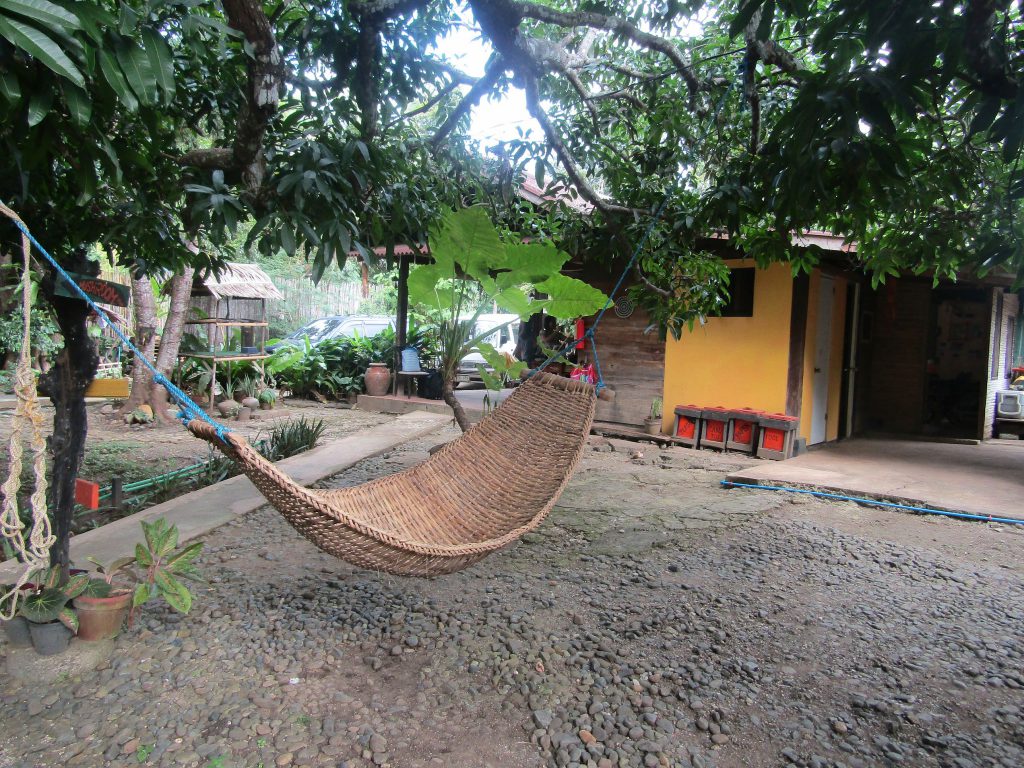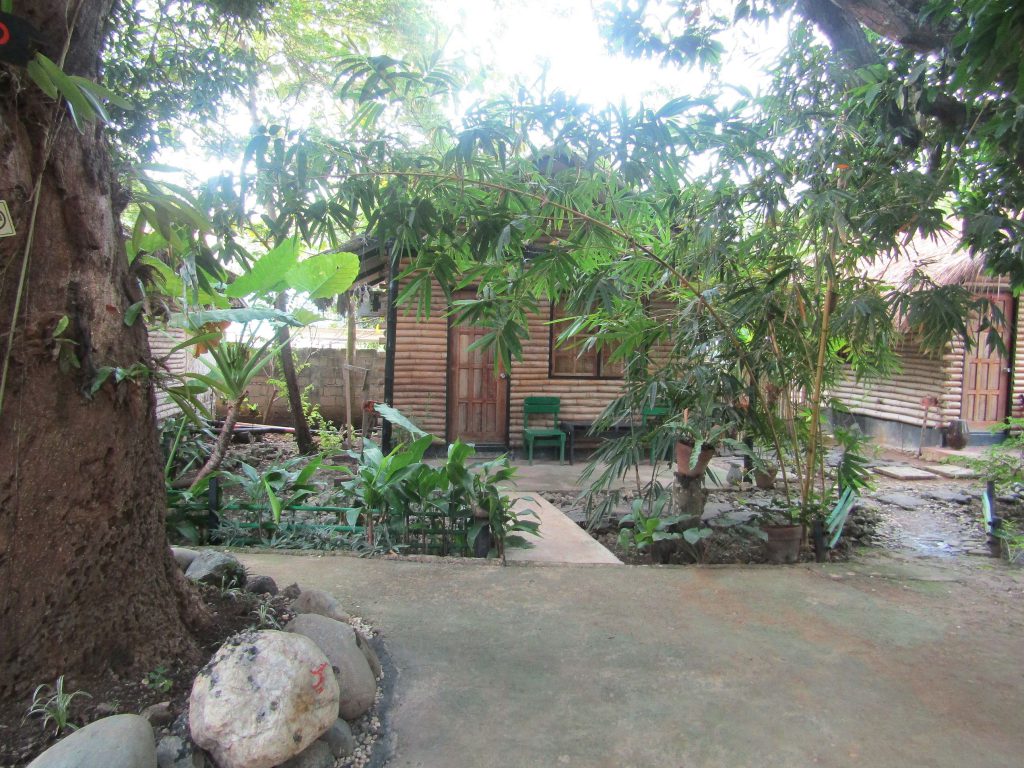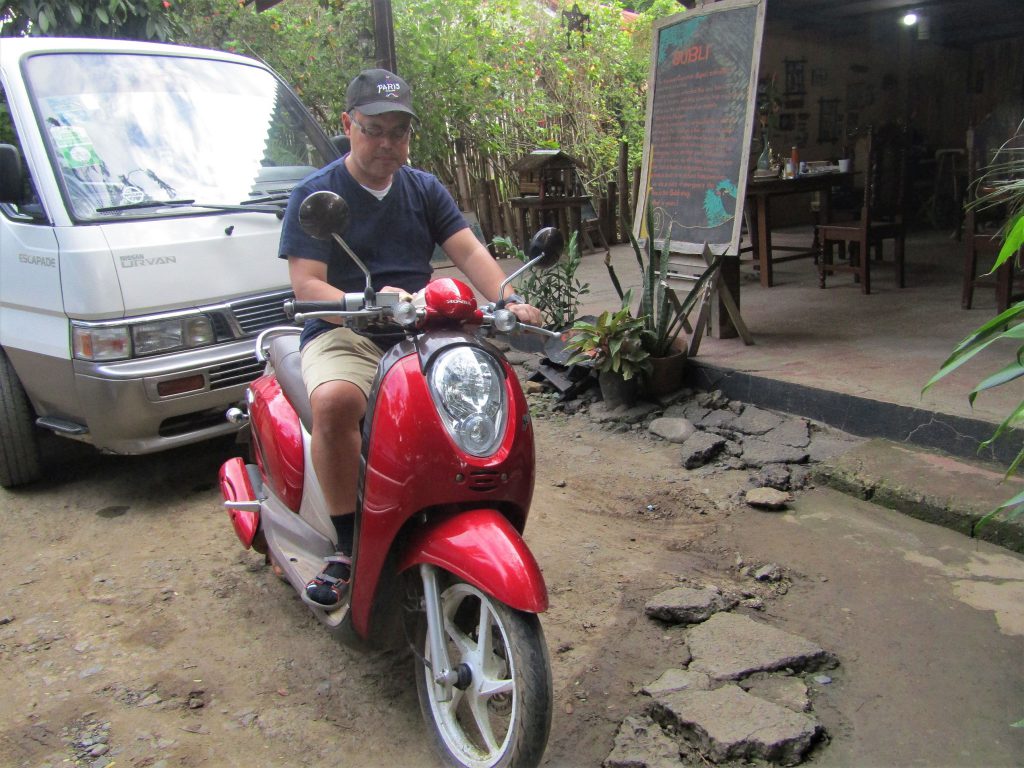 Refreshed from our 3 plus hours of rest, we strapped our helmets and ventured out at 3 PM along with a bagful of dirty clothes– only to run out of gas just a few meters away from the compound.
Ruby flagged a passing 'tricycle' (a very common form of paid transport in the country that's similar to 'tuk-tuks" – which is a motorcycle with a 'sidecar' for extra seating passengers)  and they returned with petrol in a 2-liter PET plastic bottle.  For good measure, we filled up the tank another PHP 90 (USD 1.80) at a nearby Shell gas station along Malvar Road after we finally got going.
Riding a scooter, motorcycle or even a bicycle is one of the simple joys of life that we, as human beings, tend to overlook. With the wind on your face and the sights and sounds of the surroundings all over you, one's sense of adventure is elevated by having that constant awareness of the dangers being on the road so that you hold on to dear life on that handlebar.
We saw a body of water to our right immediately after we passed by the public market so we made a right turn on the next intersection. The road narrowed markedly and took us to a sweeping descent that ended at a small park -the Puerto Princesa Baywalk.  Along its stretch were numerous open-air food stalls that overlooked a cove that is part of the Palawan Sea.
It was just about 4 PM but 2 or 3 food stalls were already doing some business and so we opted –K'na Boyet sa Baywok- for the one where a couple of tables were occupied by a group of tourists.  Once seated, the aroma of that familiar calamansi and soy sauce flavored BBQs that's very popular all over the archipelago, sharpened the hunger fangs even more.  We sidled towards the charcoal-fed grill where several pans filled with assorted sea offerings vied for our attention.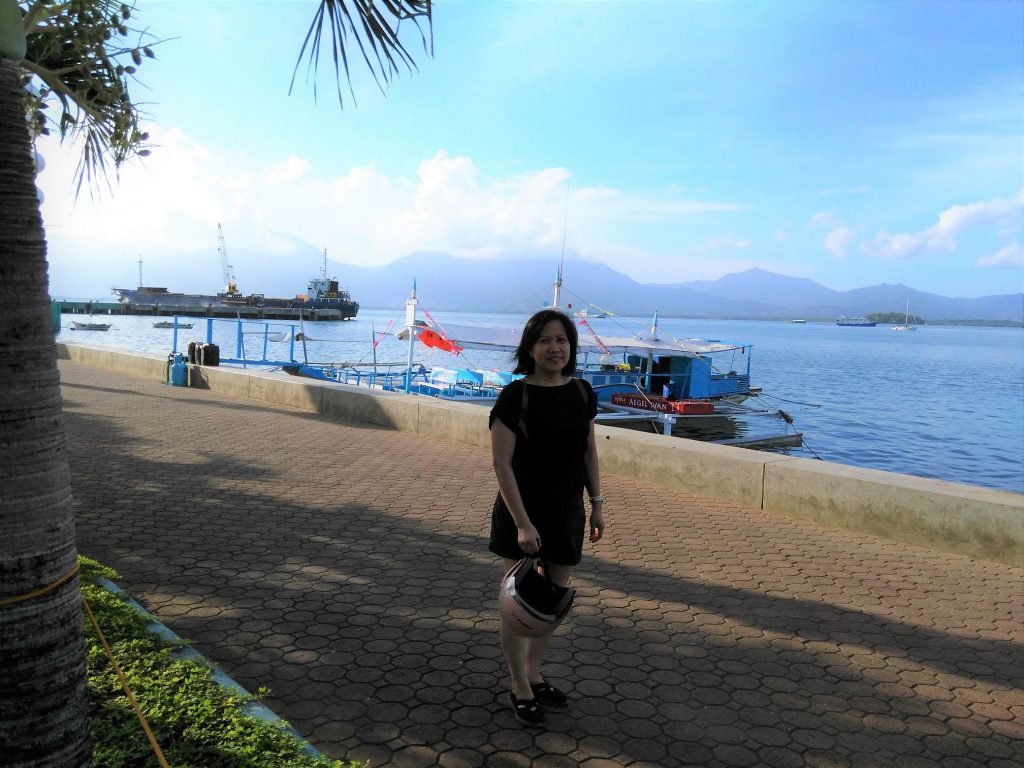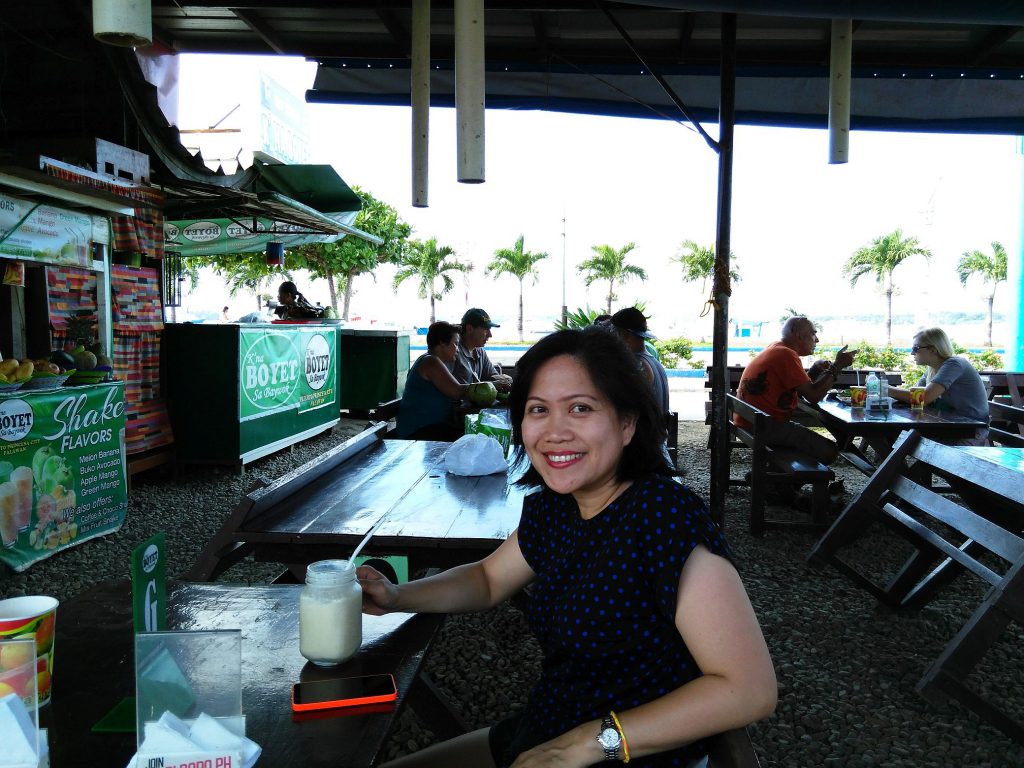 An order of grilled "pork liempo" (grilled, marinated pork belly), shrimps sautéed in butter and garlic, rice, a mango shake & two bottles of San Miguel Light beer set us back for about PHP 750 (USD 14.50).
Bellies filled, we then set our sights for Baker's Hill and asked for directions from the very amiable waitress who suggested that we might as well visit Mitra Ranch as both were in the same area.
Amidst moderate traffic, as it was a weekend, it didn't take us long to find our way towards the city's main highway, Puerto Princesa North Road but had to ask directions from locals twice to get to the junction of PP South Road that would lead us to our destination.  We dropped off our laundry bag at a shop along the cemented two-lane highway while trying to find our way towards Baker's Hill.
Like most roads in the city outskirts, the narrow road that goes up towards Baker's Hill was so puzzlingly unmarked that we overshot it by a few miles in spite of asking directions 2 or 3 more times — the last one from a mechanic working on a wheel of a small truck along the grass-lined fringes of the highway. The tall trees behind the shop gave us glimpses of the rice fields beyond.  They would punctuate the highway the farther we got away from the city proper.
Baker's Hill turned out to be just a family compound with –you guessed it– a bakery, an open-air restaurant, and a souvenir stall.  It became popular as a 'snack-stop' for visitors going to Mitra Ranch.  It tries hard to become a major tourist attraction in the city simply through word of mouth as well as via recommendations by past visitors on travel websites.  The bakery sells mostly pastries and snacks notably the different varieties of the 'hopia' (thin, flaky pastry filled with mung bean paste).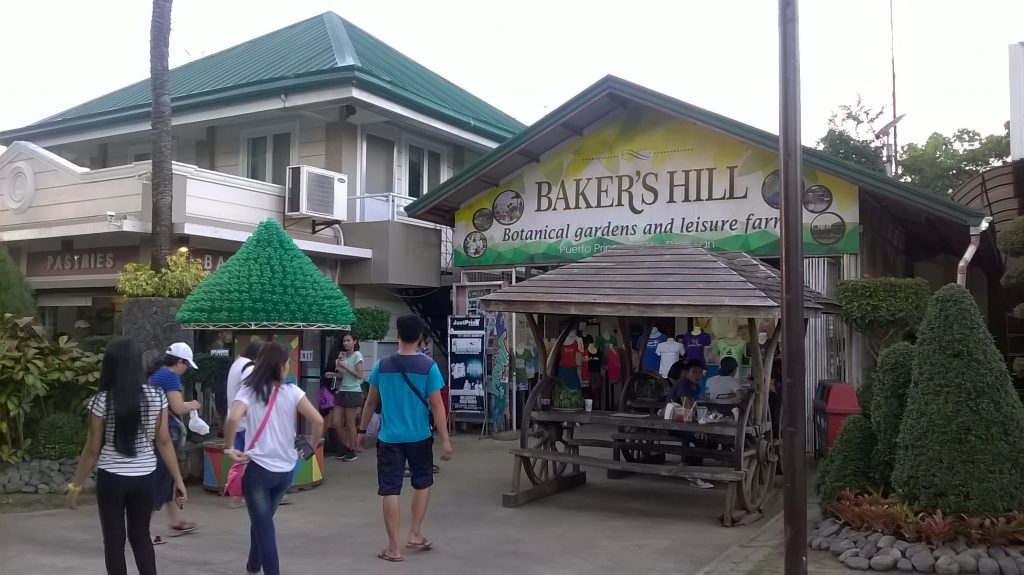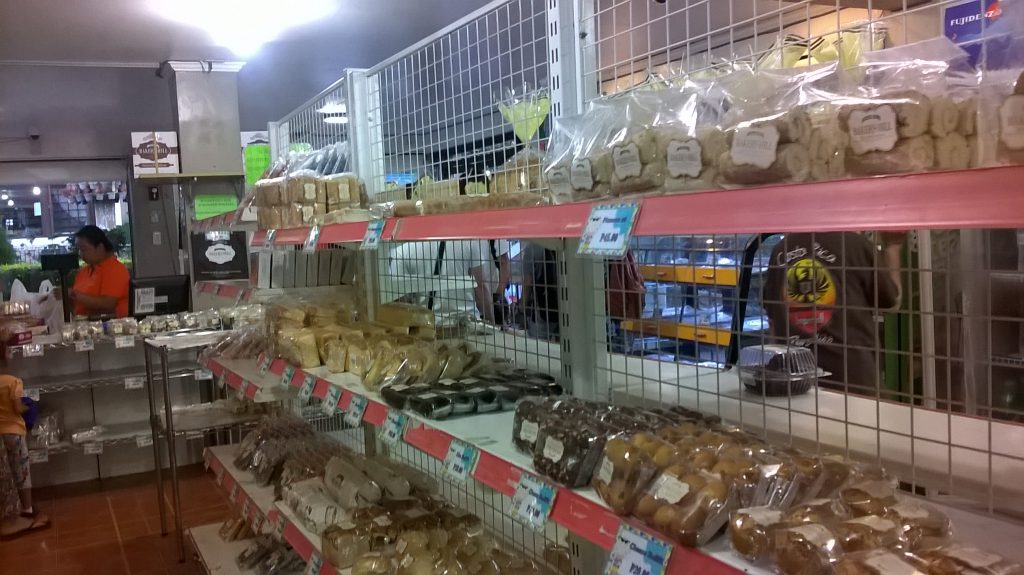 Just a few meters uphill, Mitra Ranch offered a better view of the city atop the hill as well as horseback riding and zip-lining.  The place was opened to the public after the death of the family patriarch, Ramon 'Monching' Mitra, Jr., who was an esteemed senator.  Unfortunately, he lost in the 1992 Philippine presidential elections in spite of being tagged as the early favorite to win it all.
Dusk was upon us after we picked up our laundry and headed back to the city.  We had decided to have an early bedtime since we needed to be up early to meet the couple at the airport for our morning trip to El Nido.  Moreover, with our weather-beaten faces and aboard two small wheels that offered minimal comforts, tiredness had crept in on our bodies once again.
It was already dark once we reached the city proper and got lost once more; only to find ourselves buying some delicious 'lechon' (roasted pig) for dinner from a makeshift stall in front of a shop that sold various solar-powered devices.
After handing us the take-out goodie in a plastic bag, the middle-aged vendor summoned us at the edge of the sidewalk and pointed to an intersection where we would make a right towards Malvar Road.  His instructions sounded like music to our ears.
It was about 8:30 PM when we made the final turn back to the comforts of Subli's compound aboard our trusty scooter.
Day 2 – Feb. 6, 2017 – (Monday): The Road to El Nido 
It was about 8:45 in the morning and the air was crisp with a light gust from the east.  It made the flowers -protected by a low, concrete encasement- sway to its rhythm.  I spotted the driver who was holding a sign with Matthew's name on it while he waited just a few yards away from the exit gates of the Puerto Princesa airport and chatted with him.
Just an hour ago, we had checked out at Subli and had taken a tricycle to meet Matthew and Johan for our van ride to El Nido.  Matthew had arranged for the rides as well as our accommodations in that popular destination north of Puerto Princesa.  We would be out of the airport by 9:15 aboard a van that badly needed a new set of shock absorbers.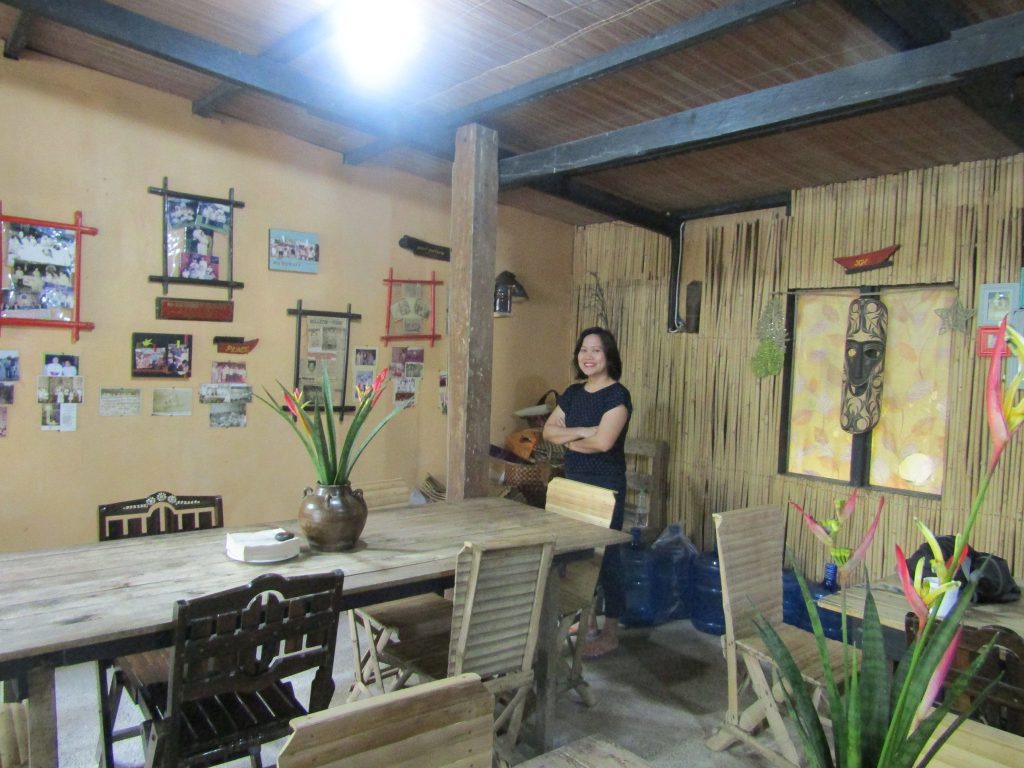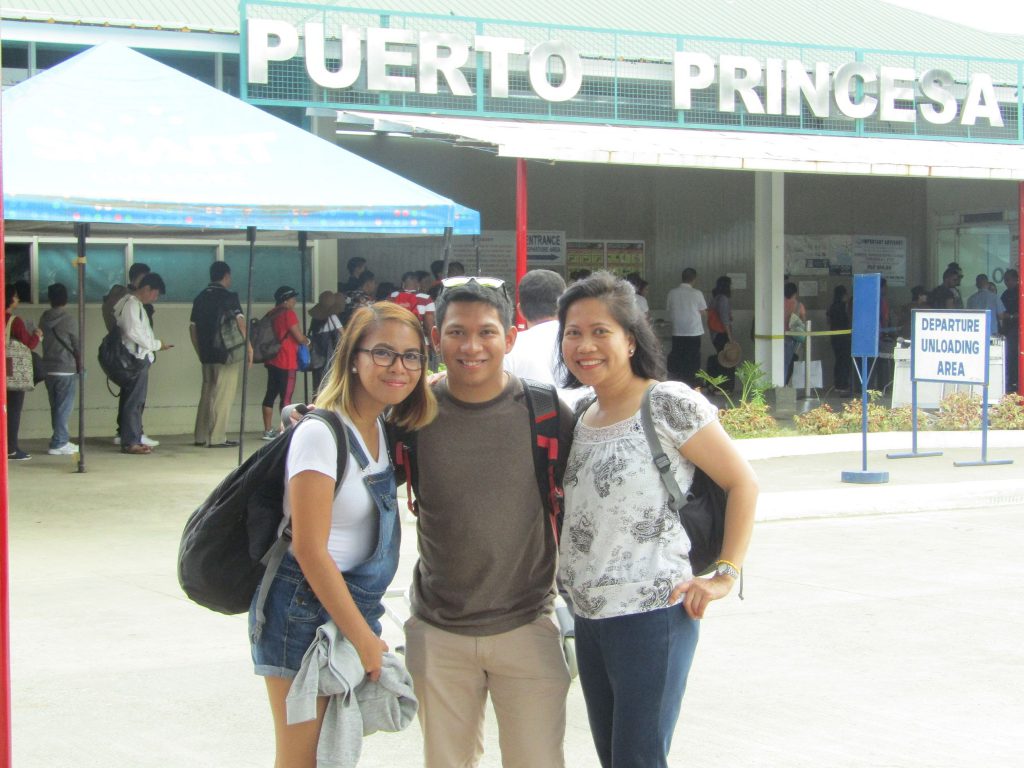 The driver briefly stopped by a hotel with a cheesy name-D' Lucky Garden Inn– and picked up a young couple from the U.K. who joined us for the trip.  The four of us would be staying for a night in Puerto Princesa at this same hotel after our El Nido escapade.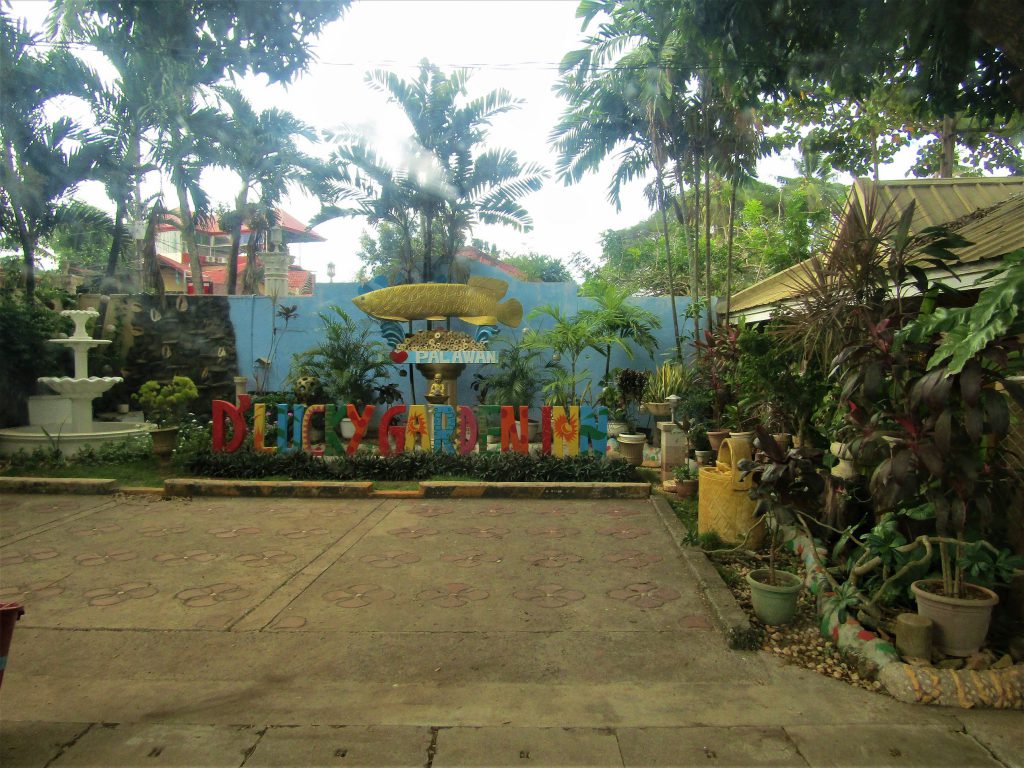 The very long (almost 5 hrs.) and tiring ride mainly along the two-lane but cemented Puerto Princesa North Road was really uneventful except for a few stops where the driver loaded up on a few more passengers along the way to augment his earnings.  There was a mandatory stop at an 'agricultural checkpoint' where we bought some drinks from a nearby store.  At kilometer 131, just along the highway, we had our lunch break at Elfredo's Manokan & Seafood Restaurant somewhere in the sleepy municipality of Roxas.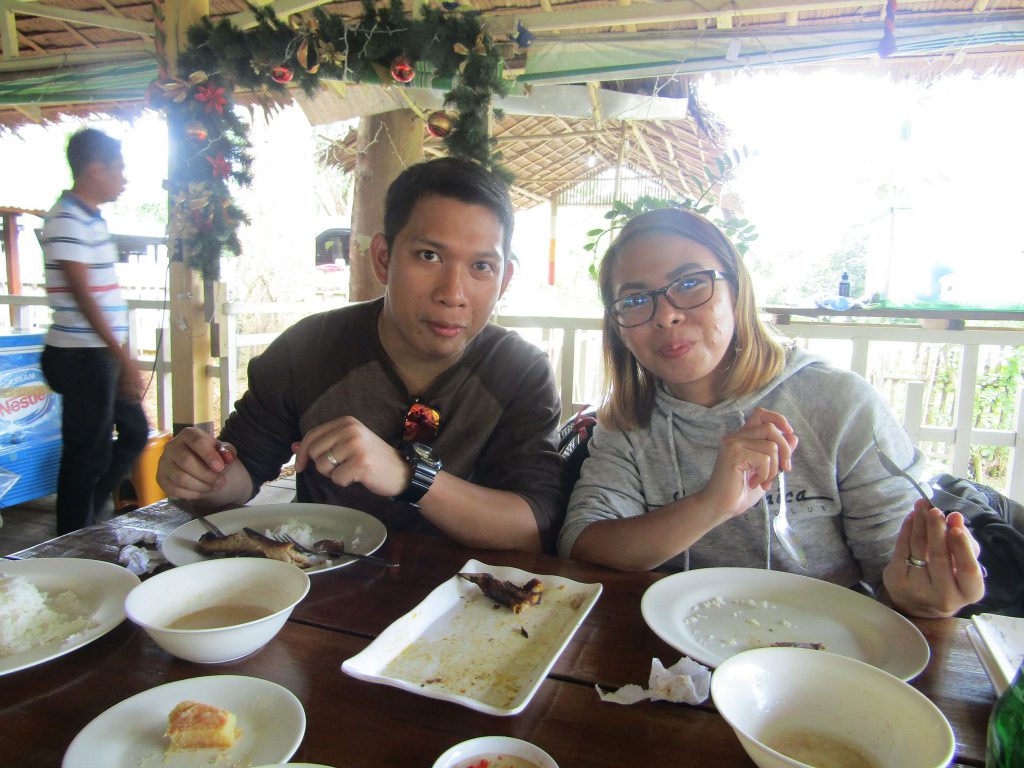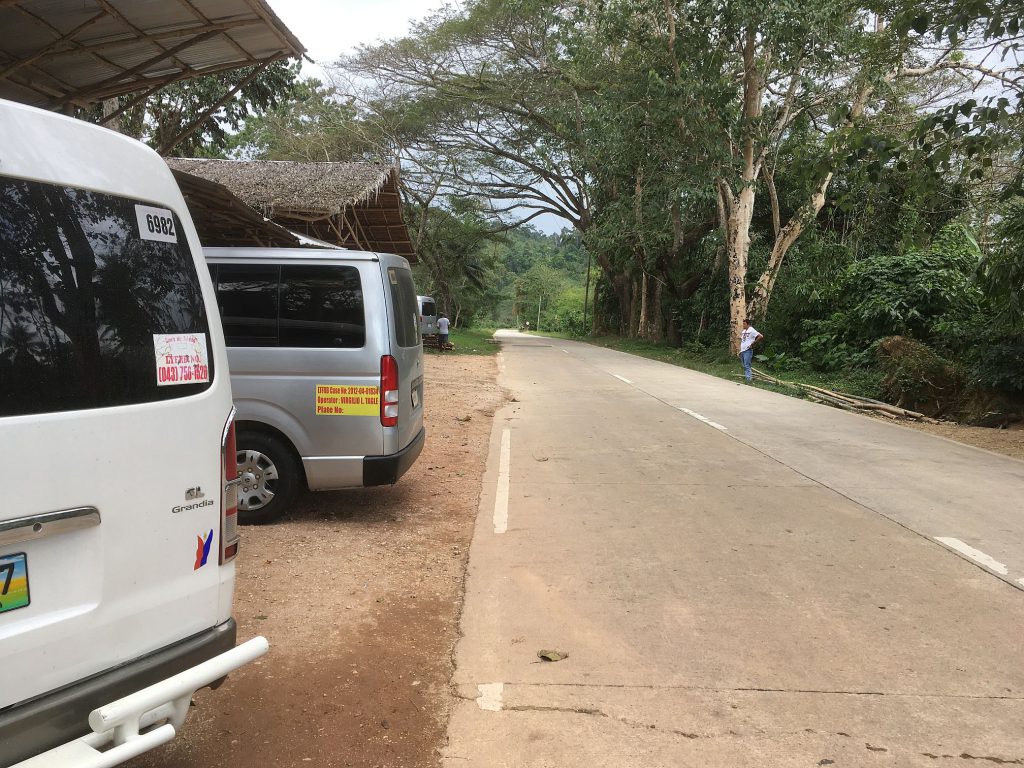 We would pass through undulating roads along the fringes of the municipalities of San Vicente and Taytay (the first capital of Palawan dating back to the Spanish colonial period and where the small Fort Santa Isabel – constructed in 1667- still stands until, on a small rotunda,  we bade goodbye to the PPNR and veered west towards the Taytay-El Nido National Highway.
Previews of what to expect in El Nido would manifest along the T-ENNH as the road got steeper while it followed the Malampaya River.  Majestic views of a few islands would behold our eyes as soon as the van crested a steep hill.
We finally arrived at the terminal in El Nido at about 3 PM and a short tricycle ride (PHP 50 or USD) whisked us to our hotel's downtown office along Calle Hama.  
A woman in her mid-20s with hints of Middle Eastern ancestry confirmed our reservations and radioed for 2 smaller tricycles to pick us up.  She also gave some insights as well as her impressions about the entire place and handed out a simple map of El Nido that included a list of massage parlors, bars, and restaurants located nearby.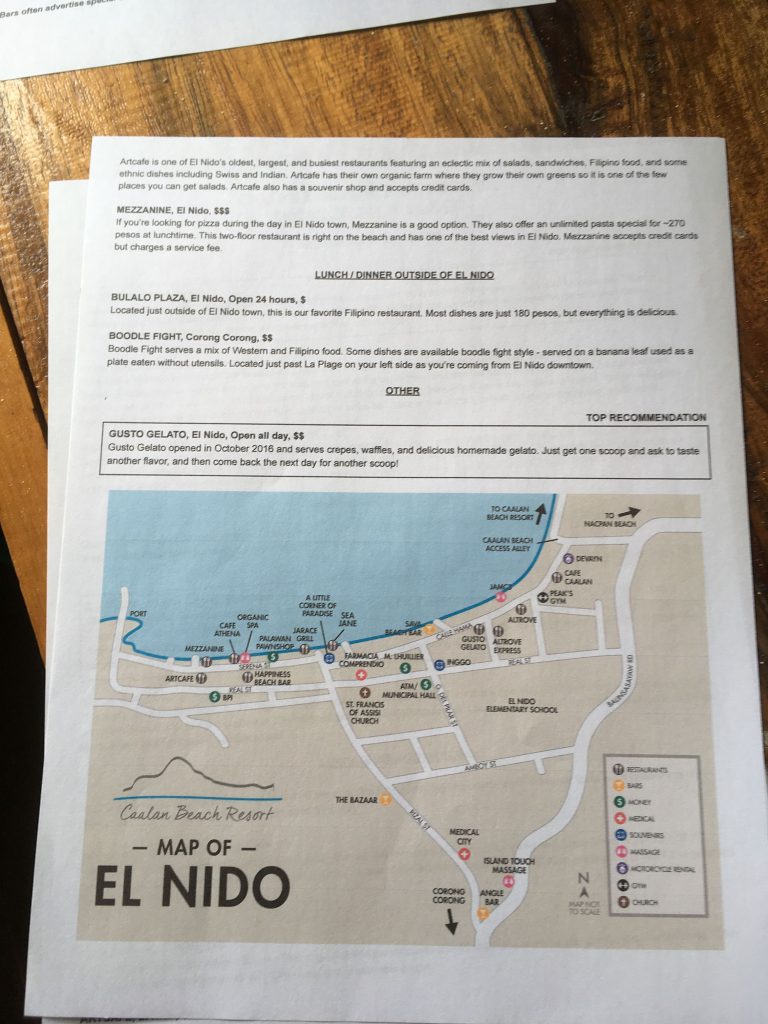 The road that led to Caalan Beach Resort was too narrow -barely a meter wide in some areas- that on several occasions along the way, either our ride or the incoming one had to stop and gave way to the other.
The cemented road followed the shoreline until you hit an unsealed portion lined by coconut, banana & other small fruit trees as well as a variety of ornamental plants with nipa huts, slow-slung houses, two-story concrete hostels, 'sari-sari' stores (a small, family-operated shop that sells sodas, snacks & various household goods typically attached to the house), makeshift food-stands, dogs by the roadside, all mingled in a locale called "Barrio Taiyo" (Taiyo Village).
At the resort, we were greeted and offered welcome drinks by Bee who informed us that she's simply helping her parents run the place along with her husband, John, when they're in the country for a vacation.  She added that her father -married to a Japanese- was an engineer from South Korea who decided to settle in this part of Palawan when he got assigned near the area during a road construction project.
We finally settled in our second-level room with a balcony that offered magnificent views of several islands in the bay, the immediate & largest one among them being Cadlao Island.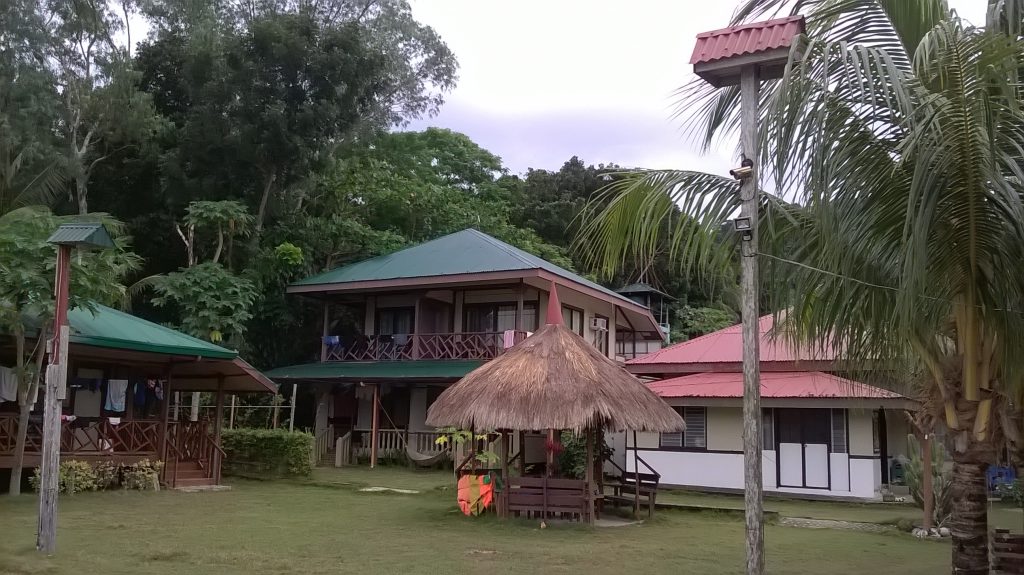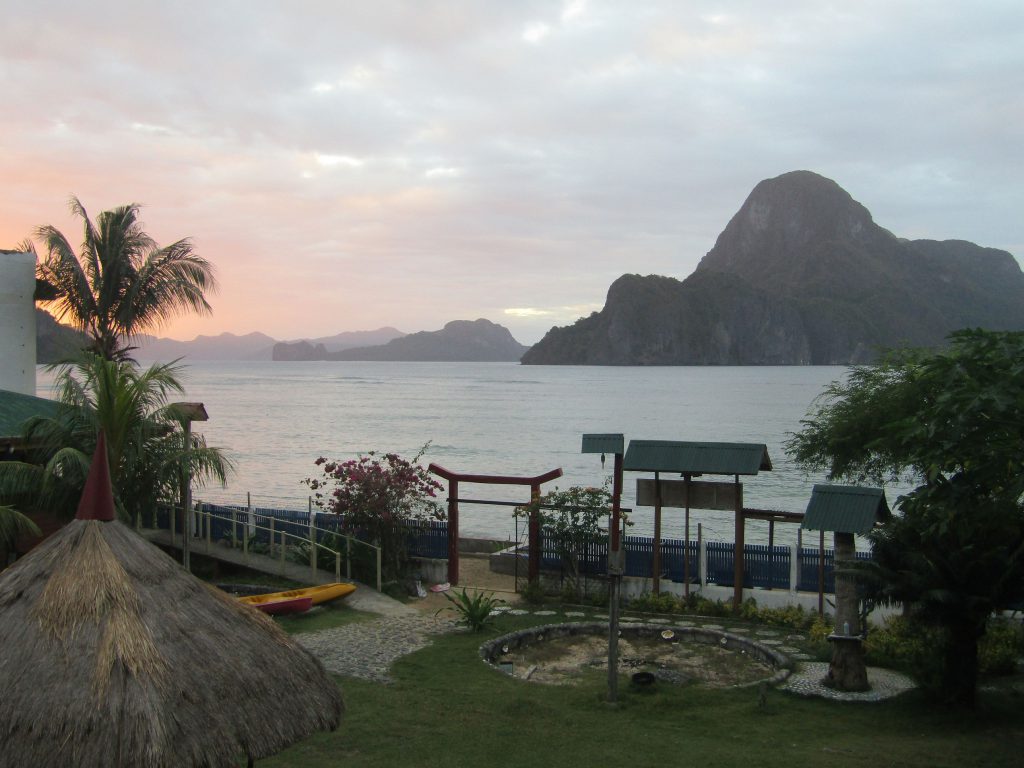 Mat & Johan checked out the beachfront but found it too rocky and the nearby waters too shallow to take a quick swim so we all just had a quick nap before heading out back to town to have dinner after briefly waiting out the mild drizzle brought by dark clouds that passed by.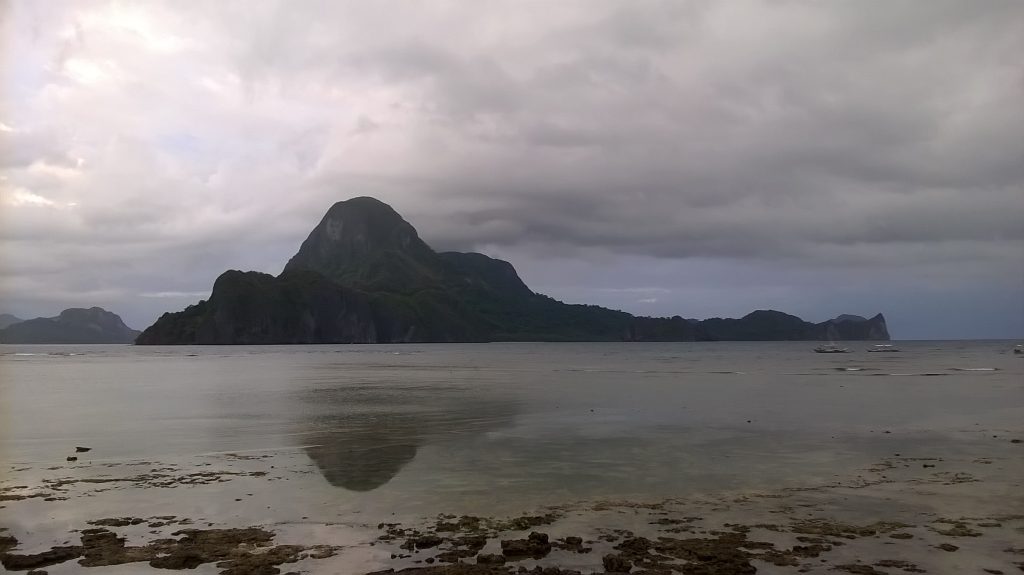 Calle Hama is the unofficial party street in El Nido since it's where most tourists end up after their sorties along the beach.  It's a narrow, interior road, hence, it is closed at night to all vehicular traffic –except for tricycles owned by resorts along the coast– to allow enough space for all the touristy goings-on.
Because of poor or even non-existent urban planning & zoning, it suffers, just like most remote bayside resorts all over the country, from its failure to exude any charm or appeal.  The area is simply a potpourri of haphazardly-erected food stalls, souvenir shops, hostels, houses and where locals, backpackers barely out of their teens and elderly tourists mingle and simply wander around.
After trying out a few pieces of barbeque-on-a-stick from a sidewalk stand, we got bored with the area as it was a bit early and took another tricycle ride towards Bulalo Plaza. 
We stopped just a few meters after we exited the junction of Rizal Street and the Taytay-El Nido highway.  Unless you're a local, and although the place is open 24 hours every day, it is, nonetheless, so easy to miss as the very small signage is overwhelmed by the cliff walls and the surrounding greenery.
We climbed a few steps into the eatery and we're ushered to a table right in the middle of the place by a pleasant, effeminate waiter who introduced himself as Megan.  The entire setup looked more like a kitchen converted into a restaurant that has about 8 wooden tables and bamboo benches in a squat, elevated location that fronted the highway.
Two orders of the house special, 'bulalo' (beef shank soup with vegetables), a plate of 'seafood sisig' (a variety of minced seafood sautéed in a sizzling skillet topped with chilis & fresh egg), rice, sodas, and a bottle of beer were more than enough for our stomachs.  Afterward, we decided to walk back to town to shake off some of the cholesterol deposits.
Along the way, Mat & Johan inquired from a roadside travel and tour stall for the earliest trip back to Puerto Princesa on Wednesday in order to catch the underground cave trip on the same day.  Mat balked at the idea after learning that they would not only barely make it to PP on time but that he would also lose the money he paid for our already-booked and scheduled return trip.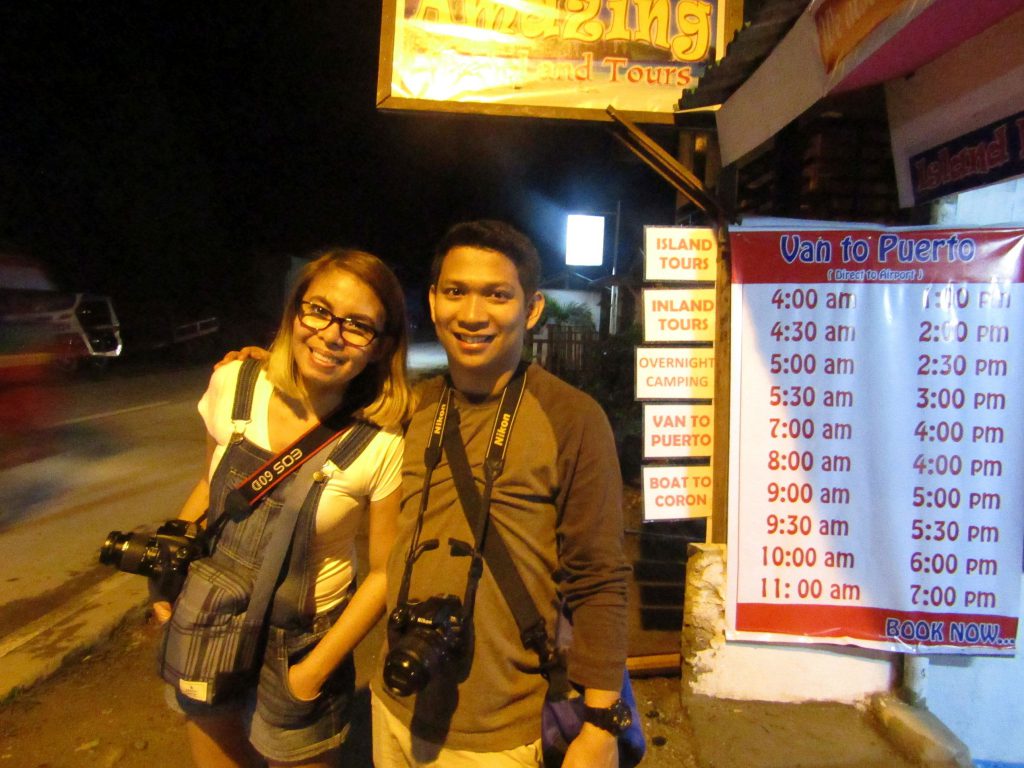 Back at Calle Hama to get our free ride back to the resort, the trio went shopping for souvenirs while I scoured the place for some cold beer in cans.  I managed to get some but they were not cold so I searched in vain for some ice.  Our driver suggested that I could just ask them for free back at the resort so our tricycle squeezed back into that same narrow alley, its motor sputtering in the stillness of the early evening along the shore.
Ruby showed up later in the room holding a block of ice wrapped in plastic that Bee gave her. While they all prepared their things for the island-hopping trip the next morning, I sat back on the bed to enjoy my ice-filled glass as I slowly poured the country's best beer –San Miguel– into it.
It was a luxury that I would regret in the next few hours; in fact, for the next few days.
Day 3 – Feb. 7, 2017 – (Tuesday): Island Hopping Tour Day 
Immediately after breakfast, John tapped on our door and informed us that we need to get prepared for the island-hopping tour by 9.  A few guests had already milled around the nipa-roofed gazebo where we could see them choose and pick among several sizes and colors of snorkel gear neatly arranged atop a low table in the middle of the sandy floor.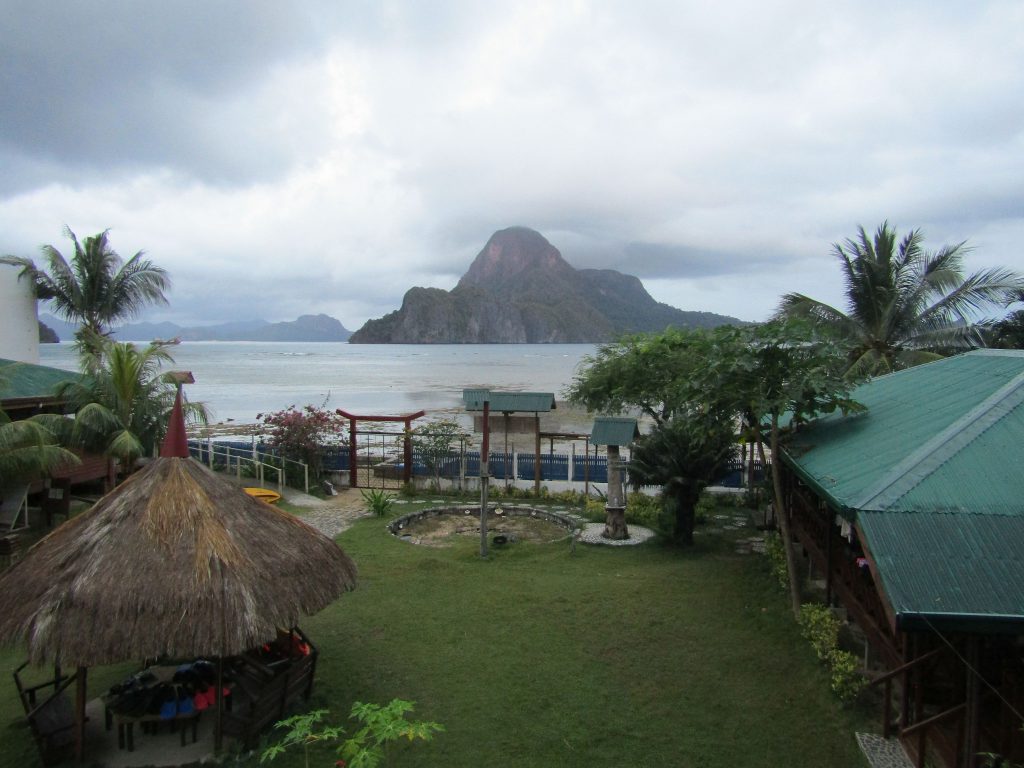 Last night, however, my seemingly innocuous decision to ask for some ice for my warm canned beer resulted in vomiting episodes and several trips to the bathroom – bad water– that rendered me so physically exhausted.  But who wants to miss a cruise of the islands on a very nice day in El Nido?
He prepped us along with 6 other guests on what to expect during the 'island-hopping' tour and offered great tips on how to 'survive' the almost day-long trip water trip.  Then, without John, our boat crew of 4 led by a spunky Palaweña in her late twenties herded us to a quarter-mile walk along the shore towards the deeper part of the bay where the resort-owned outrigger was moored.
Yesterday afternoon, before we headed downtown for our dinner, we had agreed to purchase island-hopping package C (hidden beaches and shrines) which began with almost an hour-long ride towards Tapiutan Island.  Our group was barely enjoying the waters in our snorkel gear when a coast guard band of two aboard a small motorboat waved us to move to a different location to protect the coral reefs in the area we're on.
The next stop would be 'Secret Beach'.  It is accessible via a narrow portal that leads to a cove with shallow water surrounded by limestone walls that had seen a good slice of mankind's history. The big boulders below the water made it just an ideal place to waddle around and enjoy the sun.
Lunch aboard the boat consisted of a salad medley made cucumbers, tomatoes, lettuce, grilled 'pork liempo',  steamed 'tahong' (mussels), grilled 'tambakol' (skipjack tuna) complemented with slices of watermelon and pineapple.  We also bought fresh coconuts from an enterprising vendor on a boat who also sold canned soda and beer.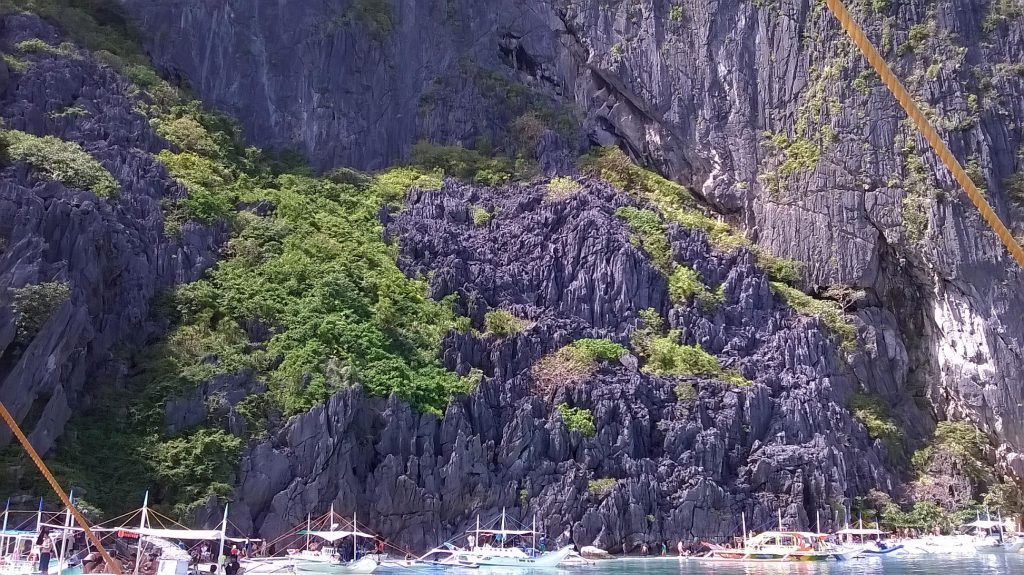 After lunch, our boat headed to the Hidden Beach, which was the most difficult part of the trip for non-swimmers as one had to fight a swell near the edge of the cove amidst huge rocks that were being constantly slammed with waves.  At least 2 boat crews had to assist each guest who either couldn't swim or just wouldn't dare venture into the dangerous waters.
The last leg of the tour was a brief stop at the Helicopter Island –so-called because its silhouette resembles a heli when viewed from a distance-where we took pictures of the majestic cliff walls.  We missed those beautiful sunset views as gray skies were the theme for the rest of the afternoon.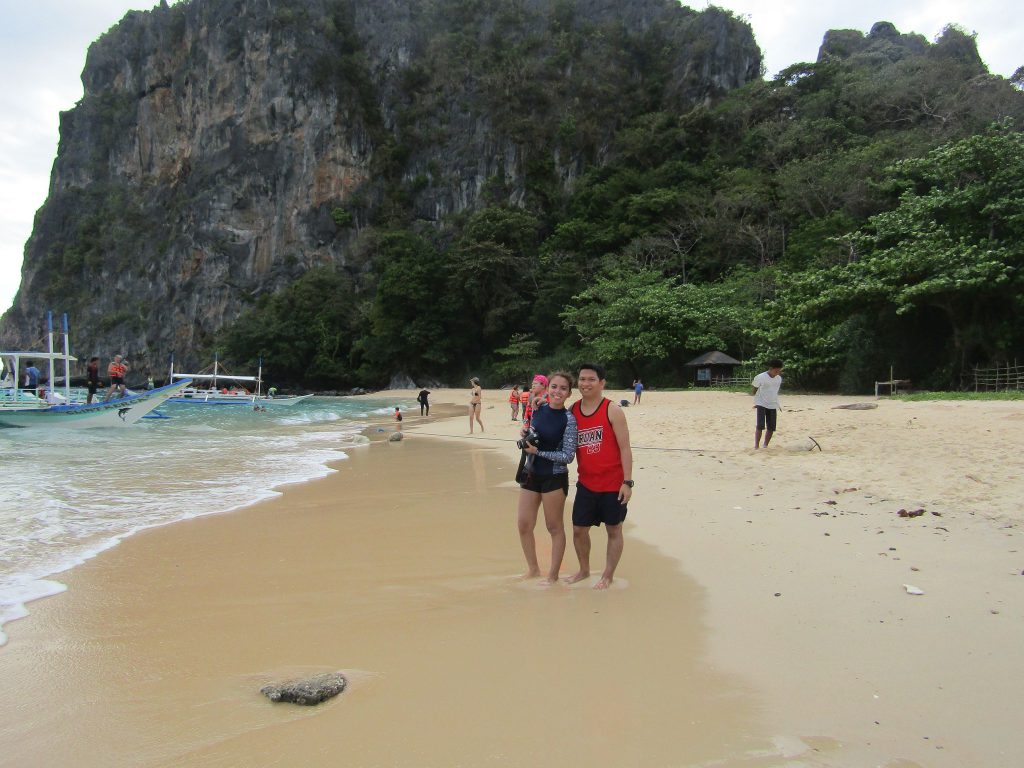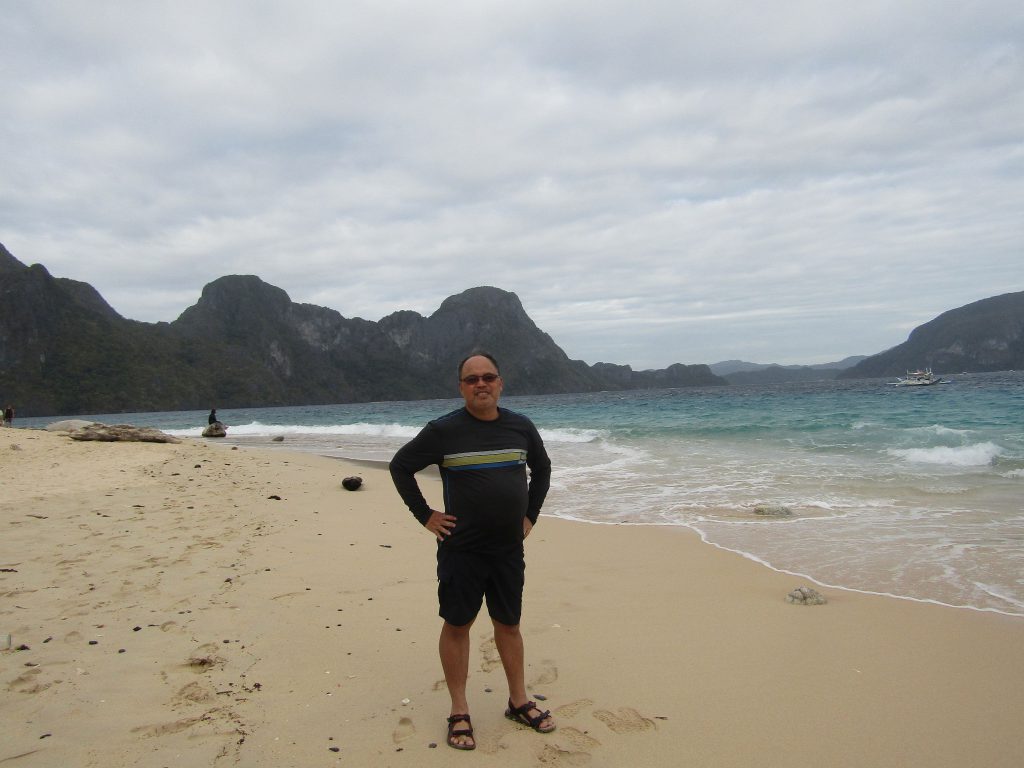 It was almost 5 PM when we finally made the channel crossing back to the bay and a short walk along a narrow, tree-lined path leading to the back door of the resort where some drinks and biscuits awaited us.
Day 4 – Feb. 8, 2017 – (Wednesday): Back to Puerto Princesa on a Bum Stomach  
My stomach felt a bit better after a cup of tea and a Pepto-Bismol tablet.  Breakfast consisted of two boiled eggs as I was too weak and tired to even go down to the restaurant.  The styrofoam box with my dinner lay untouched on top of the shelf.  Last night, after the boat trip, Mat & Johan went back downtown to get some food and to check it out a bit more while Ruby just opted to stay in order to help me out in my struggle with the stomach bug.
We quietly packed all stuff and our still-damp clothes as the lack of breeze from the bayfront and that it had been mostly overcast for the remainder of the afternoon after the boat trip didn't help the somber mood.
A narrow tricycle but with enough space for the 4 of us took us back to town for our ride back to Puerto Princesa.  At the bus terminal, I looked out for our luggage while they took off on foot in search of a pharmacy to get some anti-diarrheal tablets, electrolyte mix, and bottled water to, at least, stabilize my bum stomach on the long trip back to PP.
For reasons unbeknownst to us, just a few miles out of El Nido, we were transferred to another van already loaded with 2 other passengers.  The van was more comfortable so we didn't complain.  The return trip was uneventful except for a lunch stop at an open-air restaurant that offered a nice view of the hillside and a glimpse of the waterfront further down.
We all managed to doze off in the air-conditioned van along the way, maybe partly in anticipation of all the activities when we reach PP or partly because our bodies were still recuperating from those strenuous water activities we had yesterday.  Or, maybe, it was simply just another one of those sleepy, beginning-of-summer days in Palawan that's perfect for a siesta?
By 2 PM, we're back in the city of Puerto Princesa and we had to wait for a few minutes at the odd mixed-business-and-living-room-like reception area of the enigmatic D' Lucky Garden Inn – – our overnight shelter for the day before we head back to Manila the next morning.
The place had such an unusual appeal because of its maze of very narrow passageways that leads to several doors that will leave you guessing where they will lead you to next.  My suspicion is that the entire place is an 'all-purpose lodge' that can accommodate all patrons either looking for a quick 3-hour 'love motel' service to monthly renters.
Mat had booked two separate rooms for us and both had that unmistaken scent of a love motel which I could simply describe as a mix of household bleach and a strong musk fragrance. Mat and Johan's room even had a motif- a red mosquito-net-like fabric draped over the center of the double-sized bed.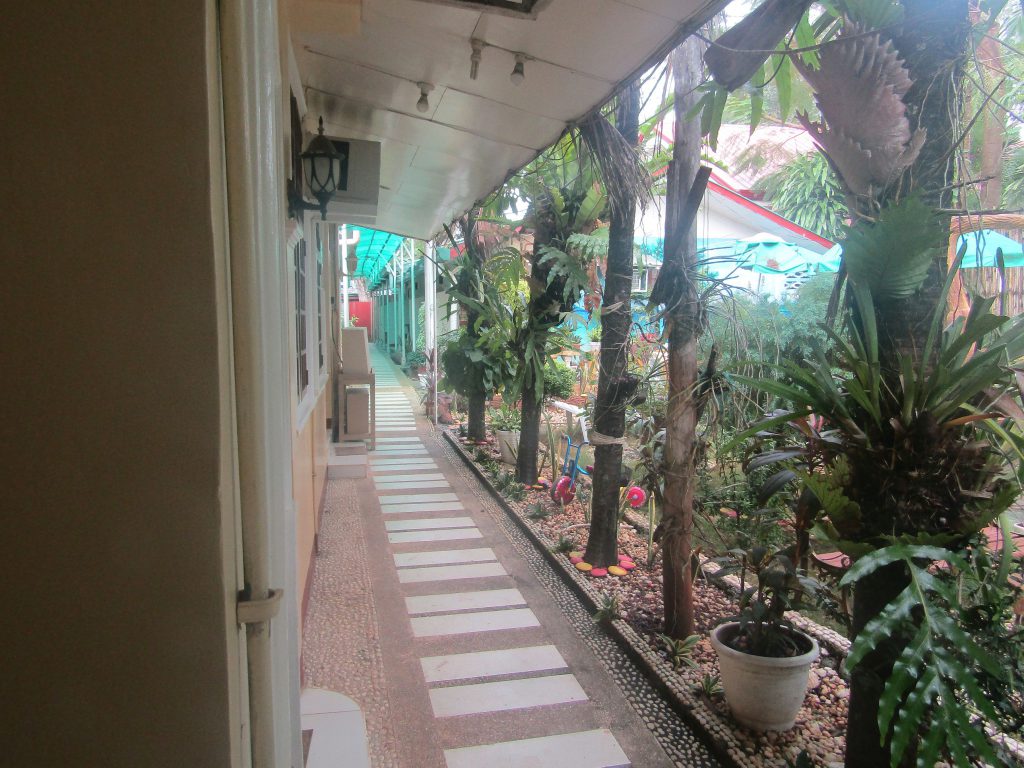 After settling down in our rooms, cold showers we rested for the remainder of the afternoon until the couple took off again aboard another van for the 'firefly watching' trip in an area of the Iwahig River where a penal colony is situated nearby. They would be the only takers for the PHP 1200 (USD 24) per head tour as the inclement weather discourage other tourists.
Meanwhile, Ruby wandered all over to sort out the entire compound while I simply stayed inside the room to battle with the bacterial infection that had now settled to the lower intestines.  The numerous trips to the bathroom made me so hungry that the ham & cheese sandwich, fries, and a bottle of Sprite that I ordered did not last long on the serving tray.
Mat had sent a text message to inform me that we both were already asleep when they returned from their trip by 9:30.  They would report the following morning that while they enjoyed the food at the restaurant stop before they took the boat for the firefly watching, just a few of them showed up and failed to dazzle with their fireworks as it briefly rained during the trip.
Day 5 – Feb. 9, 2017 – (Thursday):  Puerto Princesa Airport in 3 Minutes
Since our one and a half hour flight back to Manila was scheduled for noon, just after having their early morning coffees, the trio took up on the offer of one of the receptionists- whose husband owns a tricycle- to give them a ride to Baker's Hill and Mitra Ranch, at a discount.  Ruby decided to return to Baker's Hill simply to buy that delicious hopia again, this time, as 'pasalubongs' (presents) for the folks back in Manila.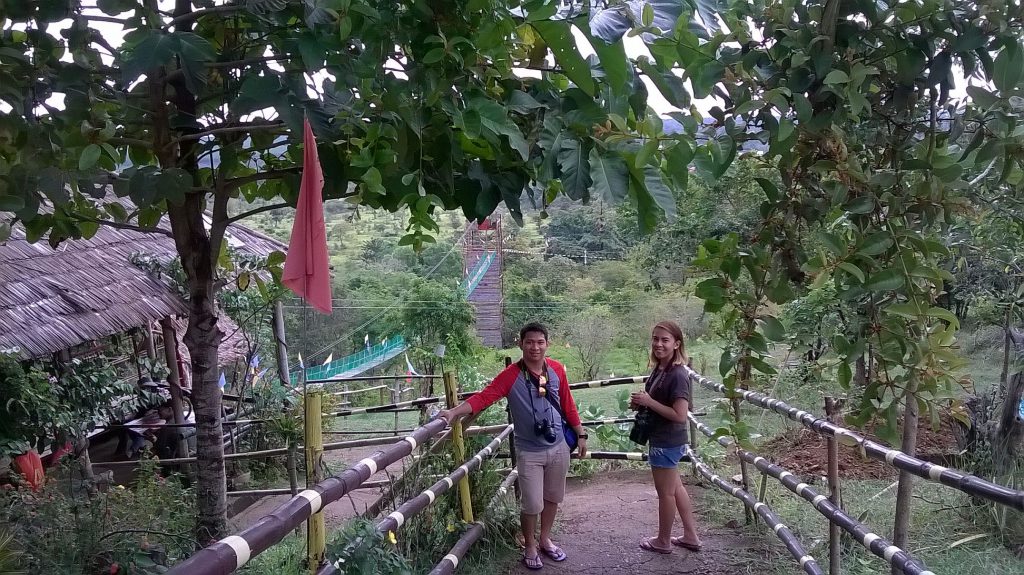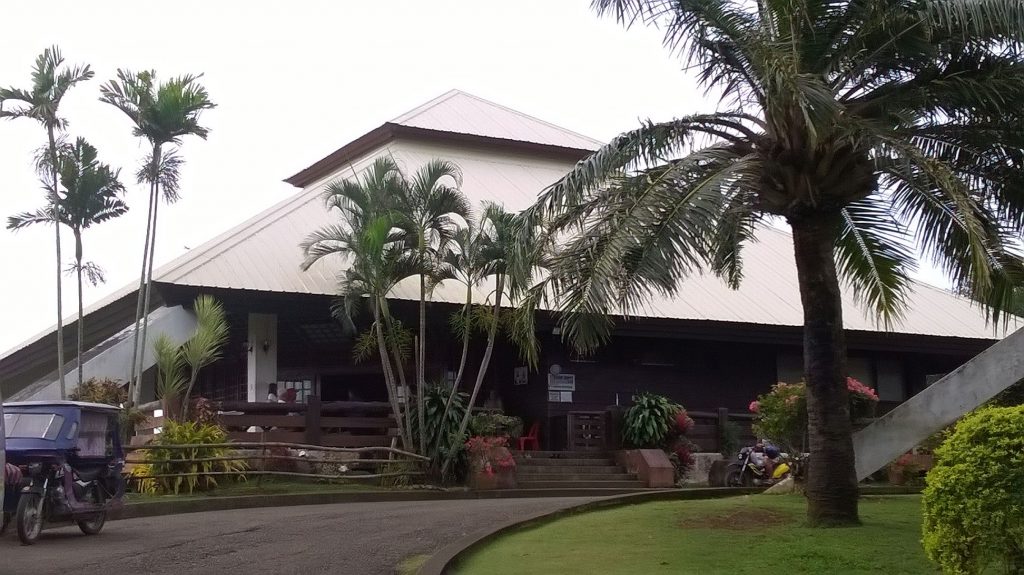 With renewed spirits after in bed for almost 18 hours since we arrived, I decided to look around the place after a hearty breakfast of 'cornisilog' (corned beef hash, fried egg, and fried rice). My bum stomach had markedly improved after the continuous intake of the electrolyte mix, cold Sprite, and Diatabs.
The 'lucky garden' was just immediately across our room and so I made a few trips between the bathroom and the garden as well as the restaurant just to the right. I took a few pictures of the surrounding areas to while away the time as I waited for the trio to return.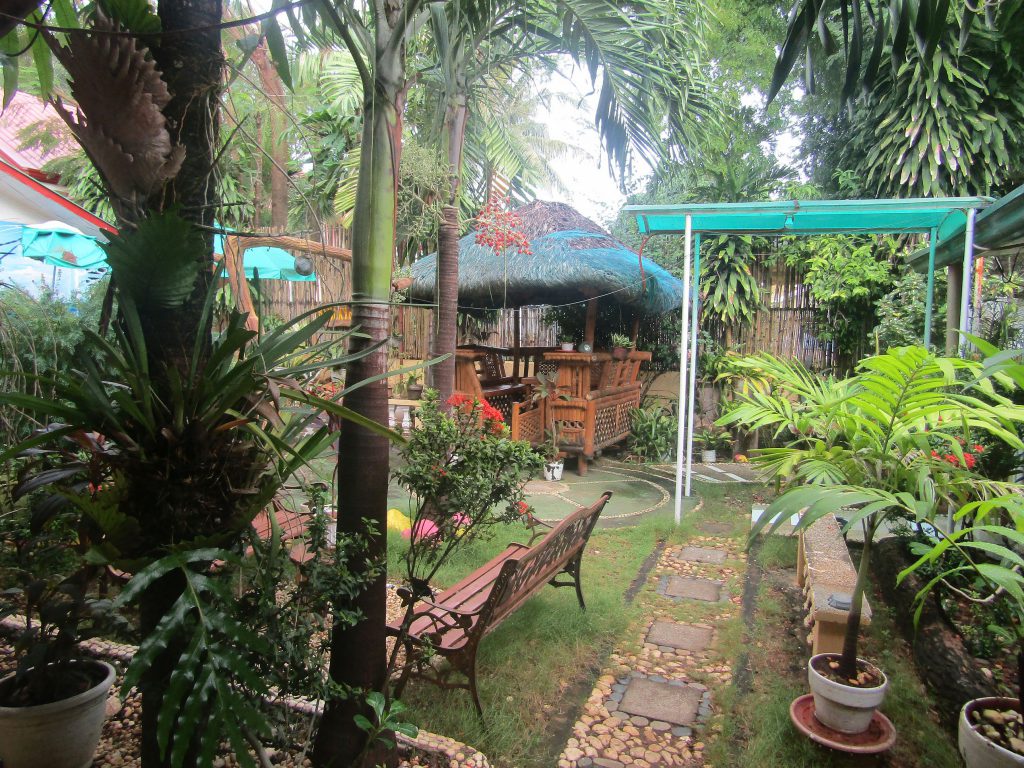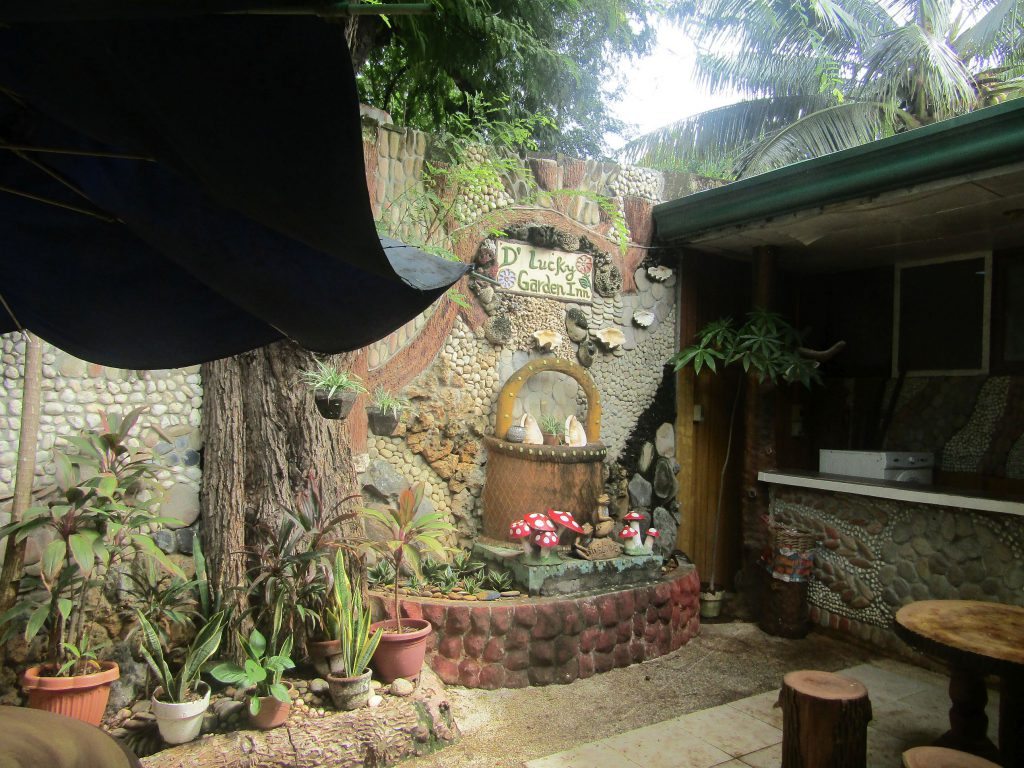 Sometimes you visit a place and one bad experience would be enough to ruin your entire perception about its people.  On the other side of the coin, the friendliness of the people in a particular place could be so overwhelming that you wished that you had stayed much longer.
Palawan is one of those places that could be categorized on the latter.  Its people will afford you with just the right amount of personal space so that you could simply introspect in your life's journey and enjoy what the entire island has to offer.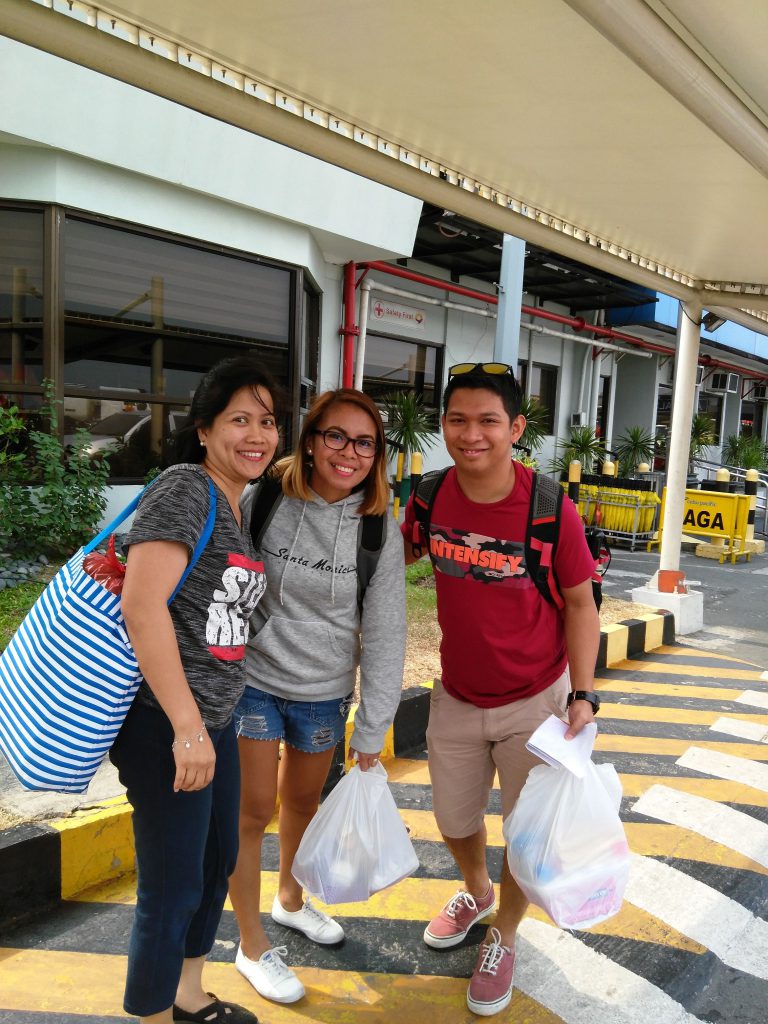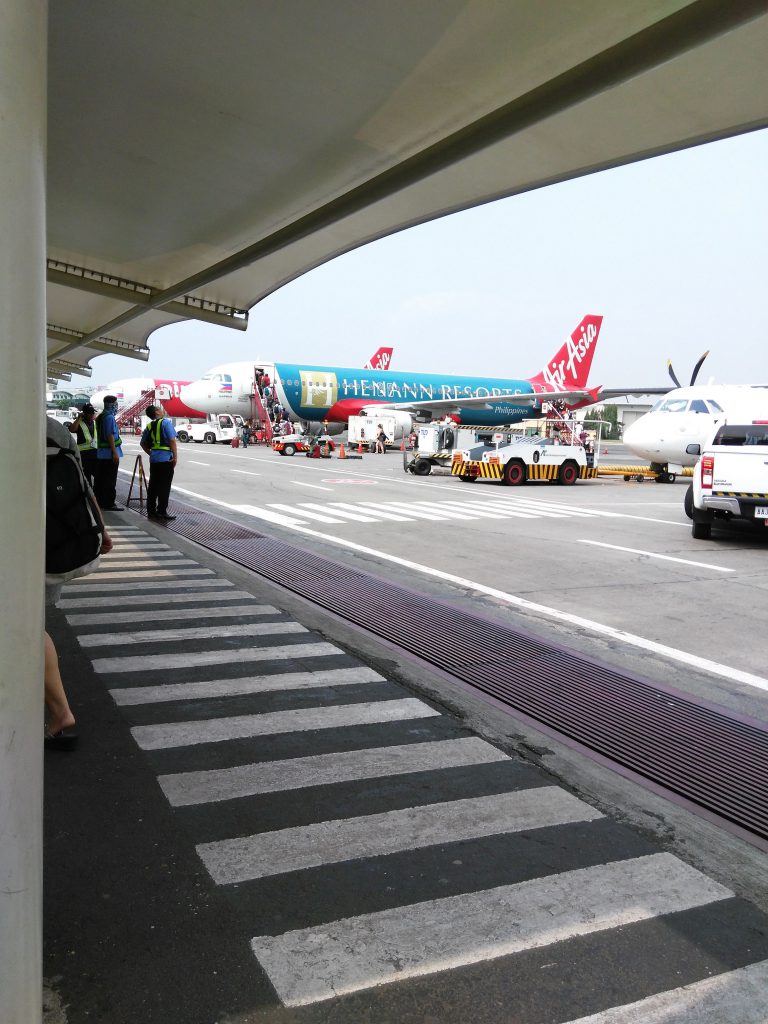 After the trio arrived, an almost brand-new white van picked us up at about 10:50 AM.  From PEO Road, it made a left turn towards Rizal Avenue, then after a brief moment, turned right into an open gate.  After that very long trip to El Nido and back, we're all taken by surprise by that rather brief interlude of a ride to the airport.
At 10:53 AM we quietly unloaded our bags from the van and headed for the check-in counter of Air Asia for the flight back to Manila.