Everyone in the compound seemed to be awakened by the loud voice from the entrance. Even a nocturnal guy like me who spends the wee hours of the morning watching tacky movies like Bruno and Borat was moved out of bed by the obviously jovial yet familiar voice of a man.
I was not mistaken. It was Kuyang Rey, the buddy of my father-in-law, whose loquacious nature had made the people in the barangay think that he is good for nothing except for gossiping.
At first, what he was saying was confusing but when I heard the whole conversation between him and two of my uncles, everything became clear.
"We already have a 'poso' (manual water pump) and it was courtesy of Kumpareng Andong."
"Also, just to inform you, since my kumpare is running for the seat of barangay captain, everything that we request from him would be granted."
"Mind you people, this is our opportunity."
Once called as 'barrio', a barangay is the smallest administrative unit in the Philippines headed by a 'kapitan' (captain or chairman) and several 'kagawads' (assistants).
All this news elicited excitement from the faces of my aunts and uncles. Some of them inquired if the candidate would be willing to donate a truckload of gravel and sand, hollow blocks, or even an entire roof for the house!
One even asked if, on the day before the election, Andong would seal his victory by giving every voter of Barangay Burgos five-hundred pesos (about US$ 10).
Amidst the bewilderment, my cousin boasted that the other candidate is capable of providing what this aspiring barangay captain could give.
"Manong Tolome can double what you've been receiving from your Andong," Untoy (my cousin's nickname) said with some pride and a look that seemed to challenge Kuyang Rey.
"I heard that Manong Tolome shouldered the electric bill of the Tolentinos, provided all the bottles of beer during the birthday of Sidro, and this is the real kicker–he's been giving a thousand pesos (US$ 20) to every single voter of Purok 2 in our barangay."
The statement caused quite a stir as well as excitement among my relatives. As for me, I was half happy to hear that Kuyang Rey's family does not have to go to the neighbor to fetch pales of water to flush out their shit, since they already have their poso.
Although it was such a big deal for them, I was more sad than happy.  Ah, I almost forgot that in a couple of weeks, barangay elections would again take place.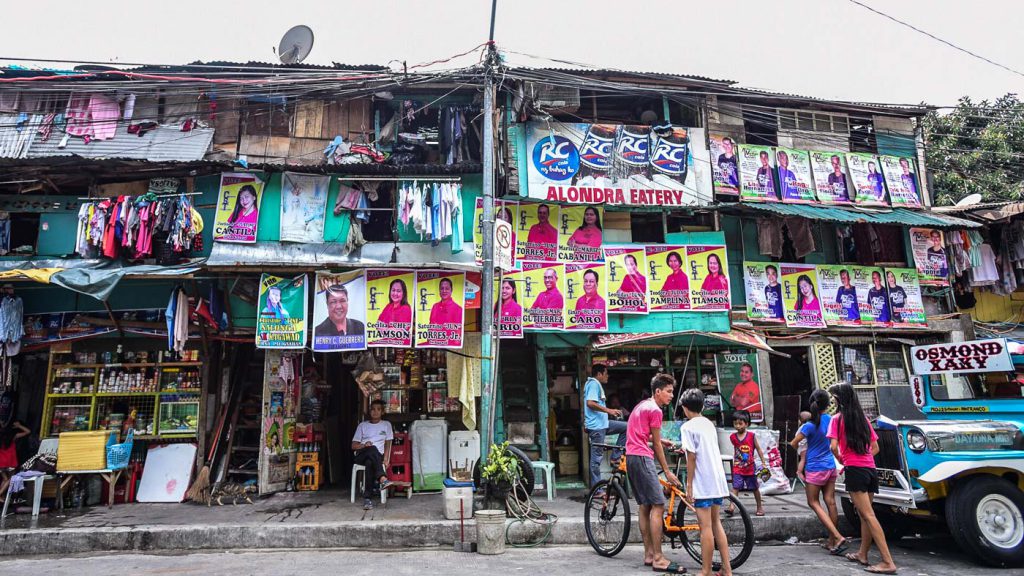 The pomp and all to sudden generosity that we only witness from the mayoral and congressional wannabes had already seeped into the barangay level.  It is just amazing, fucking amazing to witness how some kagawad and barangay chairman candidates could provide a poso or visit a birthday celebrant's party and shower them with a variety of gifts.  They attend the funeral rites of a friend of a friend, meet and greet the elders, have pictures of them taken carrying a child or kissing a filthy old man and whatever.
They visit you, shake your hands, and beg for your vote. Together with their so-called supporters, they roam the streets riding an 'owner jeepney' equipped with loudspeakers playing a song by Inigo Pascual with modified lyrics to promote their advocacies.  Same old stupid scene.
What are their advocacies? It varies from very personal to general, but regardless of what their advocacies are, what they would do remain blurry and puzzling.
And let us not forget the one-liners of these "prominent" candidates. Their print ads read "Maaasahan mo" (Someone you can lean on), "Ipaglalaban ka" (I would fight for you.), "Ang Tatay ng Barangay" (The patriarch of the barangay), "Kay Dodong, Panalo Tayo" (With Dodong, We are the winners), "Una Ka Kay Manang Tasya" (You are the priority of Elder Tasya) and other fascinating promises.
No matter how sweet and promising their one-liners are, they do not seem to meet or even exceed the standards of good governance.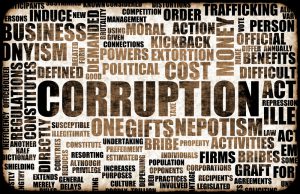 A perfect example would be the one who campaigned that he is "someone you can lean on".  Leaning on, in the context of public service, is neither the kagawad who would provide the cases of beer during the birthday party of a barangay member nor the barangay chairman himself would shoulder the sacks of cement for house construction.
Being "someone to lean on" is a leader who organizes scholarship funds and livelihood programs. To see to it that the jobless are encouraged to join a business cooperative.  That every barangay member is taught garbage segregation and proper disposal.  That no one is seen consuming alcohol or smoking in public places.   Or, even simply to espouse cleanliness and discipline is to say that the barangay chairman is genuinely someone you can lean on.
"Ipaglalaban ka" does not mean that when a person is the cause of a brawl, all he has to do is to ask for the help of kagawad and his wrongdoings would be tolerated and that he would be defended no matter how wrong he is.
When a candidate pledges that "he would fight for you", it means that he will defend what is morally right even if the deed deems to be unpopular.  Fighting for someone is fighting for the rights of the oppressed whether he is your associate or not.
When someone claims that "he is the patriarch of the barangay", he should see to it that his words and actions are within the level of acceptable behavior.  He should take concrete steps in maintaining the health and well-being of each and every barangay member by integrating medical missions –just like a father who wants all his children healthy.
He should not take sides during barangay hearings but rather, punish the wrongdoer.  And the punishment should be like that it's coming from a concerned father who does not want his son to become the bane of the barangay.  The world simply has too many assholes already.
While the candidates enjoy the perception that they are appreciated by the people with their advocacies and promises, they appear to be ignorant with regards to the long-term needs of their constituents.  What they usually offer are short-term and patch-work solutions to the same old problems that had been haunting and destroying the Filipino values for centuries.
This is where I pity Kuyang Rey and the majority of the Filipino people. While the deed of the politician in providing the poso, the construction materials, or even cinema passes (yes, free movies) appears a class act, it totally defeats the concept of self-reliance and the value of hard work.
Having a lack of money is not an excuse for working-class Filipinos to be dependent on other people –especially the politicians. By giving Kuyang Rey's family the poso, the candidate did not really help him. It only made Kuyang Rey even worse.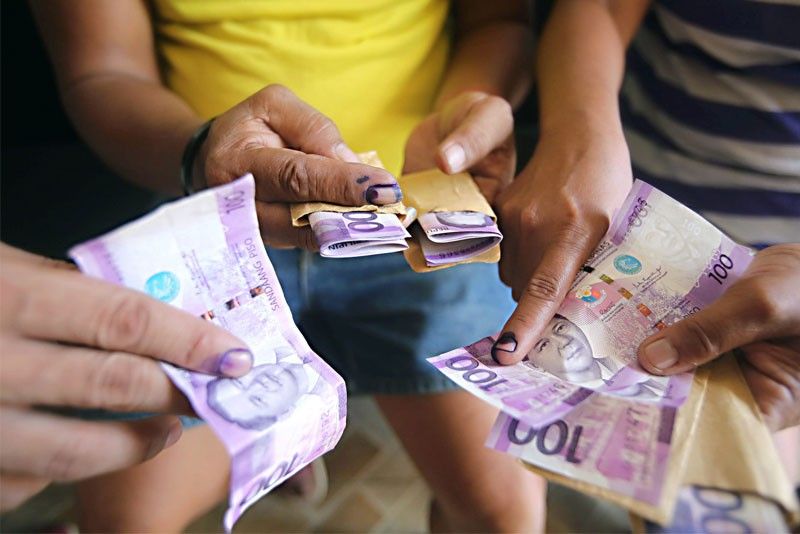 After all, it is not the barangay chairman's task to provide a family a deep-well pumping machine; it is the job of the padre de familia to invest all the essential things needed by his family. It's not the church, DSWD, PCSO, or other charitable organization who is responsible for one's need but the person himself.
Instead of the poso, a well-meaning politician would rather coordinate with the water company so that everyone in the barangay would benefit, not only a few families.
Instead of construction materials, why not help the person find a decent job so he can gradually build his own house from his sweat?
Instead of movie passes to get the teen votes, a resource speaker can be invited over to the barangay hall to give English-proficiency classes.
Poso is good for only one family, but an efficient water distribution system is good for the entire community.
A hundred-fifty hollow block is good only for Aling Bebang's comfort room but a job opportunity would enable every father in the barangay to build a house of his dream.
A movie pass or two would be a temporary escape to the harsh realities of life but an English proficiency class could equip them with confidence in finding a job..
Ah, to hell with the shallow minds of these politicians. Politics is as dirty as a charcoaled rug.
As I write this, my drinking buddy texted to inform me that Andong would come over to our compound tomorrow to shower us with paper bills.  Lots of one that depicts the face of a brilliant senator who was assassinated at Manila's main airport in the early '80s — the five-hundred peso bill.
Maybe the money is enough to buy me a good pair of jeans, or a cellphone 'load' good for a month, or even wax and tire black for my dying jeep. After all, the entire barangay won't even know if I sold my soul or not.
Nah, I'll just sleep all day tomorrow and Kuyang Rey will never be able to wake me up even with a megaphone.