He used to come often to our store/house in Baclaran (a 'barangay' in the, then, town -now, city- of Paranaque, which is a mere 2.5 miles south of Manila) to visit his younger brother (my father) as well as to acquaint us with his latest interest — which was quite diverse.
Those years were in the 70s and 80s when I was old enough to comprehend the things he discussed with my parents. It was also in those days that I was able to glean that, he, not only was my uncle but also was my grandfather by co-sanguinity — his wife (whom we fondly called, "Lola Paring") being the aunt of my mother.
Most of the time that he was with us in Baclaran (and if I also happen to be at home), there was always a discussion -over cups of instant coffee- that centered on his wide-array of interests: honey bees, silk culture, alfalfa, grapes, pigeon-breeding, vitamins, mushrooms, asparagus sprouts, oranges and many other agri-related topics.
His interests and how he explained them to all of us, was with so much enthusiasm and persuasiveness, such that he was also able to convince my mother to sell those pure honey contained in 'patis' (fish sauce) bottles in our store.
Every New Year's Day, when he was still residing in Grace Park, Manila (part of what was then known as 'Manuguit' or presently, Jose Abad Santos Avenue in Manila's district of Tondo), our family made this annual trek to their house, as it was his birthday.
I used to recall those visits with so much anticipation because it was one of those very rare occasions that our store will be closed. Not only will we be free from store work for the entire day but we also always looked forward with delight as to what Tata Fidel and his family will serve for us that day.
I especially loved the fried-chicken – the house-special – and the very delicious cakes and pastries that they made.
I knew he was not a good cook but it happened that one of their tenants in the mixed-apartment building that they own, was a restaurant and that, for a time, they also operated a small bakery in the same building. Hence, while there were plenty of good foods, good talks were also awash every New Year's Day.
Growing up, he would badger me -as well as the rest of my siblings and cousins – to take up courses like orthodontics, X-ray tech, baking, and always reminded me of the benefits of taking-up short courses at PCAT (the Philippine College of Arts and Trades, presently known as TUP, Technological University of the Philippines).
But what I remembered best about my Tata Fidel was his passion for looking for natural methods to keep fit, trim, and healthy.  It was only a natural diversion for him after being a successful businessman that operated a battery shop and then, an auto-parts shop in Pasay City, right after World War II ended.
He also ventured into other businesses including the small bakery as well as in small garment-making, after he semi-retired in the early 70s. These were not long after he made sure that his family was secure financially by making some brilliant real-estate investments during the years they still operated the auto-parts shop.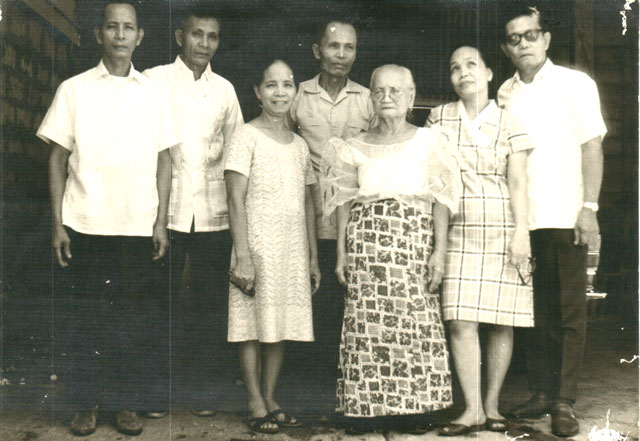 He was so much into health and organic foods that he bought a parcel of land in Plaridel, Bulacan (adjacent to the Tabang Toll Booth of the North Expressway) so that he could put into practice his interests for them.
There, he planted (or, tried his best) grapes, mushrooms, asparagus (these were not known to grow very well in the country's tropical climate — much more, in very humid Metro-Manila at that) as well as a variety of crops common in the region.
The place was a proverbial gardener's garden with the modest house -made of wood, bamboo, and concrete- in the midst of all the greenery. He even had a 'mini-lab' in the basement of that house where he kept his collection of seeds and various plants whose names I didn't even know existed in the Philippines!
Those were the days I remembered my Tata Fidel best.  Except for a mild hearing loss that he remedied with the use of a hearing aid, he was energetic, so full of life, and still very strong even when he was already in his early 80s. So strong that he can still crush those bottle crowns with the force of his fingers using only one hand – while I watched with awe- at that advanced age. A feat I wasn't able to accomplish at my relatively young age of 30 something or so, way back then.
The last time I had the chance to see him was in the late 90s – times that I spent preparing to migrate here in the U.S. – and I had the opportunity to accompany him to a drugstore to get some of his medicines before he went back to Bulacan. I did not bother to ask him what those medicines were for.  And, didn't I notice any changes that he may have had on his health. He was, for me, the same strong and health-conscious man, continually lecturing me on the benefits of natural foods and organic medicine.
This year, about the middle of February, he was gone. Which led me to wonder, once more, about life's real meaning – the whys and hows of creation and death and, why we, mere mortals, have to endure all these events that seem to have happened before — in a never-ending circle.
What are we living for?
I may not be able to come up with an intelligible answer over the course of my own personal odyssey…in my very own lifetime. But, I'm very sure of one thing: life's memories – for as long as one lives- linger on. And, I'm also very sure that my Tata Fidel had truly accomplished what he was here on Earth for.
Notes: The picture above is their family portrait with Tata Fidel on the extreme right (with dark glasses). From left to right: Tata Kiko (+ -this author's father), Tata Amado, Nanang Terya (+), Tata Ambo (+), Lola Belang, the family matriarch (+), Nana Oliva (+), and Tata Fidel (+). Not in the picture is Tata Mundo (+).
2016 Update: In late August 2012, the author's father, Tata Kiko, also passed away at the age of almost 94.
2020 Update: Tata Amado passed away in Talavera, Nueva Ecija, Philippines in 2017 while Nana Oliva died peacefully in her sleep — late July 2020 in Cerritos, California.