Day 1 – Feb. 15, 2016 – (Monday): Gone to Cagbalete Island
I wiped away the sleep from my eyes at about 3:30 AM only to find Rona, my sister-in-law, already busy in the kitchen.  The night before, we had bought some "pan de sal" at a store adjacent to the place where we had intended to eat a version of the famous "Ilocos empanada";  at the "Fariñas Ilocos Empanada" located across the Mandaluyong city hall complex along Maysilo Street.
However, they had closed earlier than usual that day for general cleaning and so to appease my empanada craving, we bought instead "lechon manok" and "inihaw na liempo" (grilled chicken and pork belly respectively) from a small stall called "Mang Boks."
Rona's youngest son, Matthew – fondly called 'Balong' and who suggested the place – and his wife, Johan (just two months married) together with one of my wife's first cousins, Lelen, would be my companions to Cagbalete Island.
We hailed a taxicab that took us to the JAC Liner bus terminal in Kamias, Quezon City.  The bus fare was PHP 270  (USD 5.70) per and this first of only two daily direct trips to Mauban, Quezon supposedly would take about 4 hours.  It arrived more than an hour late after making numerous stops – loading and unloading passengers – after it exited the South Luzon expressway in Sto. Tomas, Batangas and meandered around the cities and towns – San Pablo, Tiaong, Candelaria, Sariaya, Lucena – that surround mystical Mount Banahaw.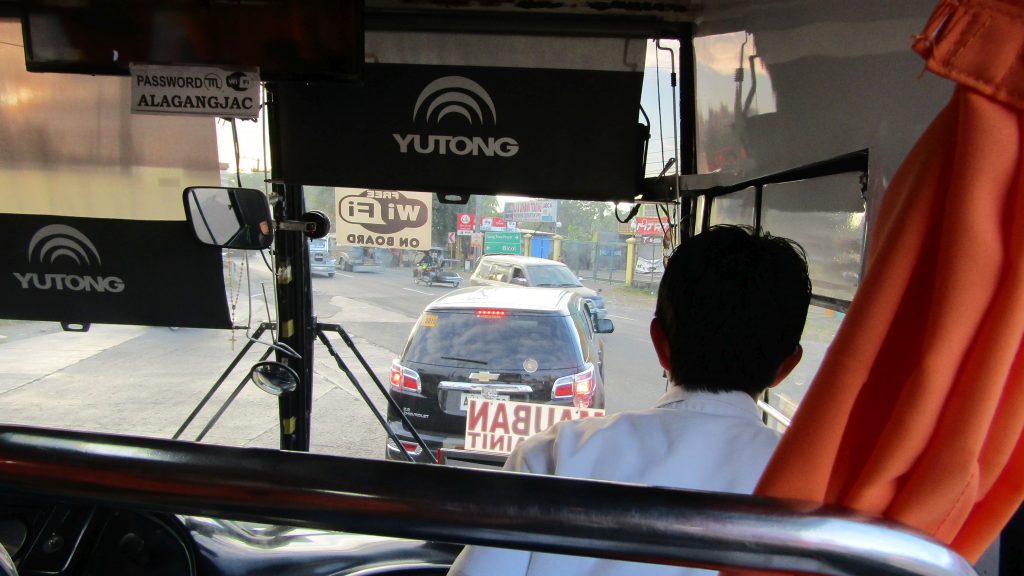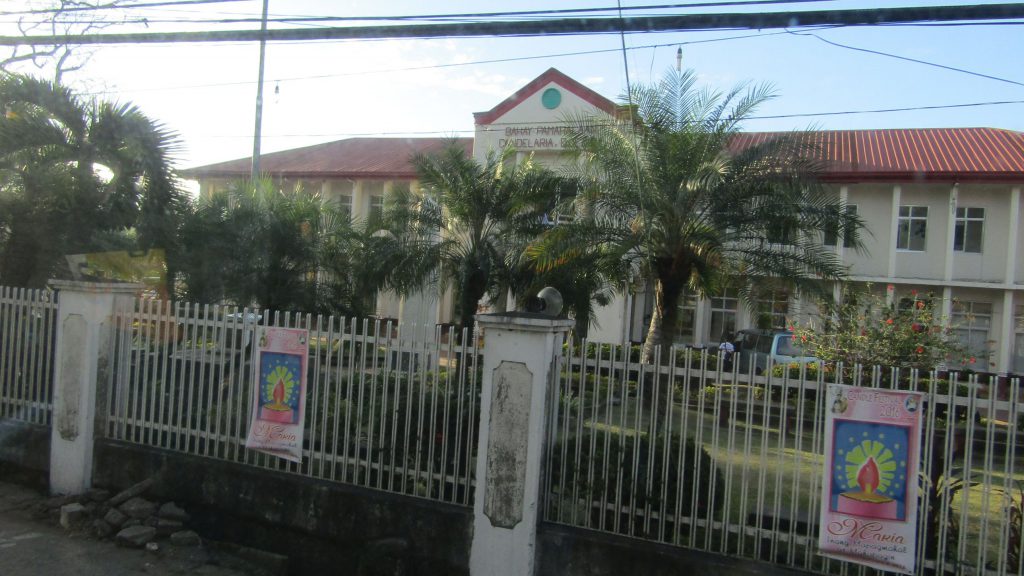 Tricycles awaited passengers after they alighted from the bus.  We informed one of the tricycle drivers that we're headed to the pier – to Cagbalete Island – and so we chose his ride as it was next on the queue anyway.  The young driver suggested that we pass by the public market so that we could buy some supplies that we may need on the island.
It turned out that we needed much more time in the market after not only we realized how unprepared we were for the trip but also we're very hungry after the long bus ride that included an extended rest stop in Lucena City's grand central bus terminal.
We offered the driver extra money if he would be willing to wait for us.  He agreed but reminded us again that there were only two ferry trips to the island every day and that the first one is due to leave in about an hour or so. I immediately looked for a place to eat while the rest did their shopping.
I found a restaurant that advertised "tapsilog" (beef "tapa" –  beef marinated in vinegar, spices, and garlic, then dried and fried – with a serving of fried rice ("sinangag") plus a fried egg ("itlog")) and placed two orders along with a serving of "bulalo" (beef soup). Balong and Johan arrived a few minutes later with two big jugs of water and cookies. They placed their orders while I bought a package of fish-flavored "kropek" (flour cracklings) from an elderly lady selling an assortment of snacks.
I looked up the menu board again and noticed that the place also served a version of the province's famous "pancit habhab."  Also known as "pancit Lukban" in honor of the town where it originated, the very distinct taste of the noodles is what it's all about.  As soon as we cleaned up our plates, I placed three (3) more orders of the noodle dish for our dinner in case we could not easily find a place to eat on the island.   Lelen, meanwhile, looked for beer as well as some bread to go with the delectable 'pancit'.
We loaded our goodies to the waiting tricycle and the driver took us first to a nondescript office of the local port authority where we registered our names and paid the island's environmental protection fee of PHP 50 (USD 1.05) per.  Several PHP 10 paper tickets served as the receipt with the name of the place we intended to stay on the island scribbled on them.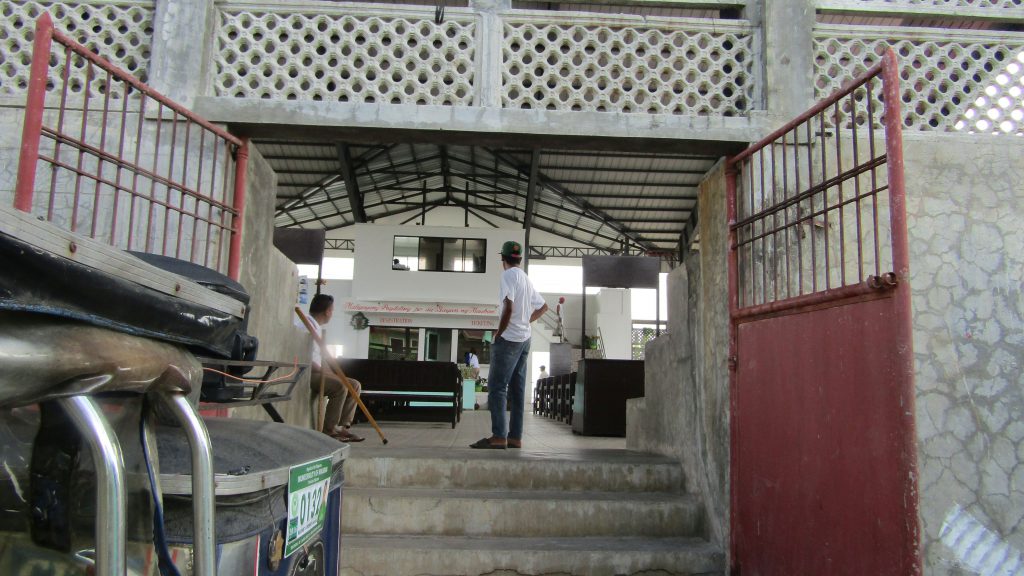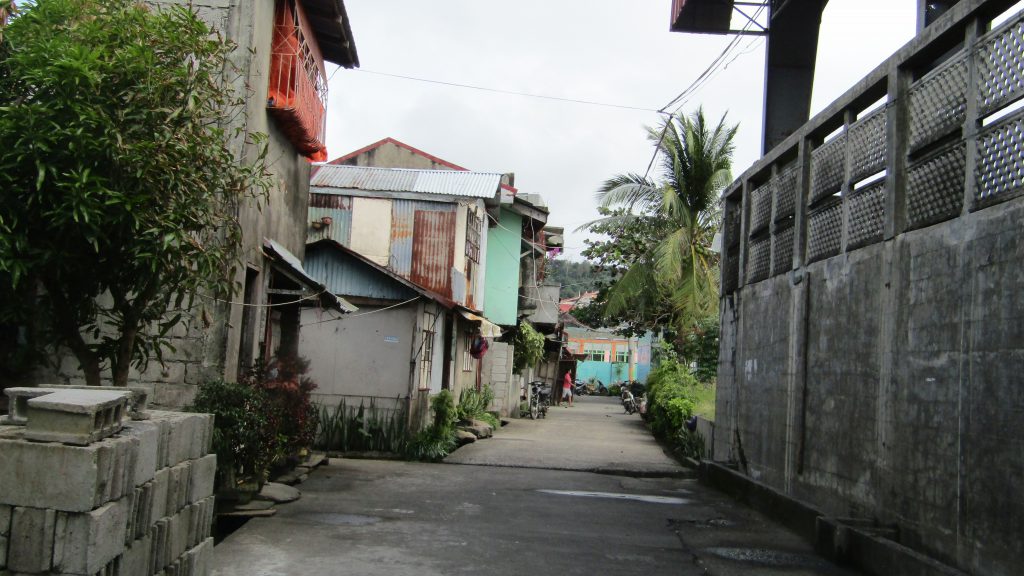 The oversized "banca" (canoe) with double bamboo outrigger was still busy loading some of its cargoes and passengers when we arrived at the port of Mauban at about 10:50 AM.  We registered our names again on a ledger that was passed around and paid the ferry fee of another PHP 50 (USD 1.05) per.  The boat did not leave until about 11:30.  I snapped away on my small Canon camera as the "M/B Neneng" slowly pulled away from the port of Mauban.
We got seated in pairs with a woman in her mid-fifties together with a small girl sandwiched between us in the midsection of the boat.  I could immediately tell that they were locals returning to the island. As with the rest of the passengers, you could also easily tell who are the residents of Cagbalete Island.  Their sun-bronzed skin and low-key demeanor evoked in one a muted understanding of how life must be on the island.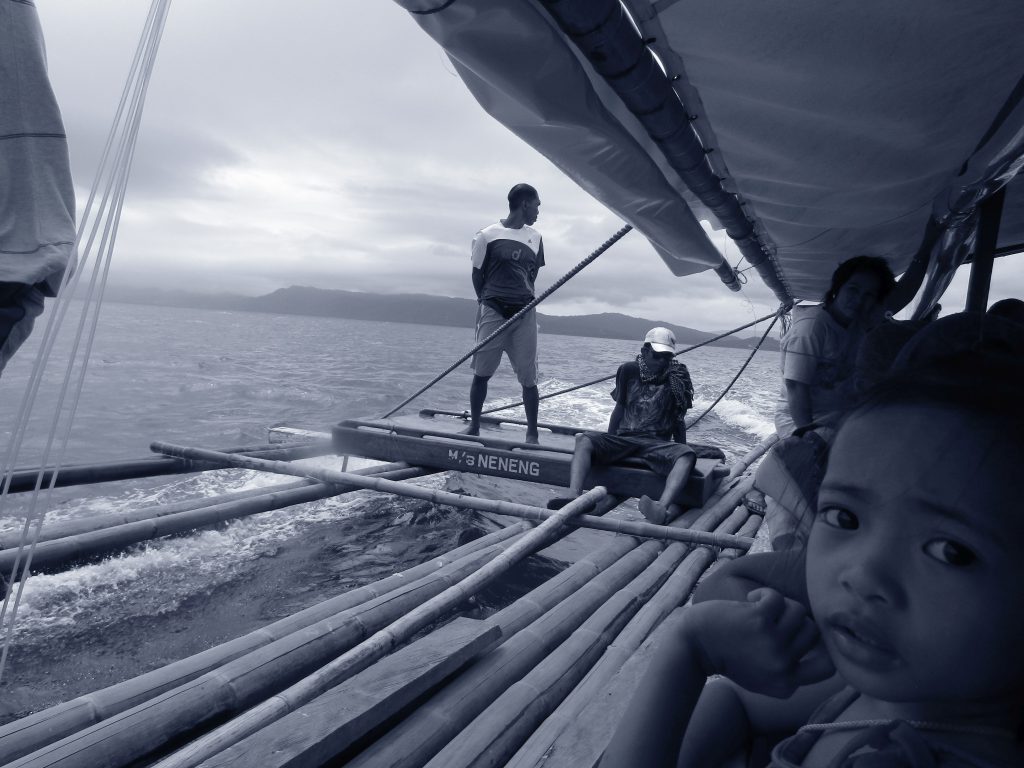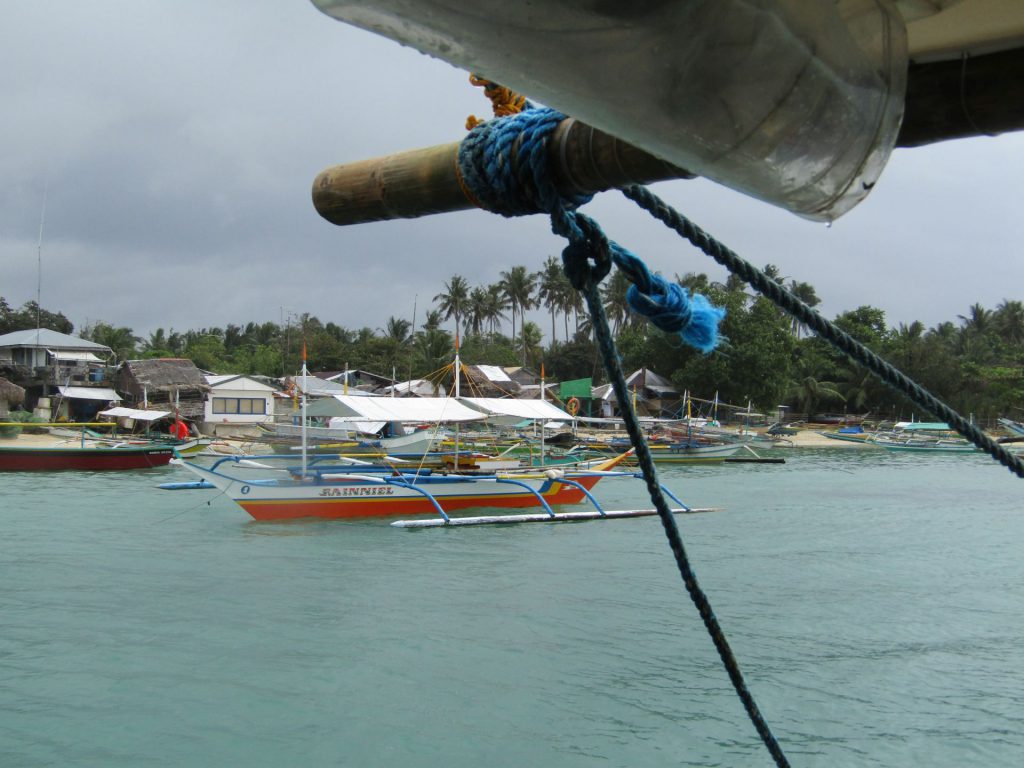 The sticky feeling one gets in Manila's dissipated as the overcast weather and cool northeast winds that locals call the "amihan" smacked our faces as the boat progressed east towards its destination.
We had to shout in each other's faces to communicate as the boat's diesel engine purred loudly behind and the skimpy vinyl covering held up by bamboo poles did not help the cause.
"I hope all our gadgets and devices can hold their charge while we're on the island," I yelled to Matthew.
"You will be able to charge your devices on the island," the woman beside the little girl butted in her low voice.
I smiled to acknowledge her response and asked if she knew a place where we could stay on the island as we really hadn't made any reservations yet.
Aling Baby offered her place for PHP 200 (USD 4.25) a night.  I agreed but thought that it was too low so asked her again if that was really the price she wanted and that we wanted to check out the house first and she just nodded.
We talked more about the details of her house as well as about how life is on the island but our conversation was cut short when we noticed that the boat's engine had stopped.  It was almost 12 noon when she reminded me to remove my socks and foot orthosis before we disembarked.
The water at the tiny port of Sabang in Cagbalete Island was very shallow so we transferred to a smaller banca that brought us to the white sand lined banks of the island.  People milled around the port but Aling Baby whisked us to a small alley that led to a series of narrow but cemented passageways.  We passed-by several stores, a 'barangay' (village) hall, a billiard parlor, a small chapel as well as a tiny stall that sold pan-grilled hamburgers.
A satellite dish protruded in front of the wood and bamboo house with a thatched roof that sat right across an old, manual water pump locally called, a 'poso.'  Adjacent to it was an elementary school along whose far end would be another narrow passageway that will ultimately lead you the other side of Cagbalete Island.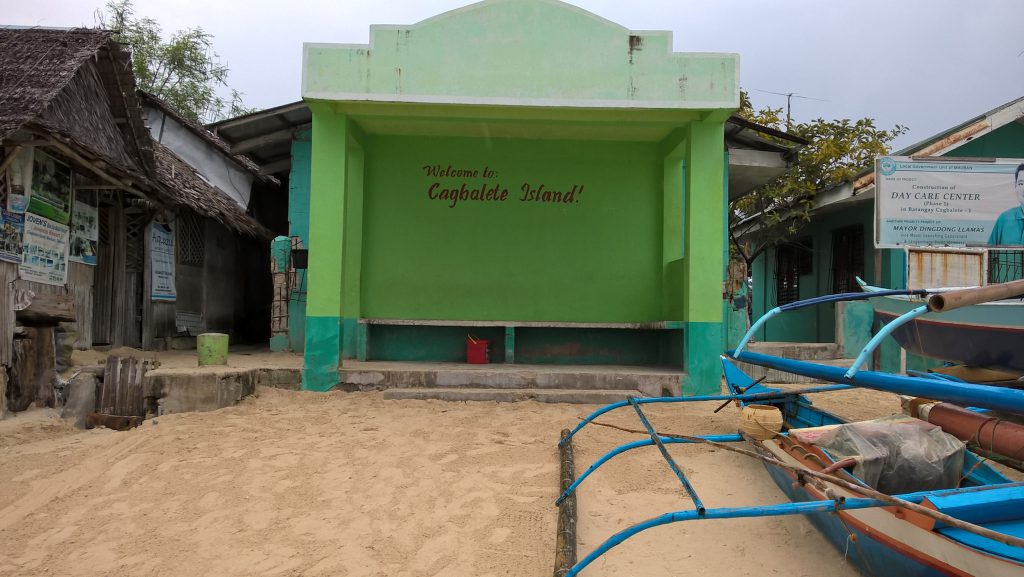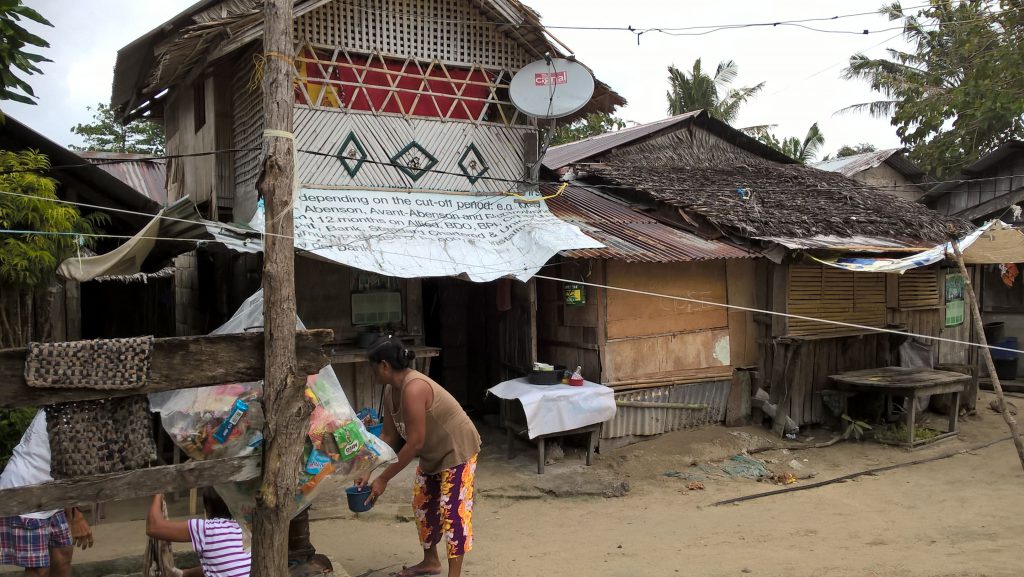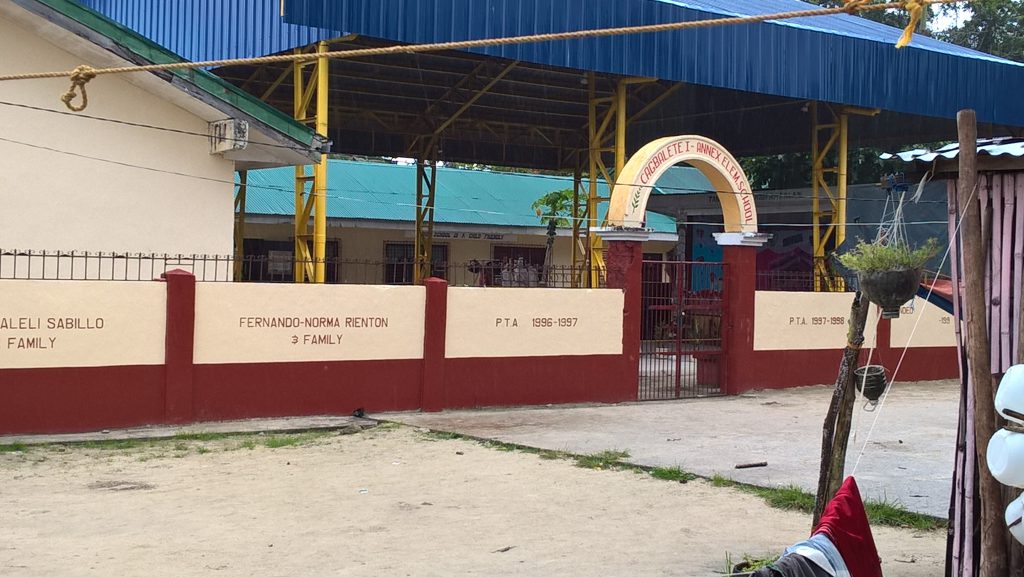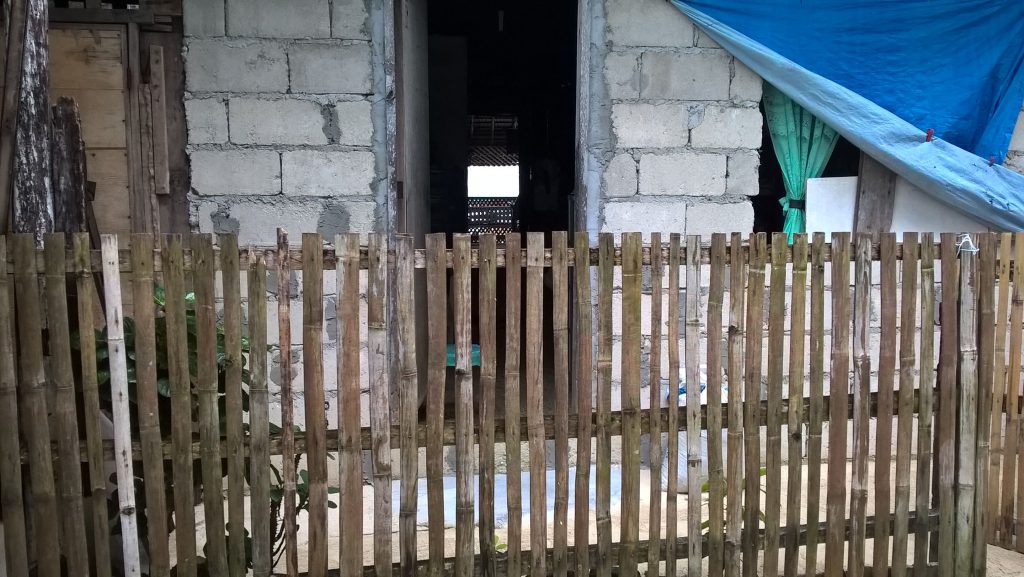 We checked the second level of the house where we're supposed to spend two nights on the island and found the two rooms more than sufficient and so we told her that we all agreed to her offer.  She informed us that she has another house – without a bathroom – near the other and less populated side of the island.
Although all of us were so tired having started the day very early, adrenaline kicked into gear and we all got so excited to explore the island and tagged along with her.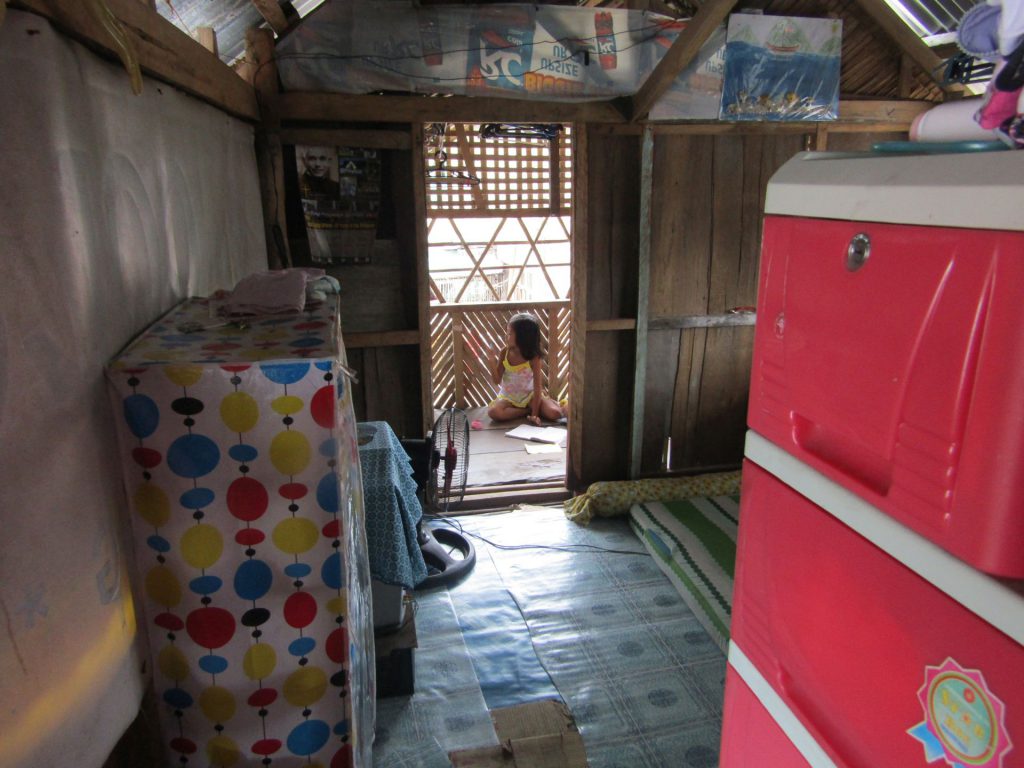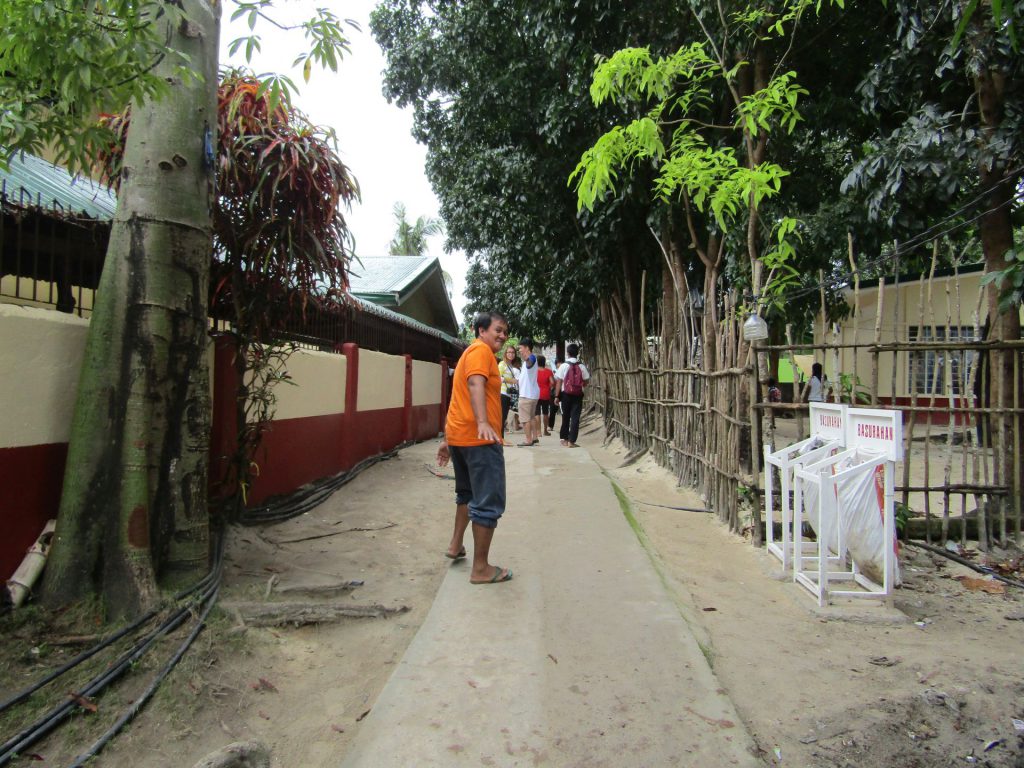 The 'other house' turned out to be a nicer looking and more spacious bamboo hut.  However, we took a pass on it after we learned that we had to get our water from an old well.  And, no TV.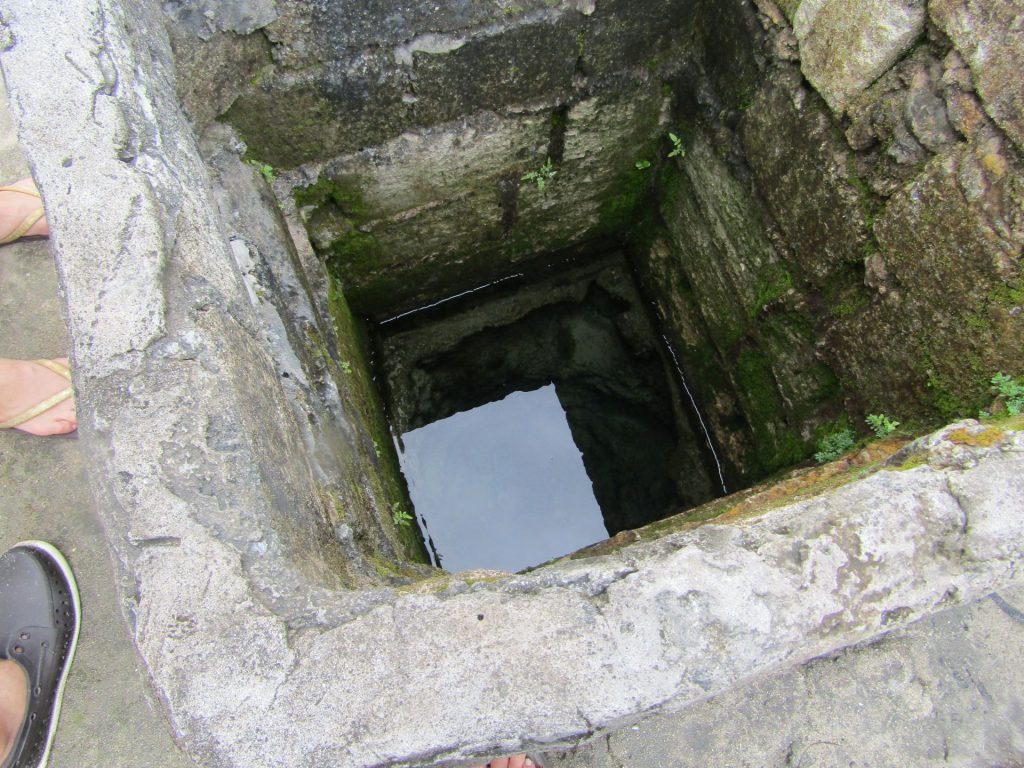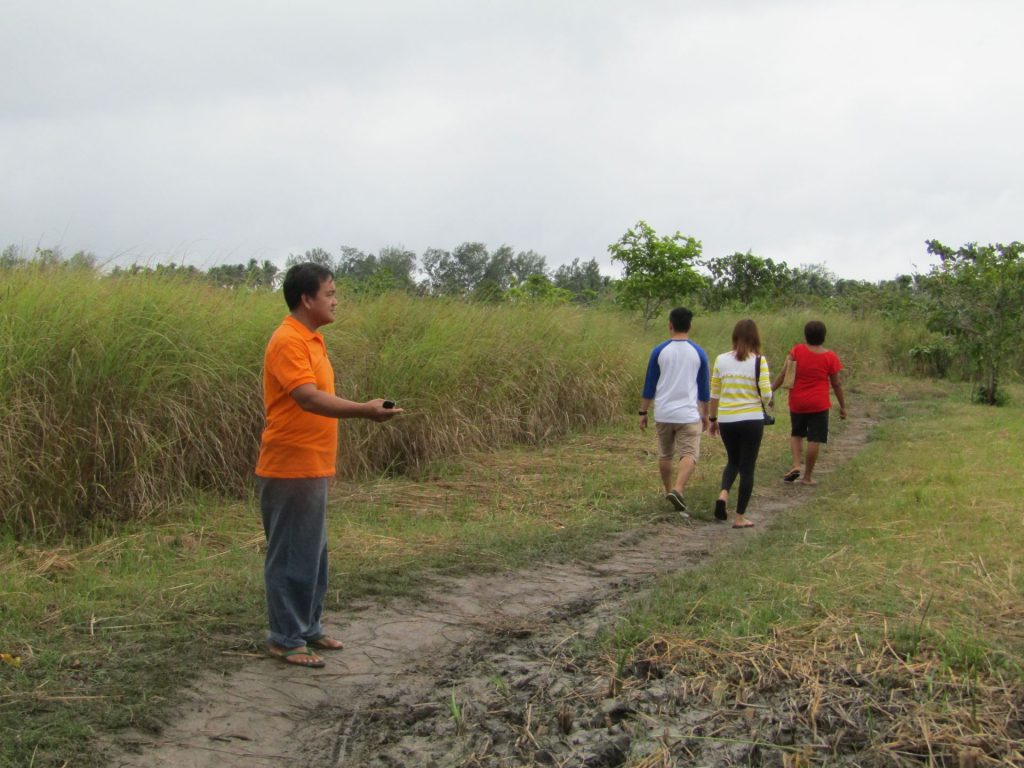 We met a couple of tourists going the other way along the 'cogon' (wild grass) lined path and followed their tracks as we sidestepped a few puddles and muddied sections.  Except for a badly maintained vegetable field operated by the municipal government in a cordoned-off area, there were hardly any other signs of agricultural activity in this part of the island.
The passageway ended at the back of one of the island's many resorts named "Villa Noe," where I eyed another visitor about to take her late lunch in the open restaurant. We marveled at the spectacular beauty and tranquility of the entire place and agreed that 'this,' indeed, is the Cagbalete Island that we saw in all those beautiful pictures on the web.
We took a lot of pictures, waded in the warm water, and, finally, leisurely walked along the white sand coastline headed north as Aling Baby narrated facts as well as tales about Cagbalete island.
It could have taken us about an hour to walk all the way back to the main port so we agreed to take another boat ride when we chanced upon one immediately after we passed by a private resort.  Although fatigue had finally set upon all of us, we still immensely enjoyed the brief ride as not only it began to rain very hard but also the waves kept splashing water on us aboard the small 'banca'.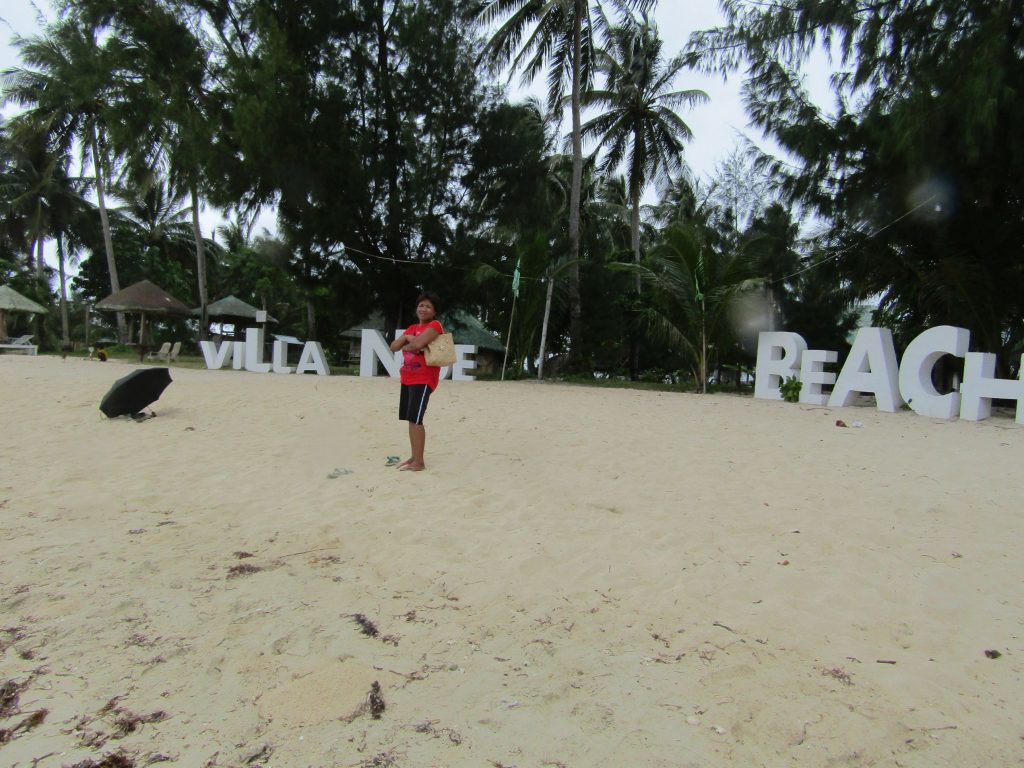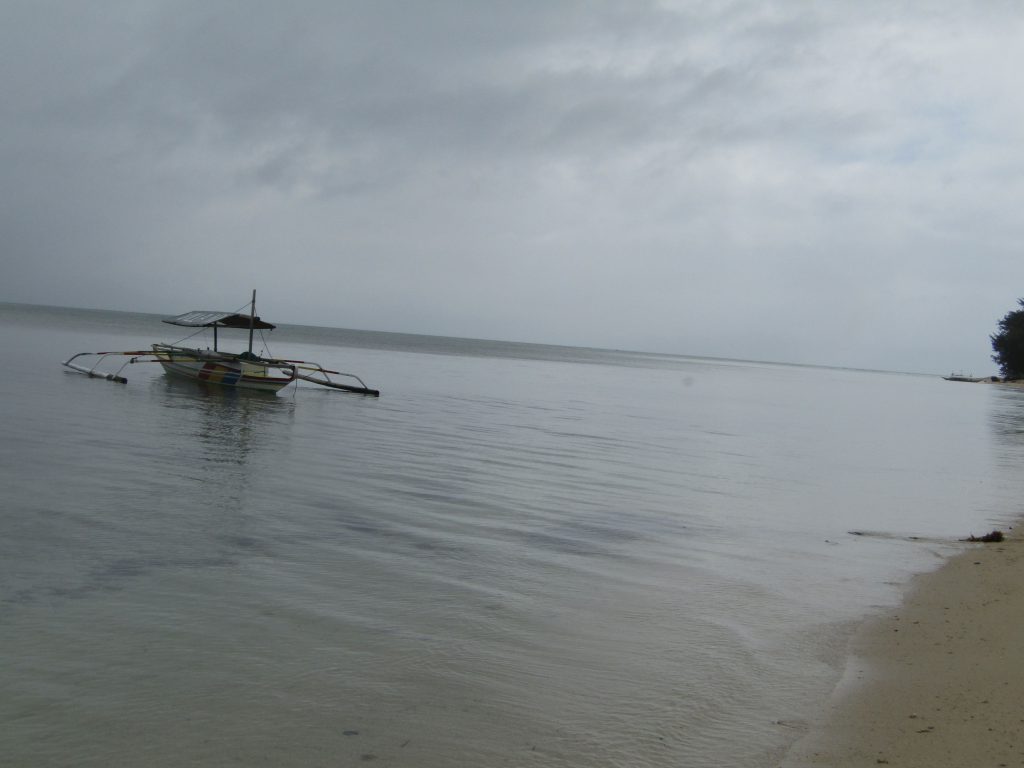 We never realized how soaked we were until after we gave the boatman a token of PHP 100 (USD 2) – he did not ask us for money- and retraced our steps back to Aling Baby's first house on our dripping wet clothes.
Back at the house, we took turns fetching water from the 'poso' to shower.  We saw a series of clothesline immediately before the front door so we hanged all our wet belongings and then tried our best to make ourselves feel at home in the very cramped confines of the lower portion of the house.
The rain had turned into a drizzle by 2 in the afternoon when Balong and Johan decided to take a nap upstairs.  They would not come down until about 5:00 to eat some bread and the last of the 'pancit habhab' neatly stored inside a plastic container.  The restaurant in Mauban had placed them in three containers one of which I had given to Aling Baby before she left for her other house so as to give us some private time.  I had also given her PHP 200 (USD 4.25) so that she could "load up" on the satellite dish subscription – PHP 120 (USD 2.50) per month – in order for us to use the TV upstairs.
She left her two granddaughters in our care when the smaller one did not like to come with her to the other house.  The mother of the small girl, Natasha, had just left a month ago for Kuwait to work as a domestic help while the parents of the bigger girl both worked in Manila.
Both girls were easy to babysit as they played together until the bigger one got tired and decided to take a nap upstairs as well.  So we kept little Natasha preoccupied with her toys by giving her 'kropek' pieces – which she had particularly come to love – whenever she gets bored.
So Lelen and I spent that rainy Monday afternoon in Cagbalete island drinking one of the two 1-liter San Miguel beer bottles that blended perfectly with the 'pancit Lukban', the bread and 3 pieces of 'longaniza' (local sausages).  Being a fanatic of any famous regional 'longaniza' in the country, I had espied the sausages in one of the 'carinderias' (small stalls that sell already-prepared foods) on our way back to Aling Baby's house.  I had requested Lelen to get a few pieces while he also looked for some ice for our already-warm beers.  All the while, I kept an eye on little Natasha while she played.
Throughout the time Balong and Johan had slept, there was no electricity.  Aling Baby had explained to us earlier that her house was hooked up to one of the generators operated by the municipality and that power would come up only from 6 to 10 in the evening.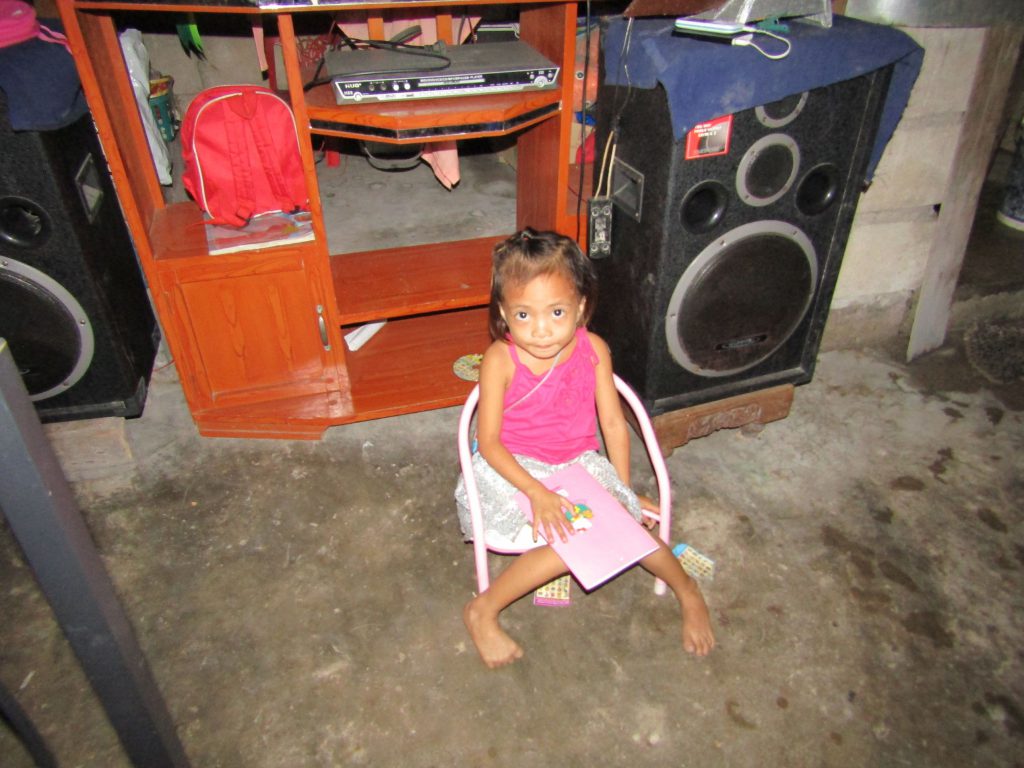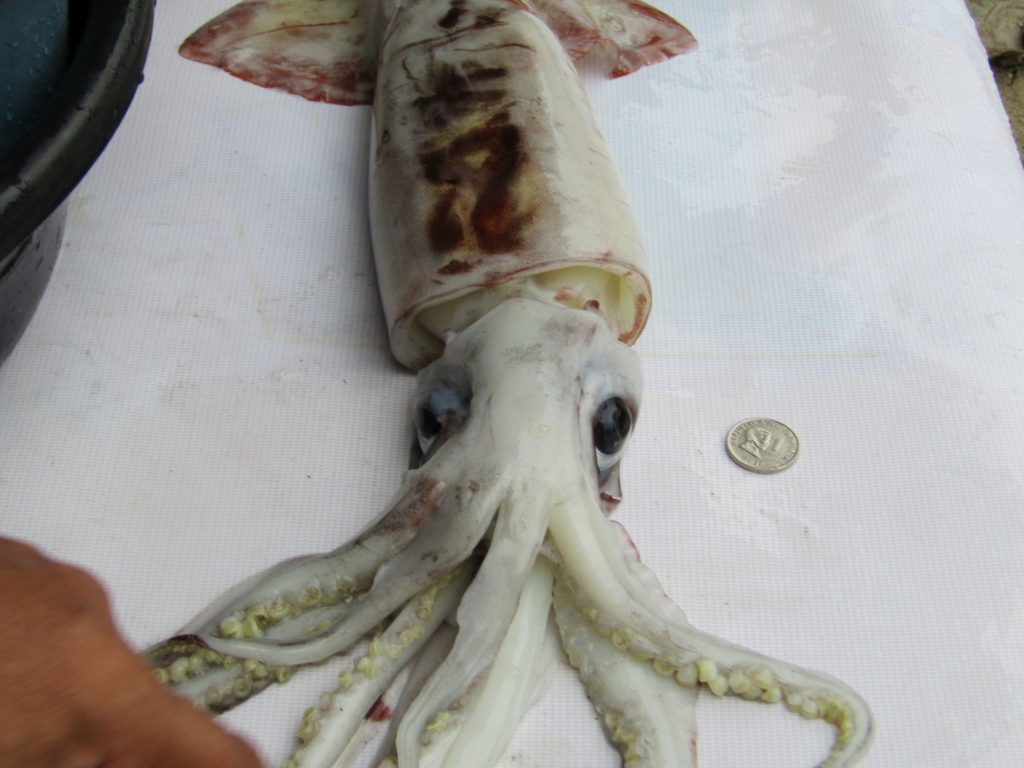 Aling Baby would return a few times to the house to show us the huge squid (medium-sized by her standards) that she had bought for PHP 60 (USD 1.27)  and asked how we liked them cooked.  Then to make sure if the TV now worked.  She also made sure that we're hooked-up with the boatman, Sergio, who would take us on a tour of Cagbalete island tomorrow.
Day 2 – Feb. 16, 2016 – (Tuesday): Going Around Cagbalete Island
The effects of the sleeping tablet wore off and I was up at 4:30 only to find myself alone inside the mosquito net that Lelen and I shared. I strapped on my foot brace and gingerly scaled-down the 3 steps of wood that made up the stairs and saw him already prepared for another day.
Power was still off inside the house and was partially dark outside but the lights were still on in the alley next to the house so that gave some illumination to the house while I prepared a cup of instant coffee.  Last night, before we slept, Aling Baby's youngest daughter had brought a Thermos jug with hot water and cups for the purpose.
After the caffeine took its effect on me, the two of us decided to see the beachfront at first light and did not bother to wake up the newlyweds.  Again, along the way, some of the stores were already selling bread and cooked food and we found the 'chicken adobo' inside a glass showcase simply too tempting.  It was PHP 30 (USD 1.76) per order and would go well with a few cups of hot rice at PHP 10 (USD 0.21) per. We took note of the place and reminded each other to remember to pick up a few orders on our way back from the beachfront.
We took many pictures of life in Cagbalete Island at early dawn: the fishermen tending their boats and fishing nets, an old lady propped on a concrete wall scanning the horizon, a few workers of the resort owned by the mayor of Mauban sprucing up their beachfront, a middle-aged person getting his therapy piling up white sand upon his legs and a few locals just walking along, preparing for the new day.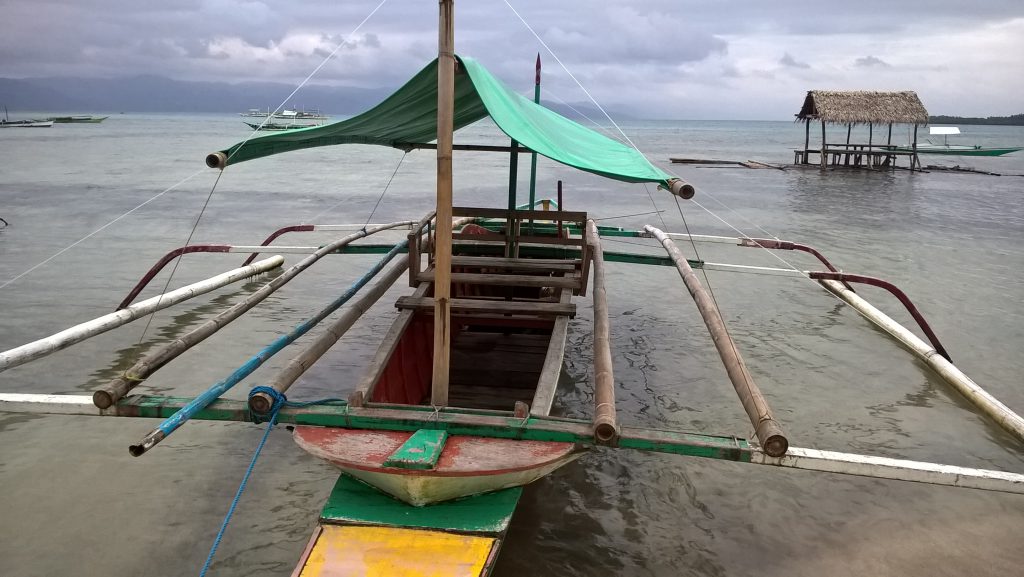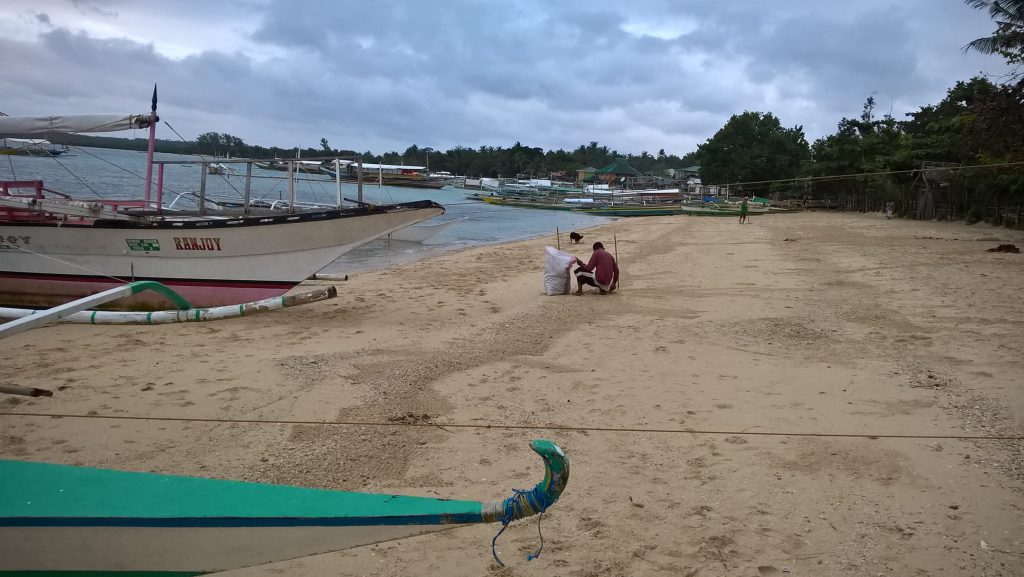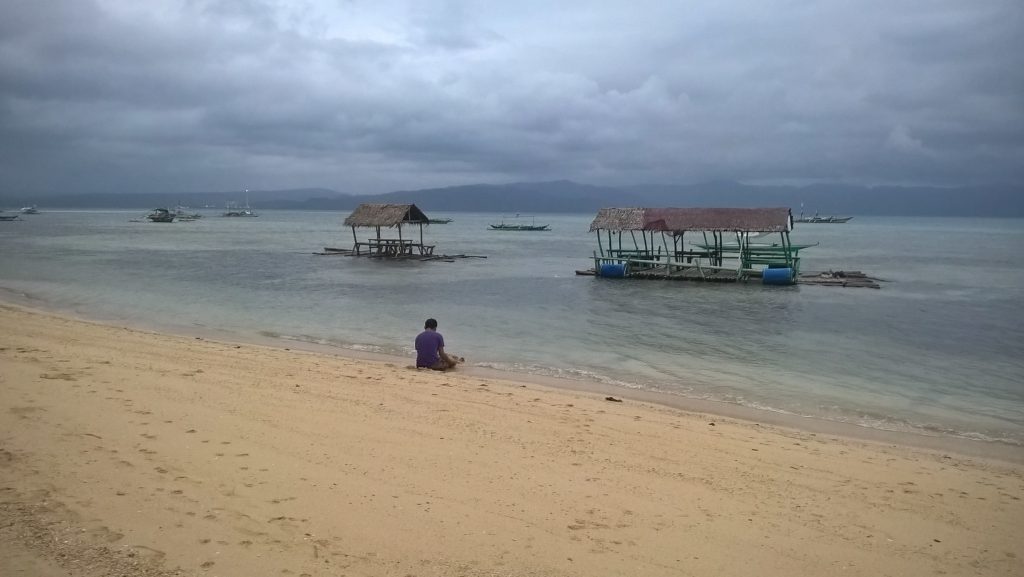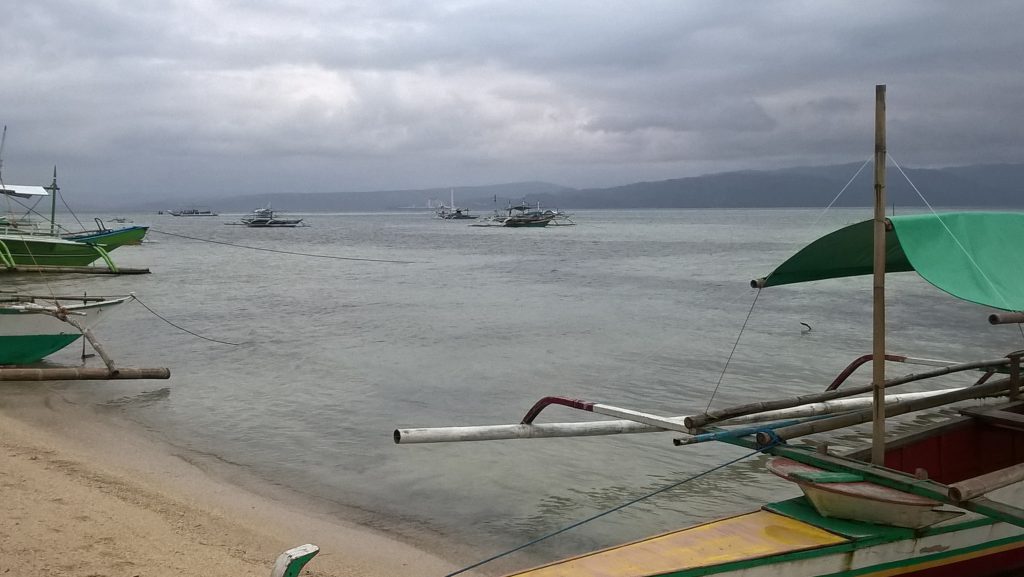 I wished I could have the best of both worlds as I admired and absorbed all the beautiful natural surroundings before me that I almost cried.  I had seen more beautiful ocean views in the Americas but had never relished wading in their cold waters.  Here, it was just too perfect.
We headed back to the house at 6:45 and found Matthew already having coffee and the light inside the house back on.  Lenlen went back to the 'carinderia' for the rice and 'adobo' which we all had for breakfast along with the 'adobong pusit' (stewed squid) that Aling Baby had prepared.
After breakfast, I informed Aling Baby that we were not going to spend the second night in the house because we wanted to experience the other side of the island but that we're still going to pay her our agreed-upon two-night fee. We also told her that we might stay at "Villa Cleofas" as we had originally planned.  She offered to cook our meals for us so she gave her cell phone number on a piece of paper that I hastily shoved in the back pocket of my swimming shorts.
While we waited for Sergio, a vendor dropped by selling big clams inside two plastic bags for PHP 20 (USD 0.43) per so we bought and handed them over to Aling Baby.
Sergio, – whom locals called "Momo" – arrived before 8:00.  We walked a much shorter route to the port where his 'banca' – "Choktaw" – was moored.  He and his apprentice guide toured us through the various points of interest in the island namely:
the "Sandbar"  – a narrow piece of land covered in white sand that jutted out even at high tide where mangroves abound.  We saw several huts for rent but they were all empty that particular day.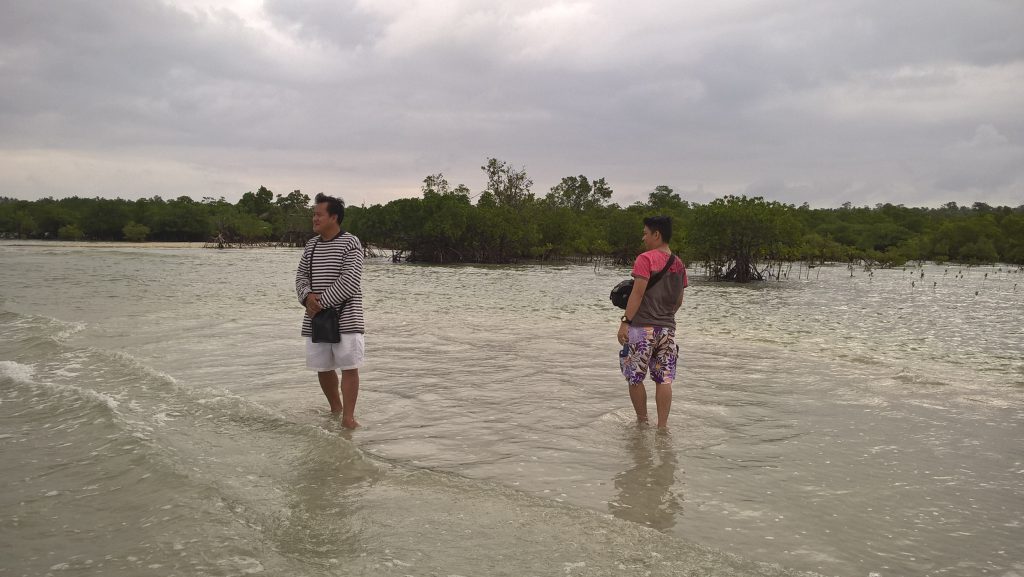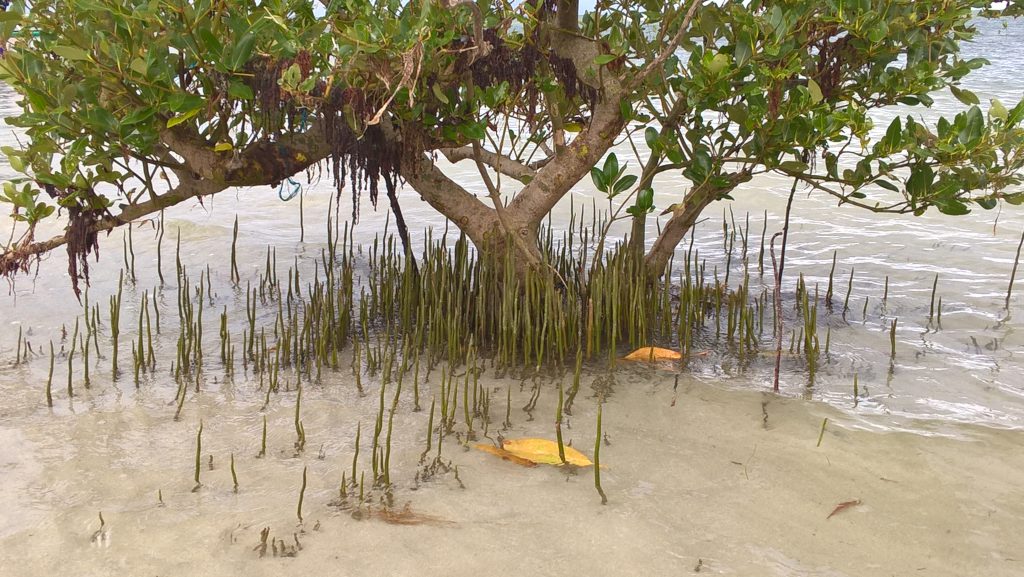 the "Ilog" (River) – an area in the island where salt and freshwater meet. We counted 8 fiberglass fish pens in the area which, according to Sergio, could hold up to a 1000 'bangus' (milkfish) fry per breeding.  There would be three (3) breedings per season and a good harvest in a season could well pay off the initial start-up costs.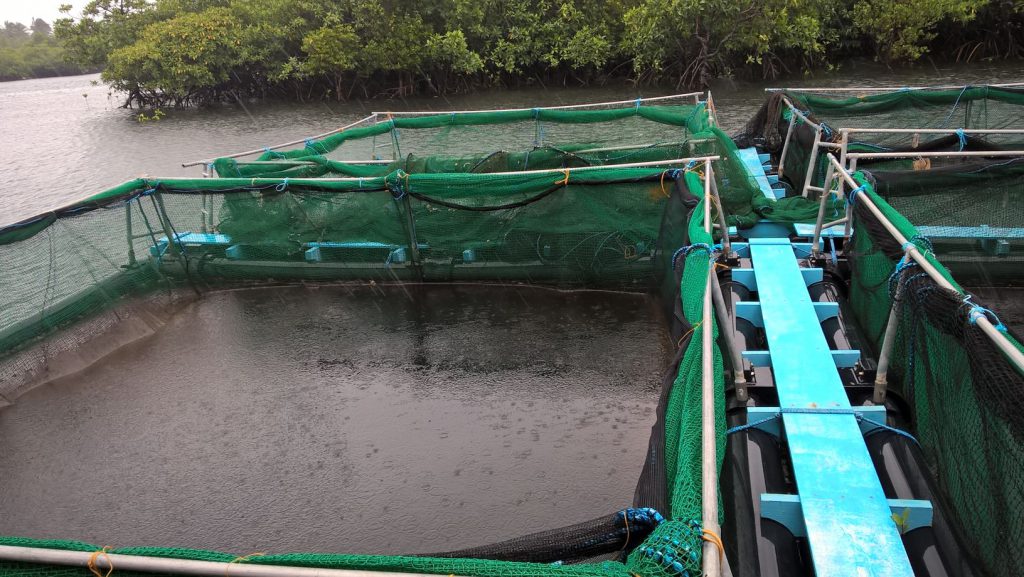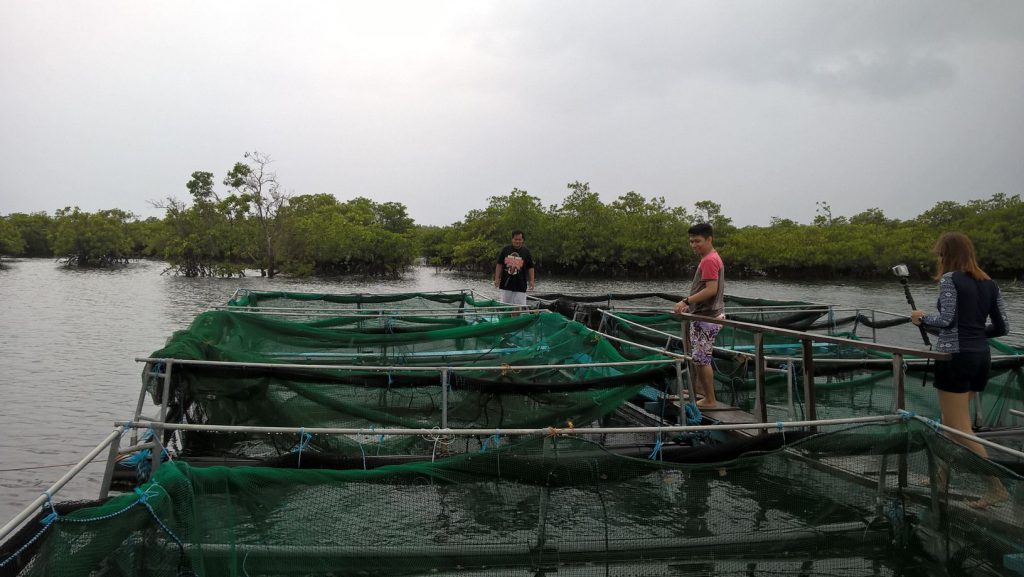 The Snorkel area – for almost an hour, we swam and snorkeled in this deeper area where corals and colorful fishes could be found.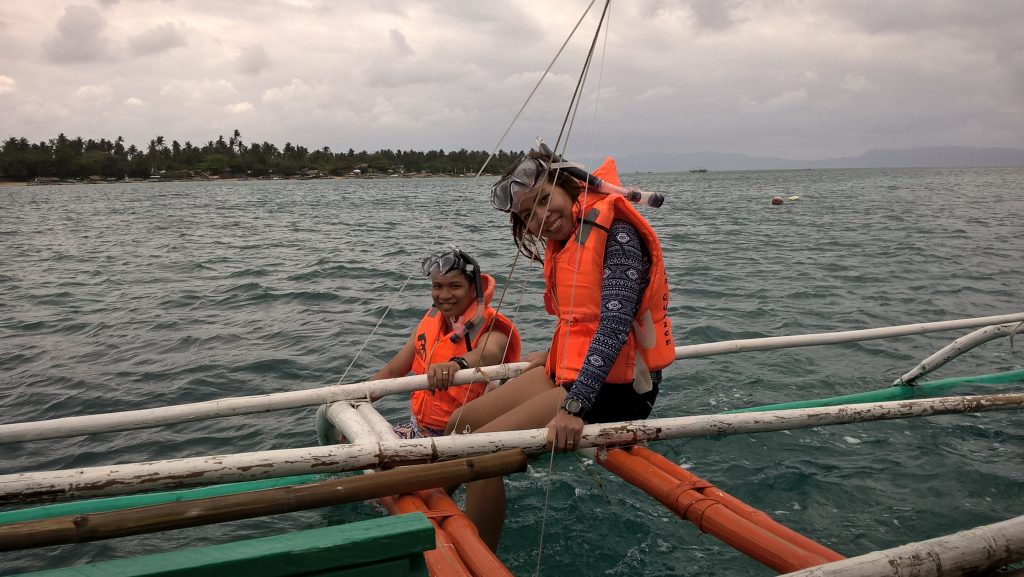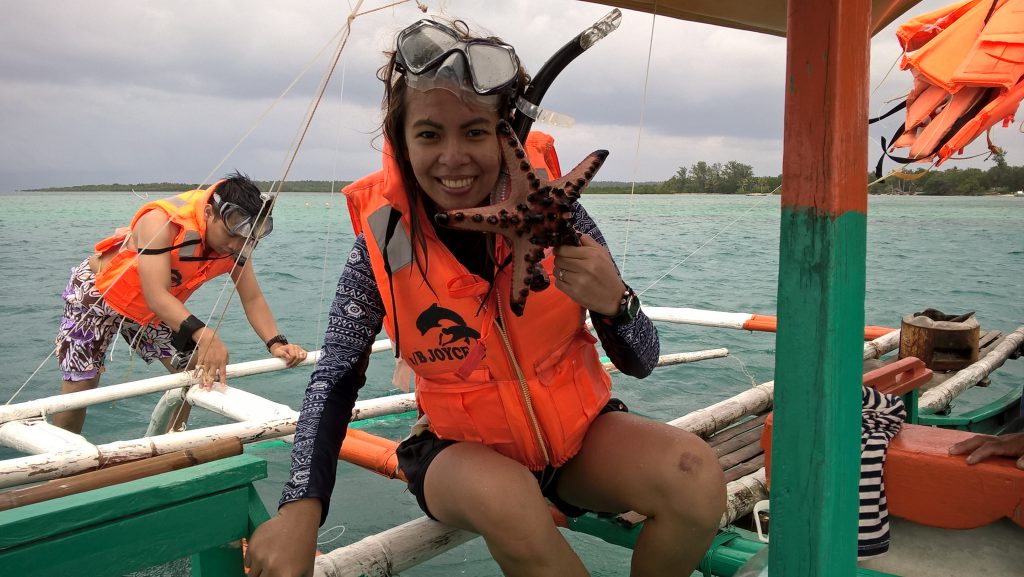 "Bonsai Island" – not really an island but simply a portion of a reef that shows up during low tide.  There are two small mangrove patches interspersed with a few dead ones on the reef, hence, the name.  Situated directly across Villa Cleofas, it would not be presumptuous to assume that the owners could well have given the spot the name to add a little mystique -as well as to attract patrons- to Cagbalate.
Locals would always be delighted to tell you the story about the cargo ship, loaded with sacks of flour, that crashed into the reef and how the entire population of the island had fresh bread and pancakes for a very long period of time after the disaster.
It was almost 11:00 when Sergio dropped us off at Villa Cleofas so that we could check out the place.  We informed a woman inside the restaurant that we wanted to see the cottage we saw online that cost PHP 1500 (USD 32).  We passed by a group of tourists in two tents as she led us to the far end of the resort and showed us the 10 x 20-foot room with a single bed with a very thin mattress.
We decided to look for another place after she told us that we would also have to pay PHP 500 (USD 10.64) extra for the electricity -from 6 PM to 6  only- since we're the only guests that would occupy a cottage that night.  Mat and Johan volunteered to check out the other resorts north of the island that included Villa Noe.
An hour had passed but the pair had not returned and so I asked Lelen to look after our things while I took a leisurely walk along the white sands in the hope that I would encounter them along the way.  I walked past a camping-only resort, then an empty but fenced area before the nice bamboo & nipa made cottages and clean surroundings of "Joven's Blue Sea Beach Resort" attracted my attention.
Although the resort was empty that day, I checked out the cottage that was being cleaned to see how it looked inside.  Impressed, I picked one –Sampaguita– that was located beside the bathrooms.  I informed Mat and Johan, who saw me while I negotiated with one of the resort's attendants on their way back, that I had already agreed to the same cost of PHP 1500 for a night's stay here — electricity included.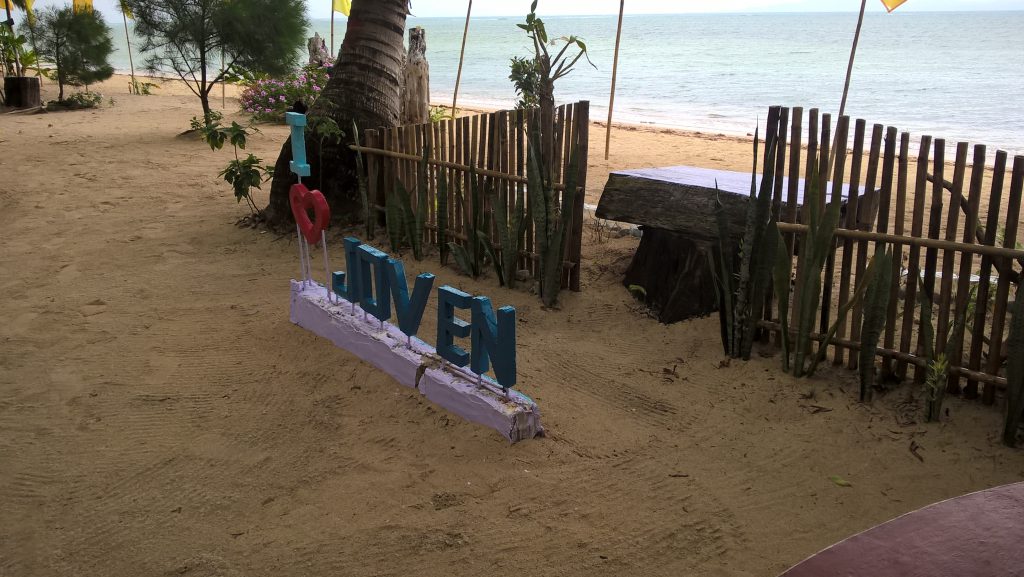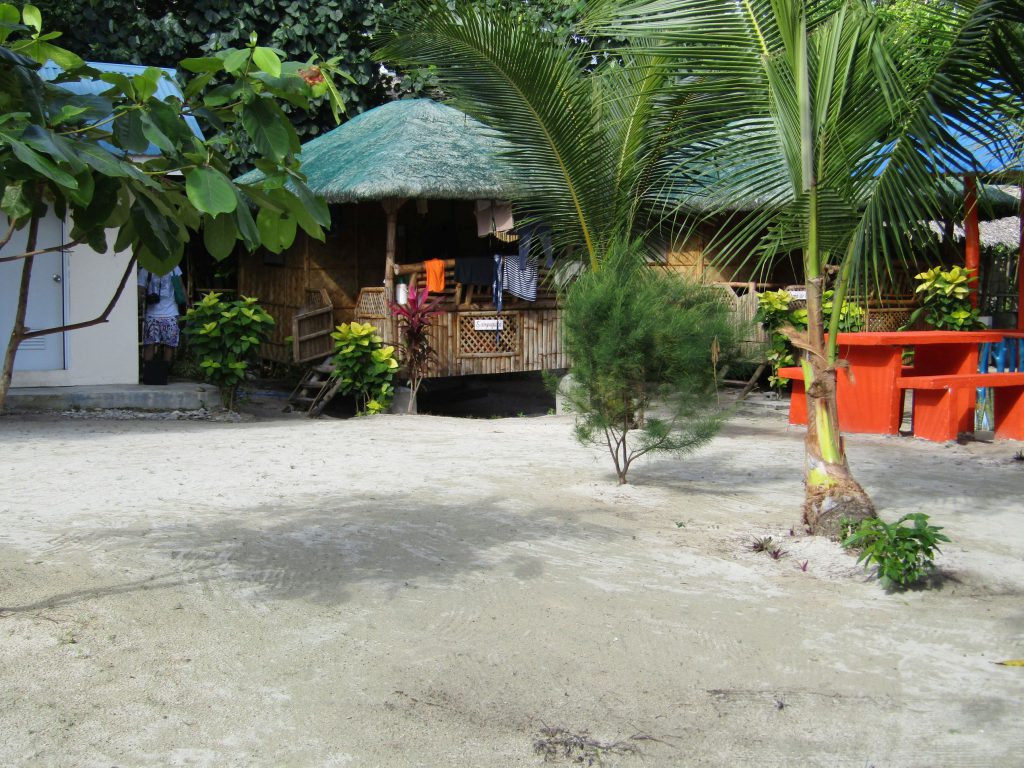 We had a very late lunch of "pork liempo" with extra servings of rice (PHP 520 or USD 11) in the resort's restaurant immediately after we had rested, showered, and settled down in our newly-found home for the night.
Sergio and his apprentice showed up a few hours later and accompanied us to that much-hyped 'Bonsai Island,' which was very visible during low tide and which we found to be unimpressive at all.
They must have sensed our disappointment with 'Bonsai Island' so Sergio promised us that they would pick us up again at 6:00 the next morning to show us another 'ilog' as we headed back to the resort.
It was already dark when we got back at Joven's but our spirits were all buoyed up not only because the entire resort was all lighted up but also Aling Baby had brought us some food for dinner!  In our absence, she had dropped off the dish of "sotanghon" (vermicelli mixed with the clams that we had bought in the morning and sautéed in onions and slivers of ginger), rice, plastic spoons, and the Thermos bottle.
After dinner, Mat and Johan put up the mosquito nets and were asleep by 10 while Lelen and I ordered four San Miguels (PHP 45 or USD 0.96 per) from the restaurant.  I lit up a mosquito coil and placed it under the bamboo table to fend off the buggers while we drank our beers until Len decided to call it a day after he had emptied his second bottle.
I did not sleep until 12:30 AM after I had written a few pages in my notebook what had transpired that wonderful day in Cagbalete island.
Day 3 – Feb. 17, 2016 – (Wednesday): Leaving Cagbalete Island
Lelen was already out walking along the shore as I prepared my 3-in-1 coffee mix at 5:30.  The electricity would be out in half an hour but I wasn't worried since I had charged all the batteries for the camera while I wrote in my notebook last night.
The newlywed woke up an hour later while Sergio and his buddy showed up at the resort after about another hour and brought along the 1.3 kilograms of 'alimango' (blue crab) as well as several pieces of smaller crabs local to the island that he had placed inside a big plastic water bottle.  I had ordered them last night and cost PHP 400 (USD 8.50) per kilo for the blue crab and PHP 100 (USD 2.13) for the small ones.  I also handed over the PHP 1500 (USD 32) boat fee that we owed him -and his apprentice- for yesterday's island tour.
The morning was crisp and, while the sun had barely colored the horizon, there were a few wispy clouds as we headed south towards the 'other ilog.'  We all glanced at the resort manager as she sat on a chair, a cup of brew in hand, communing with nature as we passed by.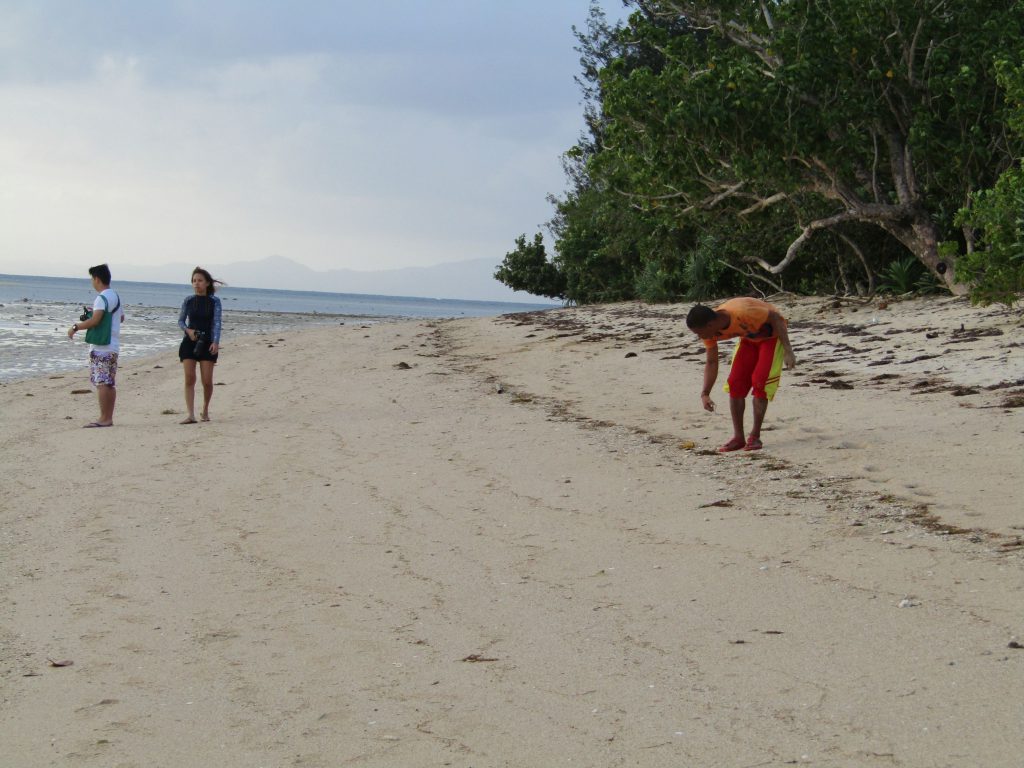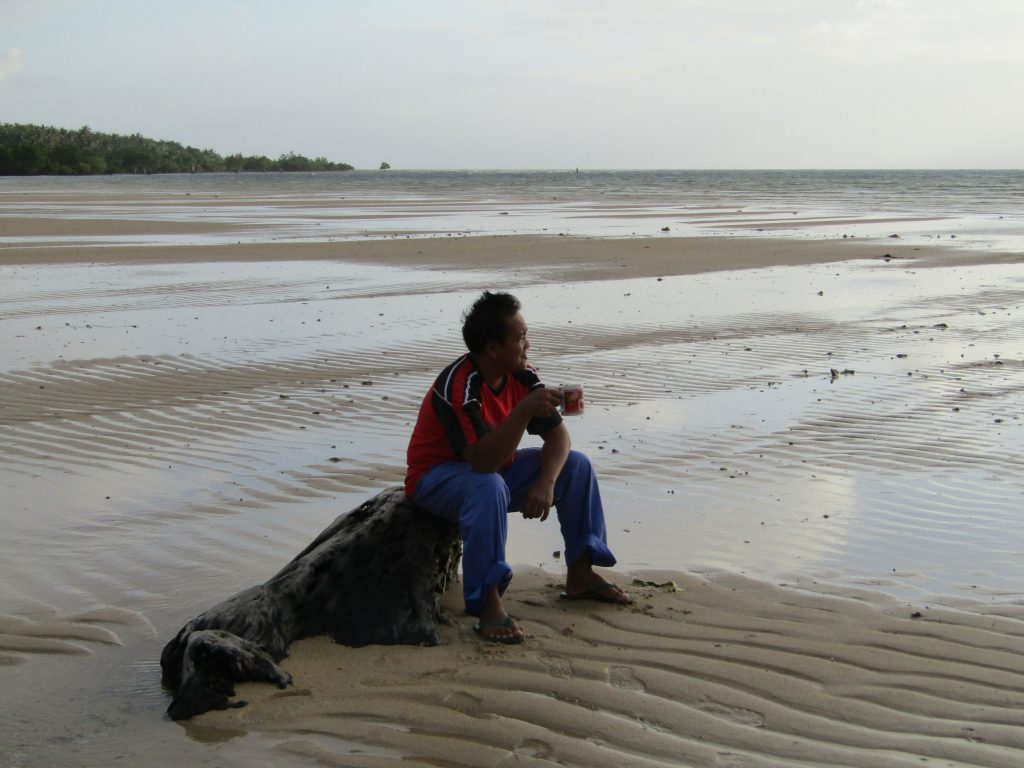 Half a kilometer after we passed by Villa Cleofas, the shore inclined a bit and we noticed more vegetation in the area. Immediately after Sergio showed us the 'hidden swimming pool' (actually a swamp) where a lonesome carabao sat nearby, we came to a stop at a gap where a passageway of freshwater funnels out to the bay that seemed to split Cagbalete island into two.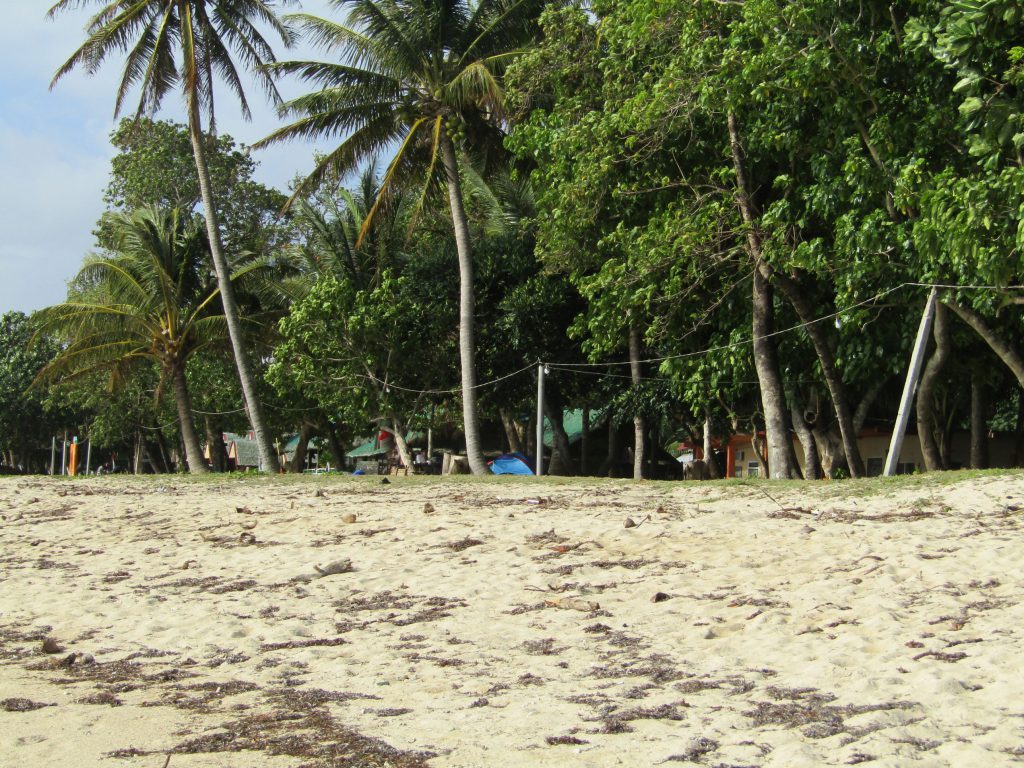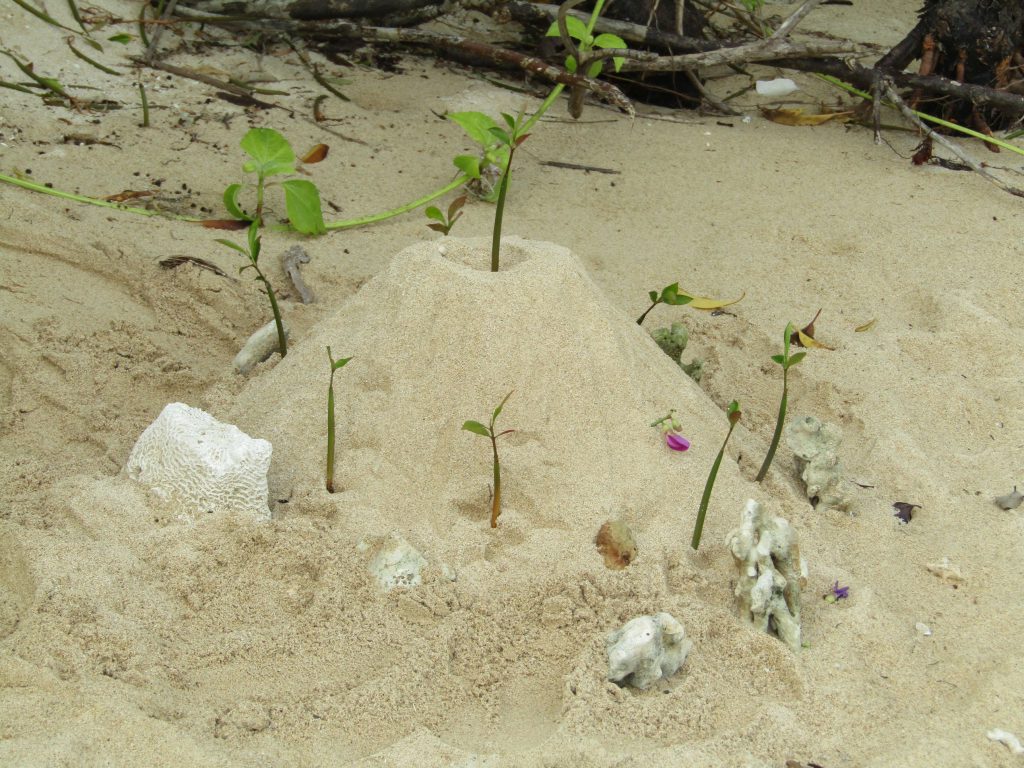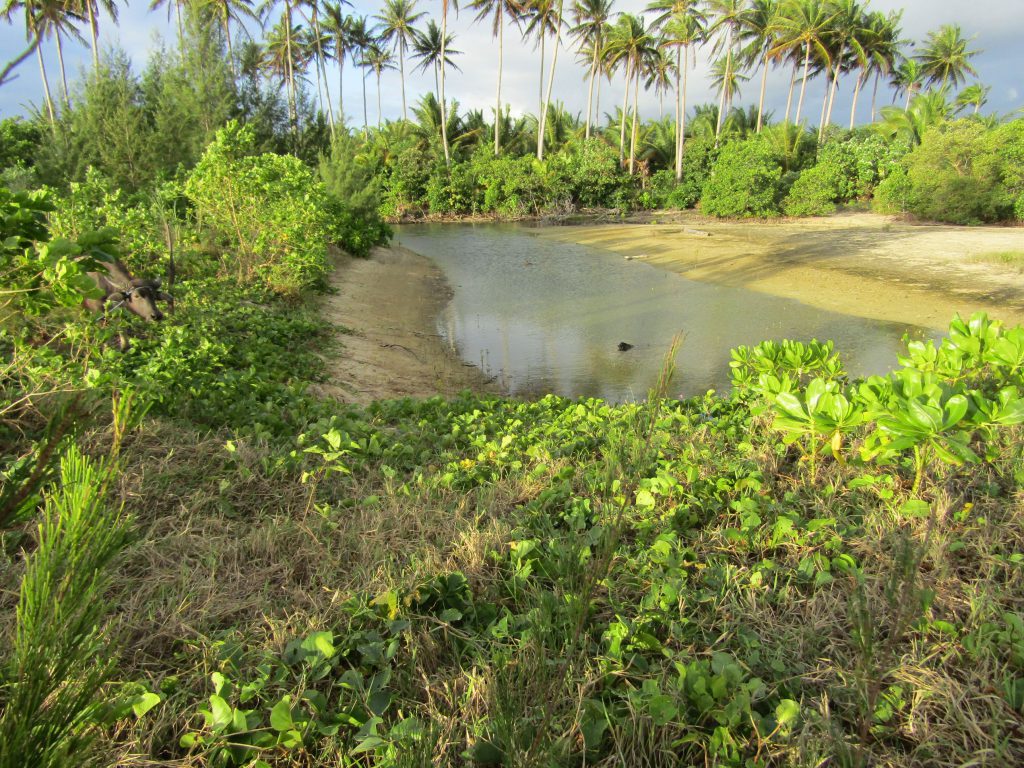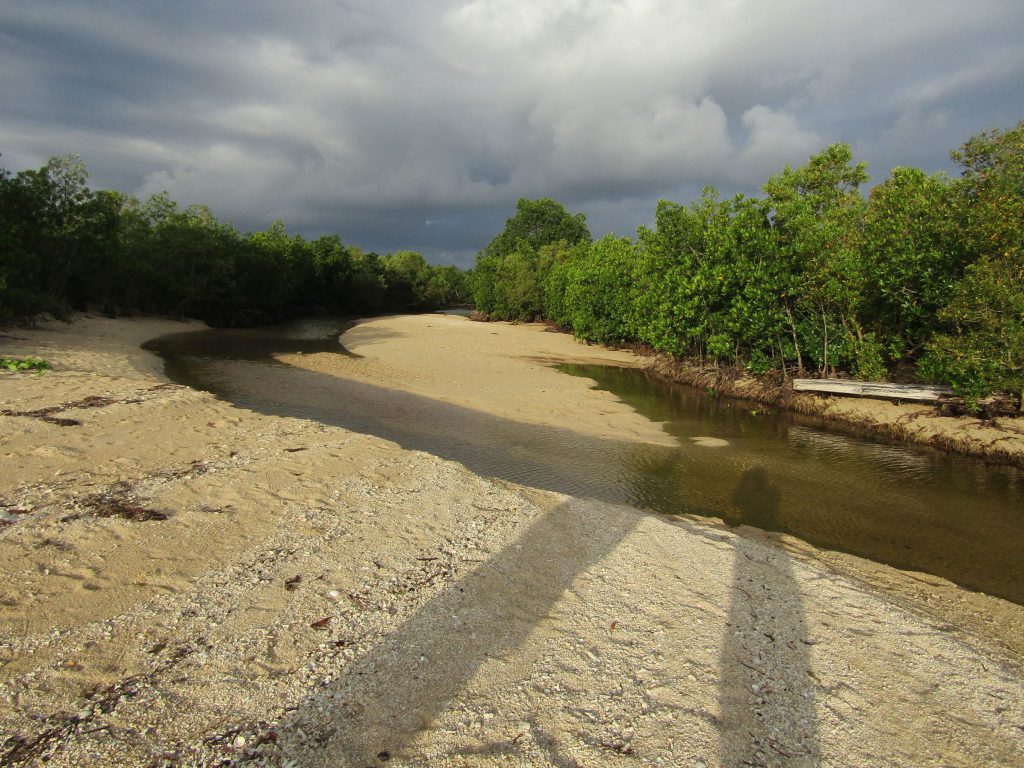 We explored the mangrove-lined banks for almost an hour and concluded that the area must be very popular to campers as we saw a few items that only visitors of Cagbalete island could have brought: empty bottles, cookie and candy wrappers, some shoes, and a sandal missing their pair and an assortment of various colored nylon ropes left hanging on the bushes.
It was 9:00 when we headed back to Joven's to prepare for our trip back home.  We opted to take the last boat ride to Sabang in order that we could enjoy the lunch that Aling Baby had prepared for us.  Sergio had promised earlier to pick us up at exactly 12 noon.
Just like last night, all the way from her house near the well,  Aling Baby had brought all that we needed to make sure that we had a memorable brunch before we left Cagbalete Island.  She laid out a modest feast for us that included a big pot of steamed rice, the day's catch, 'timbungan' (goatfish), fried and presented on banana leaves as well as all ingredients to make a sumptuous dipping sauce.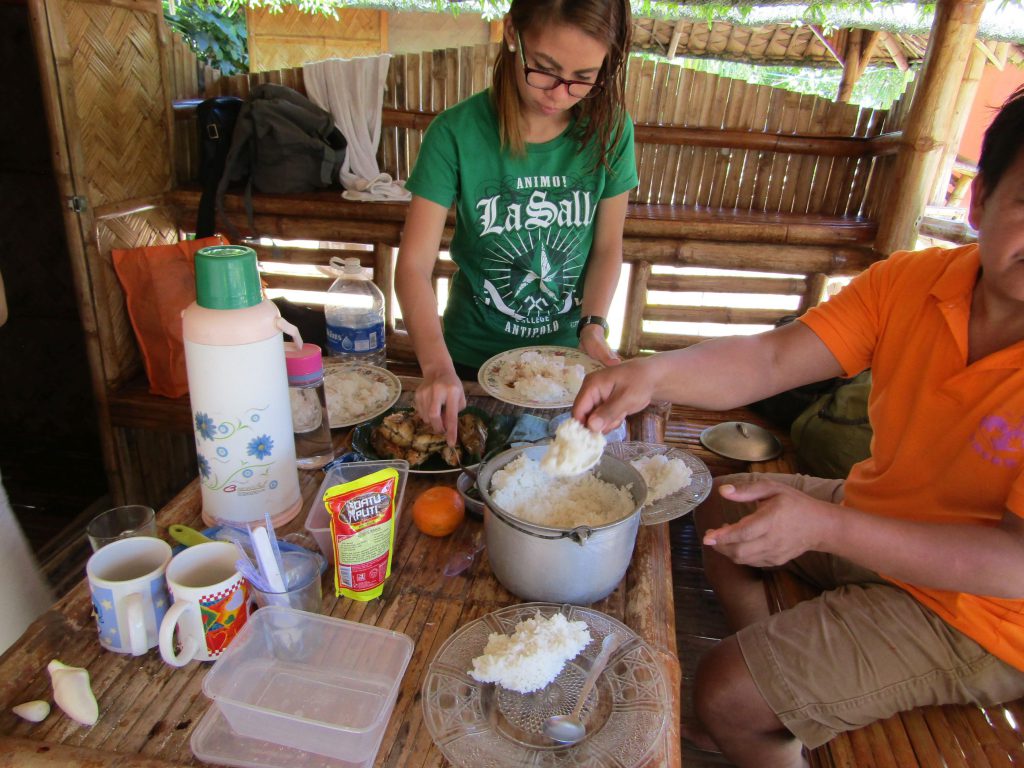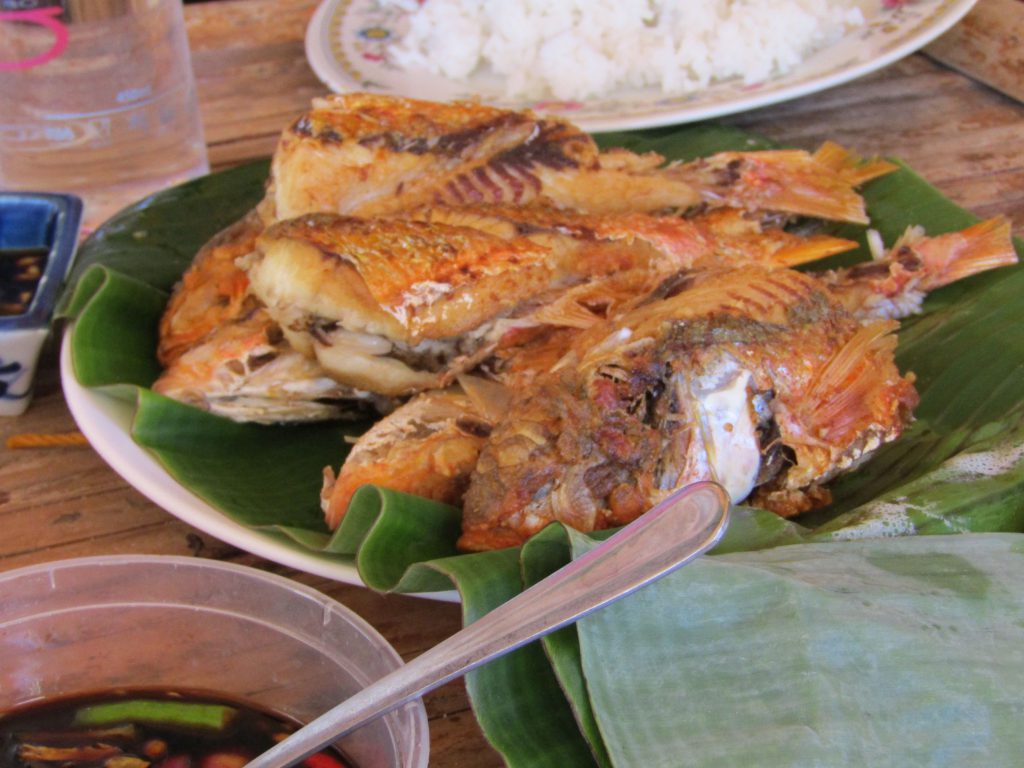 Sergio arrived on time and amidst the din of the banca's engine, all of us remained silent during the brief ride back to Sabang.
And back to where it all started.