During our short trip to Siem Reap to marvel at the spectacular temples in the Angkor complex – Angkor Wat is just the centerpiece in this massive Khmer kingdom- we learned not only about the ancient past but also how young Cambodians look up to the future.  Thanks to our young 'tuk-tuk' driver, Lam Lot, and the universality of the English language.
Aboard his black colored cart with that distinctive purple seat covers and pulled by a 125 cc. motorcycle, he informed us that he had invested about US$1450 ($550 for the cart & $900 for a popular Japanese-brand motorcycle) for his contraption after he left his all-around job at a hotel that paid him US$ 100 per month.
Taxis are very rare especially in the outskirts of downtown Siem Reap which made the tuk-tuks the most convenient way to get around the city.   Although shops are abundant that rent out motorcycles, scooters, ATVs, and bikes but you're on your own to figure out your way around.
Educated by Buddhist monks, Lam Lot is the epitome of the new breed of young Cambodians who are determined to not only forget their grim, yet not-so-distant past and focus on the now but are also willing to embrace new technologies.
During the Pol Pot regime, simply being an intellectual was already a death sentence.  These days, thanks to the internet and the tourism boom, young Cambodians are much more aware of what's going on in and outside of their country and are also willing to step up to the plate to propel their country forward.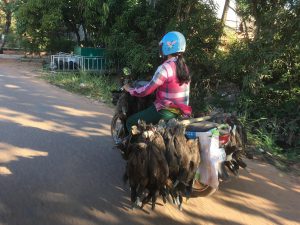 Lot -he preferred to be called by that name -is employed by the hotel (Sekla Villa Angkor) where we stayed that has a stable of about 4 or 5 tuk-tuk drivers to transport guests around for free as a marketing ploy.
We got endeared to him by his persistence to converse with us in English although we have to literally stick our ears to his mouth in order for us to comprehend what he meant.
Accompanied by hand gestures, we were able to relay most of what we wanted to accomplish while we toured the city.  He also refused to take our tips -we persisted- for the trip from the airport to our hotel and informed  (yes, almost scolded) us that everything was part of the hotel deal.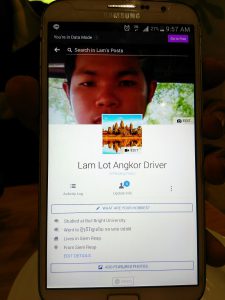 Before we headed to our room, we paid for the "grand circle tour" ($5) as well as for the "sunset viewing" ($10) in one of the temples along the way but made us wonder why the former didn't already cover the latter.  We also reminded the young lady receptionist that we wanted the same tuk-tuk driver that brought us in.
The next morning, immediately after we had our breakfasts, Lot greeted us with his sheepish smile and provided us an overview of the grand circle tour of the Angkor complex using a map that he pulled out from the canopy of his tuk-tuk.  He had also brought a cooler that he filled up with ice and several bottled water.
Except for our lodging, we had done almost no research about the Angkor complex and we all thought that going to Angkor Wat was simply a matter of visiting another UNESCO World Heritage site in maybe a couple of hours, take a few pictures, head back to our hotel to rest and then pick another interesting spot to visit in the city.  How wrong we were.
Siem Reap, in spite of its eclectic blend of the old and new, its provincial and small city charm, had already instilled a mixed feeling of excitement and sadness inside me yesterday after I saw piles of garbage strewn all over the place just a few miles from the airport and inside the city proper.
A small creek floating with food take-out boxes and an assortment of plastic debris nearby our hotel didn't help to contradict that sadness–that, sometimes, border on outright disgust.
Soon, the narrow inner roads gave way to much wider, cemented roads where, from a distance, we could see a cluster of tall, white-colored structures with bright red roofing — the Angkor Complex Visitors Center.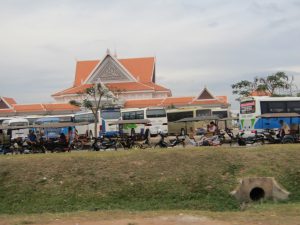 Lot told us to get our tickets inside and pointed to a spot where he'll meet us amidst the pandemonium of people — tourists that poured out from numerous tour buses, cars, tuk-tuks, scooters, bicycles, peddlers, tour guides, etc.– in the parking lot.
He had also explained to us along the way that ticket prices were increased from US$37 for a single day entry (usually $20) and the special "'buy 2 days & get the 3rd day free" to $62 (usually $40) to take advantage of the influx of Chinese tourists visiting Cambodia for their holidays since it's their Lunar New Year.
The US dollar is the unofficial and widely accepted currency in the country although locals will still gladly take Cambodian riels.  Most shops will either give your change in riel or dollar depending on what's available.
Now armed with our 3-day passes, we drove for another mile or so until we reached a checkpoint manned by two uniformed personnel who verified our faces with the pictures on the passes and punched the date we entered located at the back of our tickets.
It was after we made a short right turn towards our first stop in our grand circle tour that we all realized how massive the Angkor complex was. This is going to be a very long day.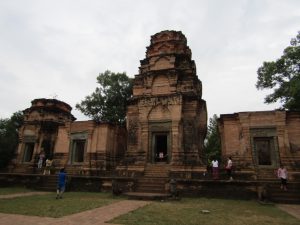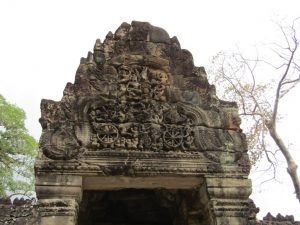 The temples in the almost 16-mile long 'grand circle tour'  not only mesmerized, tantalized, and dazzled our eyes but also made our feet very sore.  Unfortunately,  I had lost my custom-made foot orthosis on the flight to Manila (we traveled to Siem Reap via Hanoi from Manila) and the off-the-shelf foot support that I used did not help much either.
There were several occasions during our 3-day sorties inside the Angkor complex that I just preferred to stay in the tuk-tuk with Lot because of the constant pain on my left ankle while my wife and her sister, Rosana, excitedly clambered up the steps of the taller stone towers.
Past noon saw us sleeping in a row of hammocks beside a roadside eatery near Neak Pean which is an artificial island with a Buddhist temple as its centerpiece.  Most eateries inside the complex -as well as the tuk-tuks– have hammocks that provide a quick way to take a nap.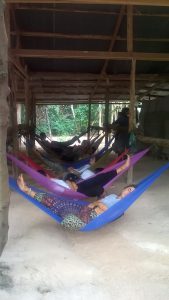 We were so tired after we emerged from the west gate of the next temple, Preah Khan, that we had the comforts of the hotel bed in the back of our heads as soon as we boarded Lot's tuk-tuk once again.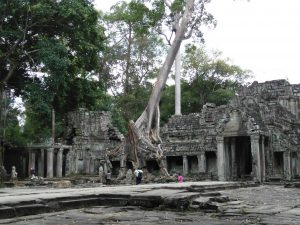 The Bayon was so big that we all decided to just take a few photos aboard the tuk-tuk, revisit the place the following day and head back to the hotel instead.  Not after we passed by a memorial for people who died in the 'killing fields' during the Pol Pot regime.
Before we headed to our room, Lot informed us that he would take us to a massage parlor – they're all over the city – to soothe our tired legs and bodies as well as a night tour of downtown Siam Reap.  We had to do this impromptu trip in a jiffy as we still had the "sunrise viewing" of Angkor Wat that required us to be up by 4:30 AM the next day.
If there's a compelling reason to return to Siam Reap, it would be those massage parlors.  Not only were the massages ridiculously cheap -as low as $1.50 for an hour-long foot massage- but they also served as the perfect way to end your very, very tiring day inside the ancient complex.
You would do your conscience a big favor when you tip well those masseuses and masseurs as we all agreed that those low rates straddle the thin line between slave labor and gainful employment.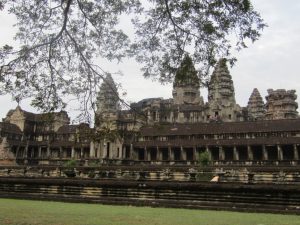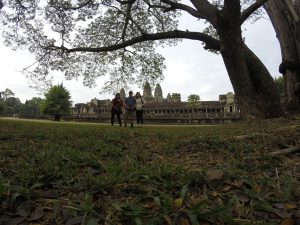 Very early the following morning, after we picked up our breakfasts in paper bags from the receptionist, Lot motored us to a different route for our dawn viewing of the magnificent Angkor Wat — the main reason for our Cambodian trip.
We eventually spent almost half a day inside the splendid Angkor Wat whose walls, lintels, nooks, and crevices were adorned by some of the most fascinating carvings and inscriptions the human race had ever seen.  We also managed to venture as far as the outer, eastern portion of the complex.
For the Khmers, life simply goes on; content with the knowledge that the temples will remain with them for as long as they live.  For us visitors, we can only enjoy every moment of this special opportunity to marvel at one of mankind's greatest creations.
Later on, he showed us another part of downtown that's popular among expats and had lunch at a fast-food joint that featured an eclectic mix of just about everything on their menu.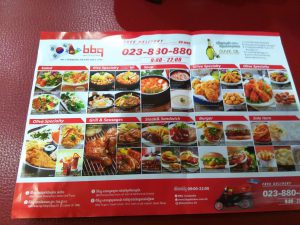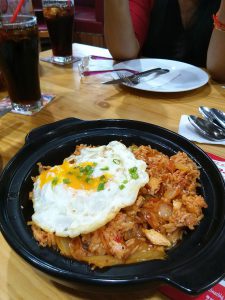 Afterward, Lot recommended that we visit the fishing village of Kompong Phluk, which took the better of 1.5 hours for the one way, back-breaking trip on mostly unsealed roads.
It was almost like a scene from a "Mad Max" movie as our boat meandered along the murky Tonlé Sap river whose stench competed with our curiosity for any marine or human activities on this surreal backdrop.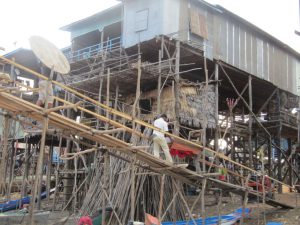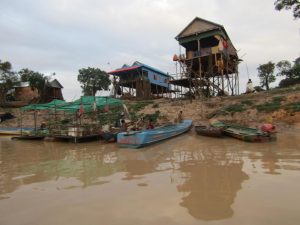 The Tonlé Sap river ends on a lake with the same name and connects it with the 7th longest river in Asia — the Mekong.  Just like the river, this huge lake had suffered great sedimentation due to the exploitation of its resources.  A patina of brown seemingly tints the water as the sun's reflection bounces from the bottom towards the surface.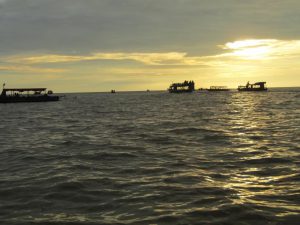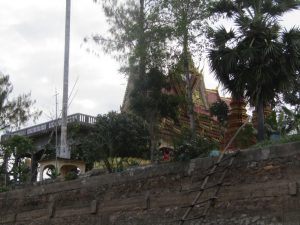 On the way back to our hotel, Lot would point to us the dusty road that leads to his parent's house where he and his young wife stays.  He pays for the family's food and utility expenses.  A few more miles on the same highway, he would point to a grocery store owned by a relative of his wife where she helps out.
On our last day in Siem Reap, Lot would take us again to the old market early in the morning where we bought a suitcase for all our extra stuff since we arrived in Hanoi exactly a week ago.  He also helped us get discounts for all our souvenirs in the tourists' market nearby the very popular night attraction in downtown —'Pub Street'.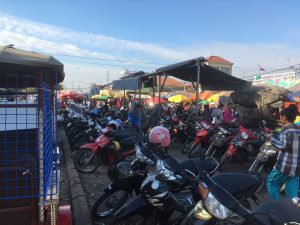 After we packed all our bags and turned them over to the front desk for custody, we checked out of our hotel and allowed Lot to make the decision for us how to spend the remaining 8 or so hours we had to spare before our late evening flight to Puerto Princesa in the Philippines.
Without wasting any time, he drove us to the temples in Ta Phrom which is a much smaller complex east of the Bayon.  Because of the humidity, I decided just to stay aboard his tuk-tuk while I peruse my newly-purchased guide book, "Ancient Angkor" by Michael Freeman and Claude Jacques.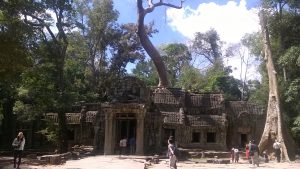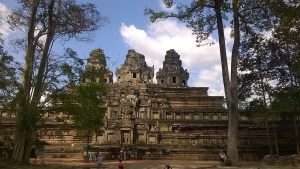 While we waited for the sisters, we had our late lunch at a spot where locals and tuk-tuk drivers eat -there was a pair of tourists on backpacks- and had fried chicken wings and fish and sautéed mustard greens that went along with a heap of steamed rice.
After we had picked up the sisters, we passed by the Bayon again with the hopes of just relaxing in one of its many open spaces near the water since the noonday heat had jacked-up the humidity scale much higher.
He suggested that we buy some snacks and drinks once outside the Angkor complex and suggested that we proceed to a "picnic spot where he often goes when he and his wife were still sweethearts".
The place turned out to be West Baray, a man-made lake or reservoir that was constructed in the 11th-century and was a crucial component of the Angkor complex during the heydays of the Khmer empire.
Some construction is going on in the artificial island – the West Mebon, where a magnificent bronze Vishnu still stands- located in the middle of this huge reservoir that covers an area of about 1,760 hectares (4,349 acres).
It's very popular with locals who go there to picnic, take naps, or a quick dip on its murky, brown water.  There are no gates either where you pay a fee upfront to enter.  Lot simply spoke to an elderly woman who proceeded to find a spot for the 4 of us amongst the numerous huts that were on stilts.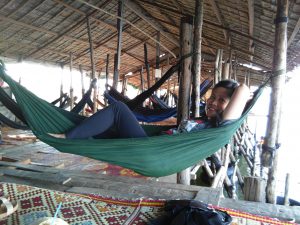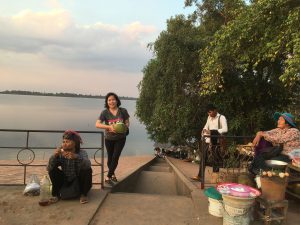 Each hut seems to have a few hammocks randomly strung on it but we found it more refreshing to lay on the mats strewn on the bamboo floor.
It was in this rustic setting, after we had some snacks, that I pondered long and hard on the calm waters of the West Baray.  My thoughts drifted to the days when I was still a young kid growing up in a sleepy town called Baclaran.
Manila Bay was my West Baray and the nearby Redemptorist (Our Lady of Perpetual Help) Church, although not afloat in a body of water, could have been the West Mebon.  The noonday heat had reached its peak and a slight breeze from the north lulled the three of us into a slumber while Lam Lot borrowed a piece of cloth from the same elderly woman as he prepared to take a swim.
In my short dream, various nostalgic moments rumbled through my head but they were not too vivid enough for me to recollect when I woke up smiling afterward – except for one: that I was walking along the grass-lined walkways inside the Angkor complex where the Khmer people were all smiling at me on a quiet day sometimes in those ancient days.