On the last week of January of this year, I was reunited with my vintage Toshiba Aurex System 10 hi-fi stereo set that I had been using in Manila since 1984.
I had purchased the micro hi-fi system back in 1982 in the commercial district of Al-Batha, Saudi Arabia.  It was the height of the oil kingdom's industrial phase and I actually worked in the district of Al-Hair -about 20 minutes from the capital city of Riyadh- for a business conglomerate owned by a sheik.
Life was not only lonely but also very boring in a country whose religion is Sunni Islam and where Sharia laws are strictly enforced.  Moreover, I was there to make a living and not as a tourist on a short visit to explore and to enjoy the desert kingdom.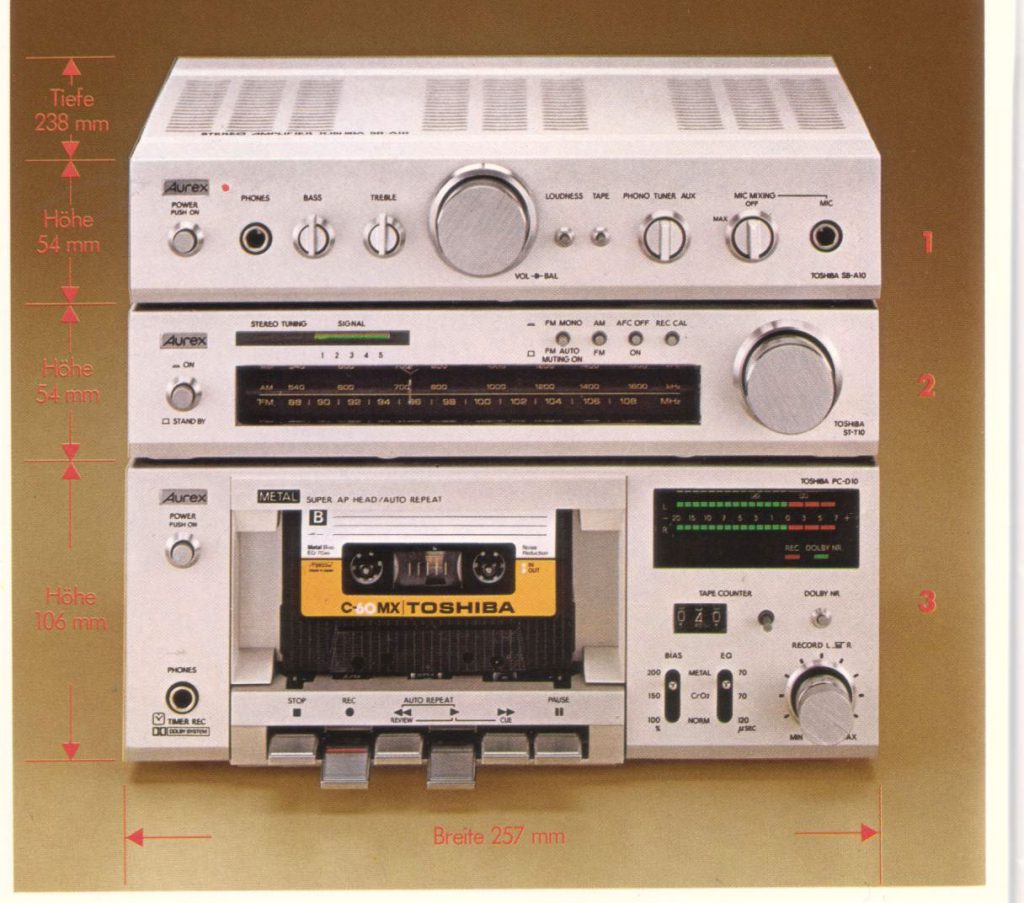 During our day-offs -Friday and Saturday- we usually go to the big city to window shop, meet friends or relatives of friends, hang around in a park where most expats congregate, or just about anything to keep our sanity until we finish the terms of our work contracts.
Typically, after our working hours, listening to music in our stereo systems provided us some of our great joys while we watched the sun transition from a fiery ball of yellow to a magnificent mélange of orange hues as it hides behind the sand dunes.
The late 70s up to the mid-80s was the peak of hi-fidelity's golden years as digital music began its slow-but-sure march to take over the entire musical landscape.  I could still recall that early models of CD players were priced as high as US$ 1,000 plus in the few electronics & audio shops that showcased them.
Back then, Sony had been dominating the music scene after the huge success of the Walkman.  Because of its portability & affordability, it also made the compact cassette tape the de-facto standard.
At music shops in Riyadh in the 80s, the average price of an original music cassette was about 10 riyals (about US$ 3) while the bootleg version was about 3 riyals (US$ 0.90).  Like any marketing ploy, the so-called 'metal tapes' (type 4), of course, provided the best sound if you have the appropriate cassette tape deck/player.
I bought the Toshiba Aurex System 10 after I had saved enough money and had grown tired of listening to my growing collection of music cassette tapes on my portable cassette player.
I emphasized music cassette tapes since plain audio cassettes were also the very popular media expats used to record and to send messages to their loved ones back home as the Internet was still reserved for a few people in the academe and government back then.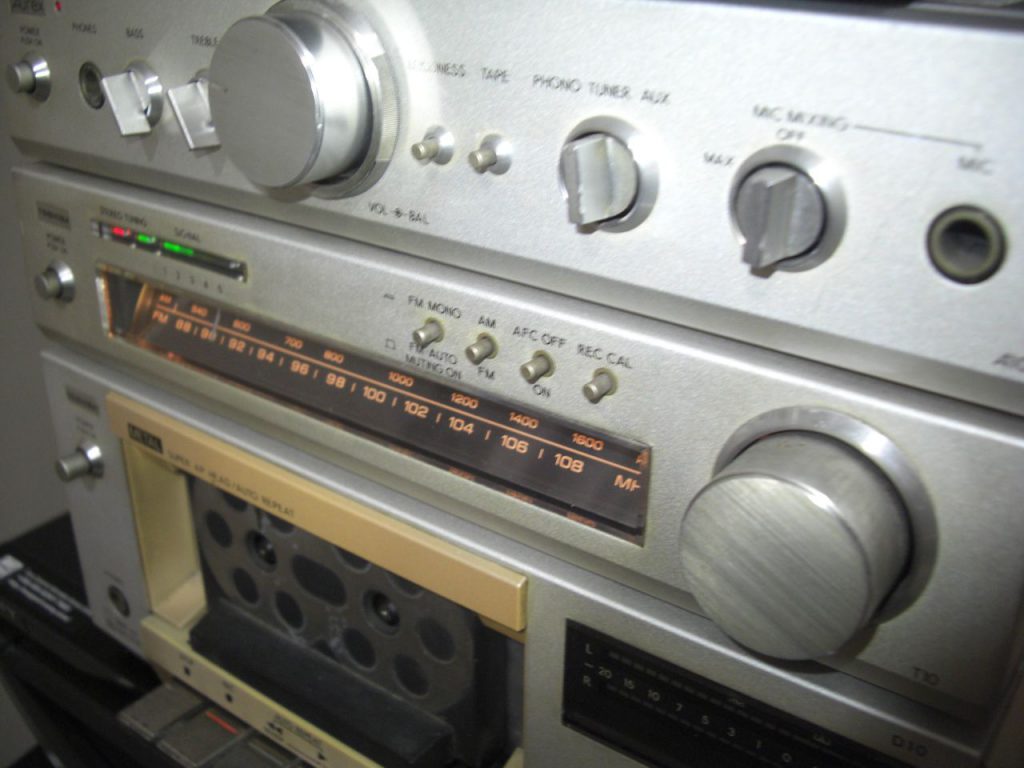 Prior to my purchase, I had just watched with envy as my coworkers -especially the senior ones with much fatter paychecks- unloaded and unboxed their expensive, high-end stereo systems with huge speaker sets inside their villas.
Sansui, Denon, NAD, McIntosh, Nakamichi, Tannoy, Pioneer, Marantz, Bang & Olufsen, JBL, Teac, Grundig, Kenwood, and other leading Japanese, American, and European hi-fi brands were the buzzwords those days.  And those systems were really manufactured in Japan, the U.S., and Europe.
I had visited several audio shops in downtown Riyadh before I decided on the micro-sized Toshiba Aurex System 10 because of its uniqueness, design, and almost magical impression upon me.
I bought it discounted but complete with a pair of black Aurex (S12W) 80-watts bookshelf speakers for about US$800.  It has a more sophisticated -and expensive- sibling in System 15 (about US$1,200 without speakers) but it was just way beyond my budget at that time.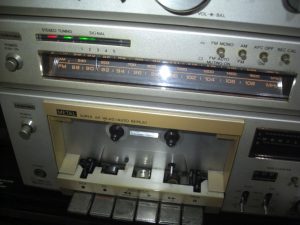 Both models were spectacularly designed and housed in high-grade aluminum chassis that made them withstand the elements as well as high-quality internal electronic components.
And, as a bonus, the Aurex models that were sold in the Middle East had power supply voltage selector switches so that AC power input can be set to either 115V or 230V -depending on where you are or what country you'll plug them in.
So what are the differences?
The System 15 has a beautiful main amplifier (SC-M15) housed in a one-piece diecast aluminum with an all-DC toroidal transformer that drives 40 watts per channel into 8 ohms (or, 100 watts in 'BTL' mode). The back of the amp has professional-grade connectors (screw-on and 'banana' plug) for 2 sets of speakers.
The separate pre-amp (SY-C15) came with 2 phono inputs, a variety of switches typically found in bigger high-end stereo systems plus gold-plated contacts for all the RCA jacks at the back.
The FM-only tuner (ST-F15) has a VFD (vacuum fluorescent) digital display with a 10-button direct/up-down push-button tuning with memory presets capability.
And, finally, a better metal-capable tape deck (PC-D15) that utilized two (2) separate DC motors to drive the reels.  A touch-key tape operation control pad perfectly complemented the elegant unit.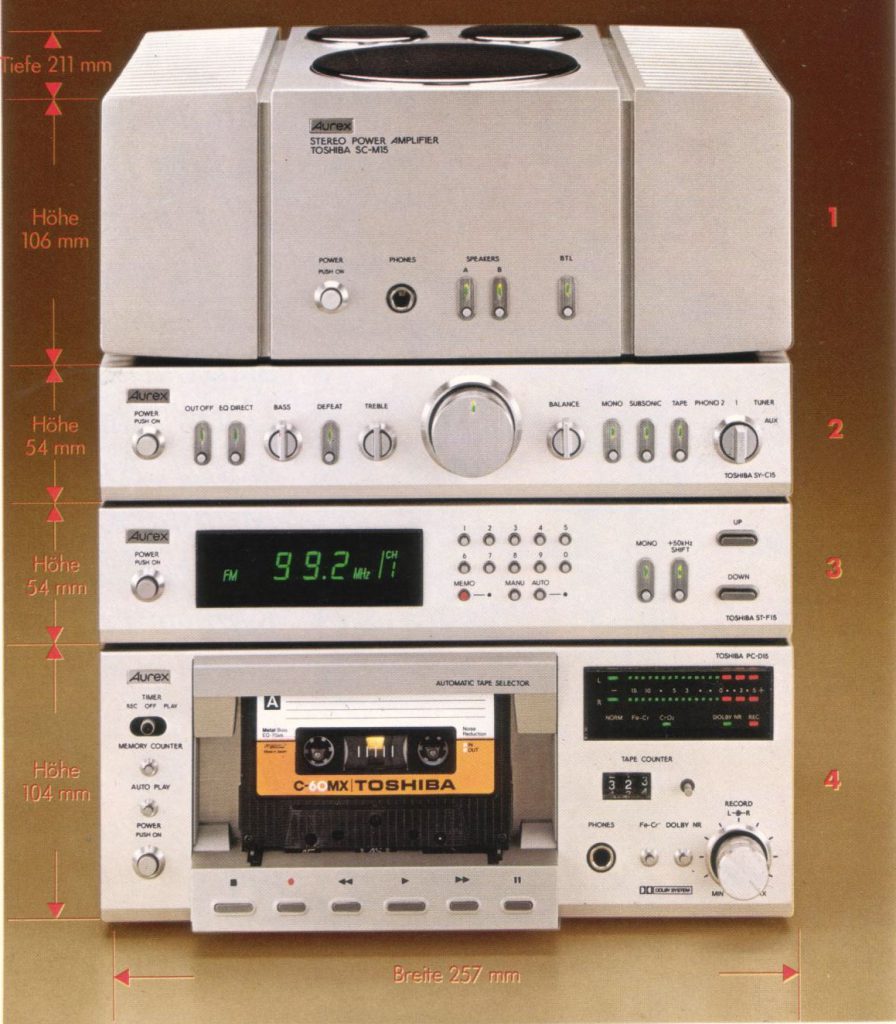 System 10 was a much simpler set with just 3 pieces.   An integrated amplifier (SB-A10) that's also encased in extruded aluminum with a much smaller DC toroidal power transformer that drives 20 watts per channel into 8 ohms, an FM/AM tuner (ST-T10) with an old-school, knob & scale tuning, and a tape deck (PC-D10) with a single servo motor to drive the flywheel & reels plus manual tape operation controls.
You could actually mix and match decks or components from either system and even use two (2) SC-M15 amplifiers in monaural mode via the BTL (bridge tied load/ bridged transformerless) feature to drive a massive 100 watts per channel.
There were cheaper mid-sized/micro components options during those days like Sony's FH-7 or Technics' Concise series but most of them used either plastic or sheet metal housing and did not look as elegant as Toshiba's Aurex System 15 and 10.
After 36 years, I am still amazed how this vintage hi-fi system can remain to look so beautiful and elegant than some of today's latest digital audio decks and to sound so impressively– after I hooked up either my FiiO (X2 and X3 Mark III) high-resolution audio players, the iPod Classic or, yes, a Sony Discman via the amp's auxiliary input.
Some things are just way ahead of their times.